There's been a lot of debate about how the new 3DTVs display 24p 3D content. While we know Samsung displays 24p content at 120hz per eye alternating blank frames to reduce ghosting -- we assume Sony does the same thing -- but how Panasonic's displays do it isn't as clear.
The new VT20's on display at Best Buys will let you choose 48hz, 60hz or 96hz when watching 3D content, and with the limited demo material, it is hard to noticed any flicker. But there is still some debate as to if that is the per eye or the total refresh rate.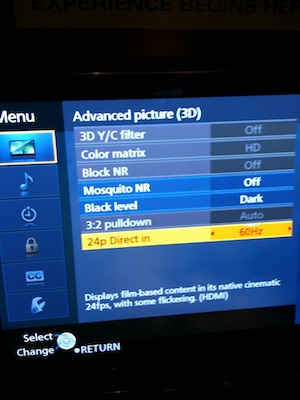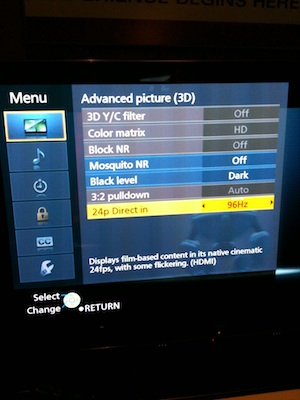 It seems unlikely that a Panasonic plasma can refresh at 192hz, but it seems just as unlikely that 48hz total for both eyes would be watchable.
I've requested an official response from Panasonic's PR team, but have yet to hear back one way or another. I do have a source who originally told me it was per eye, but now tells me the answer isn't that simple.