I'd like a little help trying to figure something out. I used to run my subwoofer for music as well as HT. I have what I like to think of as a 2-channel system that is HT capable. I used to have a Parasound 2100 preamp that had analog bass management with an 80Hz high-pass filter and an adjustable low-pass filter. I used the preamp for music and it's HT-bypass mode combined with a receiver for HT. It worked very well and I loved the flexibility the entire setup.
My 2-channel needs evolved and I ventured into some higher end gear. I now have a 2-channel preamp that still has HT-bypass (a feature I won't live without), but it doesn't have any integrated bass management. It does have dual outputs so that a subwoofer could be connected, but the problem is that my main speakers are VERY bass capable and extend into the low 20Hz region (actually measured with REW). I won't get the benefits I want from just adding in the sub on the 2nd pair of outputs. I want to be able to high-pass my main speakers at around 80Hz and integrate my subwoofer for both music through the preamp and through my receiver for HT. I'm looking at possible solutions that utilize my current gear. Replacing the preamp is not an option.
I'm also one of those lucky bastages that has a great room acoustically. I currently have an SVS PB13-Ultra, and with it's single-band parametric EQ, I get this for a frequency response: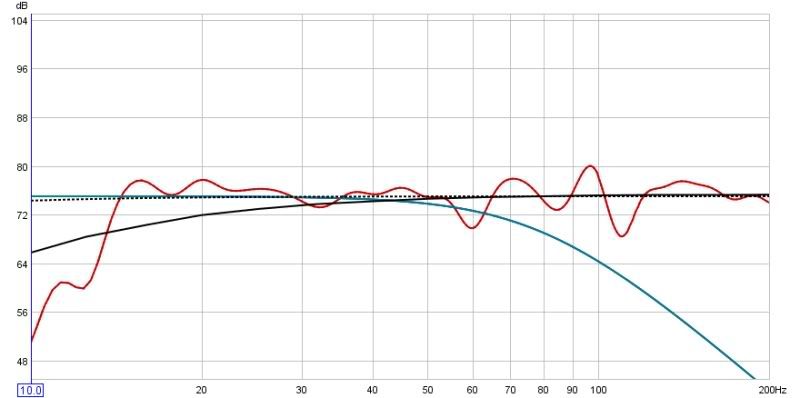 So I don't seem to require any further EQ'ing than what is already available on my sub. However, I am considering selling the PB13-Ultra and going with dual smaller subs. I'll most likely get subs with integrated parametric EQ's, but you never know.
I've considered some connection options:
The easiest would seem to have some way to high-pass my main speakers with some sort of filter between the outputs of my preamp and my amps for the main speakers. If I could just get that option, I could connect my sub to both my preamp and my receiver via the left and right low-level inputs on the sub (left for the preamp, and right for the receiver). If I'm using the preamp for music, the receiver would be off, so the sub would only see the left input. If I'm in HT mode, the preamp is in bypass mode and the receiver would send a high-pass (80Hz) signal to the preamp (and sub technically on the left input), and a the LFE output directly to the sub via it's right input. Since the high-pass signal is on the left input and the full LFE is on the right, the sub should sum these and not have a problem.
The other way I could do this would be to go through the sub's inputs and outputs and utilize the high-pass filter it has, but I lose the LFE flexibility as then the combination of the speakers and sub would be as one full-range speaker. I really don't want this as I like to run my sub flat for music and a little hot for movies. I can do this very easily if I keep the preamp and receiver separate and the sub connected individually with them. A very nice feature in my book.
Another connection option is something like the Velodyne SMS-1. I would only use it connected to the preamp to use it as a high-pass filter with the option to EQ the sub, but the receiver would still be connected separately.
Lastly, what's more important than anything is to not negatively affect the sound of my mains speaker at all. I worked VERY hard on achieving a certain sound and I am VERY, VERY happy right now. I would just like the option to use my EQ'd sub for music with my current preamp.
I also don't want any big buck solutions. I'm not going to pay thousands of dollars for a solution. I'd rather just live with no sub for music than spend a bunch of money.
Thoughts?