More progress, with proof.
With my Dad's help yesterday, I managed to get virtually all of the walls up (first layer). Today, Peter M was kind enough to give most of his day to help me with the room. Thanks very much for your help Peter... much appreciated and nice to finally catch up. You are welcome here anytime you have an all encompassing desire to drywall! Or drink beer.
Day started with a bit of a hiccup. After making safe a power point and terminating it behind my new drywall, tried to turn the TV on in the back room. No luck. Tried to make a cup of coffee... no power. Then the dishwasher wasn't working. That was the final straw. Turns out the power point in the front of the house runs on the same circuit as the ones in the back of the house. Nice wiring job circa 1961! Anyway, meant that Peter and I started our day removing a sheet from yesterday, fixing the power and then sealing it up again. Set us back close to an hour. Guess it could have been worse!
Anyway, between the two of us we managed to caulk some of the gaps from the walls and then get 6 of the ceiling sheets up today with Green Glue. Was actually pretty good to work with. Smelt just like water based paints... not offensive at all! Was relieved when I opened the pail as it had been in storage for some time. Used 3 guns worth on each of the 10 feet x 4 feet sheets. Hope that should work well. Have about another 1/2 of the ceiling to go and then I am on the home stretch with only walls. They seem to go up much faster.
Second layer went up pretty well and I think the job is looking pretty good. Not critical on finish as I will be fabric lining but nice to know that it doesn't look like a dogs breakfast underneath.
Truthfully, I think Peter and I spent more time debating how to move the piles of drywall / flooring around rather than hanging the blasted stuff! The drywall lift needs a fair bit of room to operate and this meant moving piles from front to back. Not much fun but the piles are getting smaller. I knew that this job was going to take a while so I couldn't leave the materials outside. Not much choice. Anyways, here is some proof of the day's work... Not bad I think. It was a good excuse to eat pizza and drink some of James Squire's finest Pale Ale.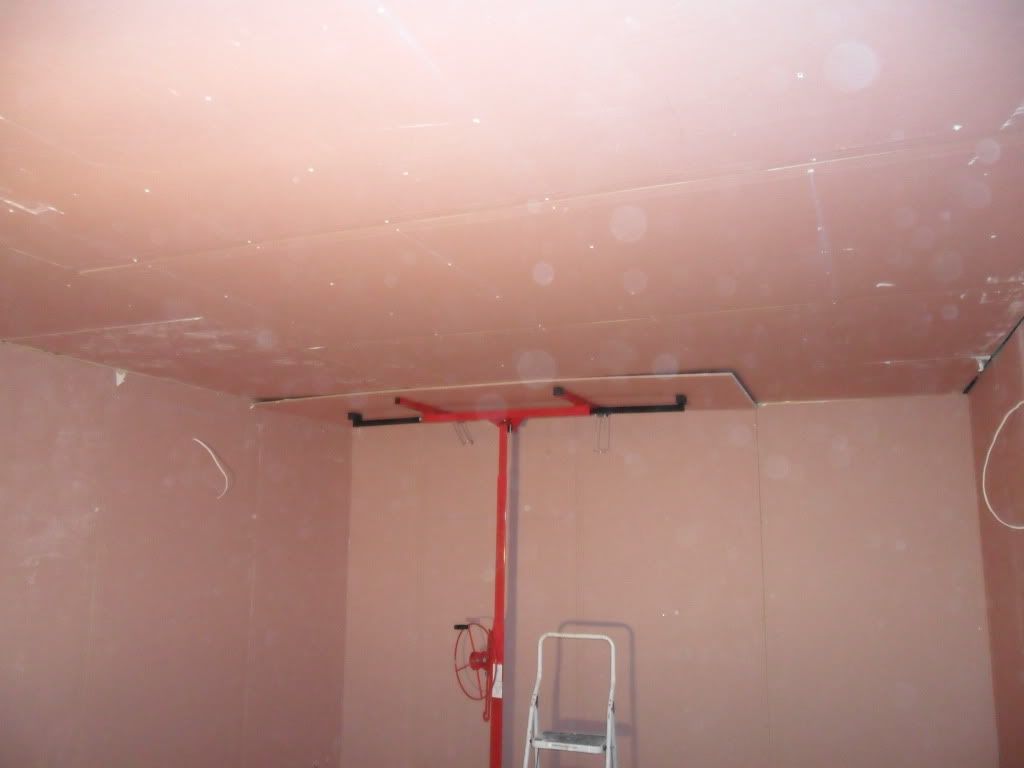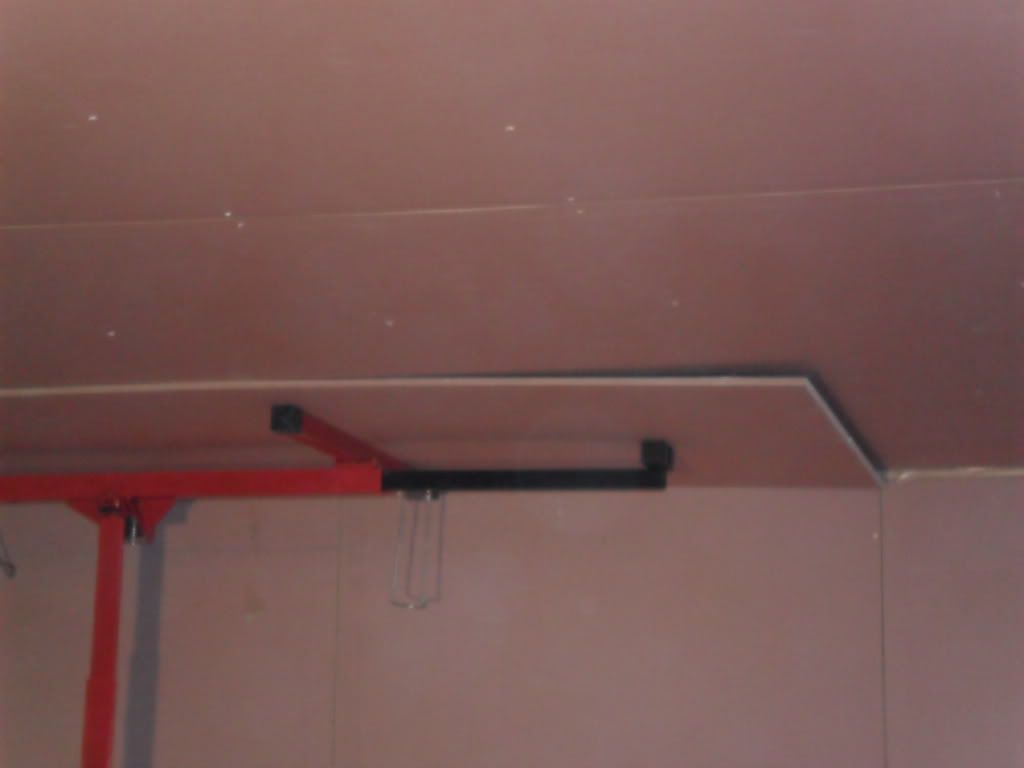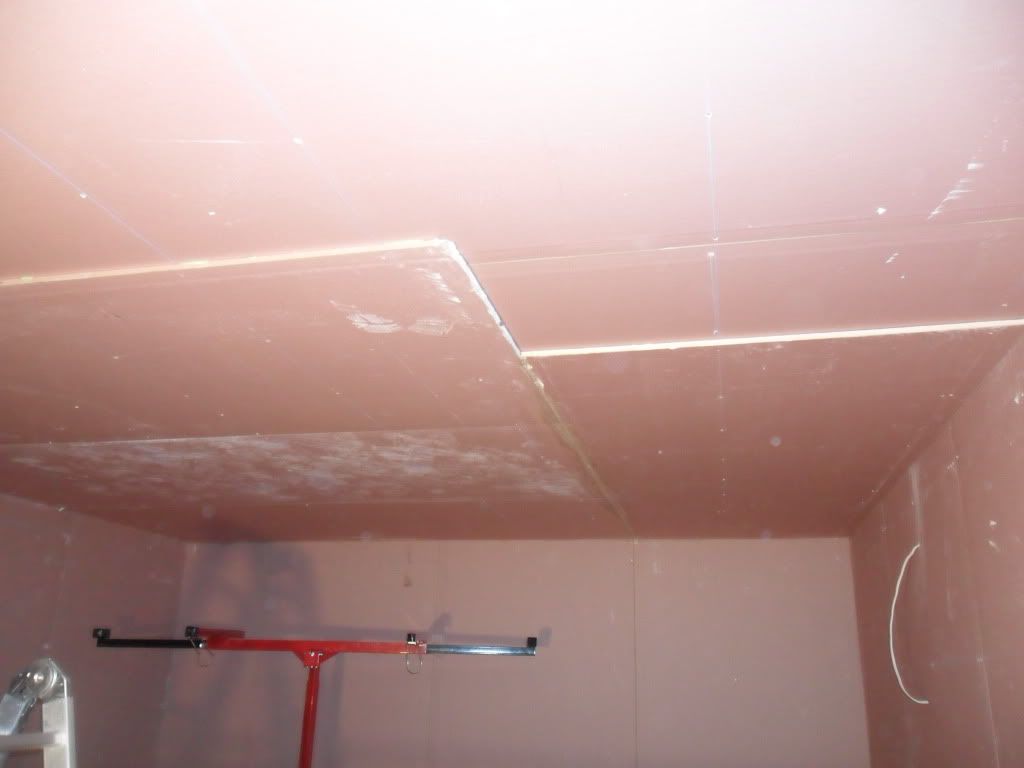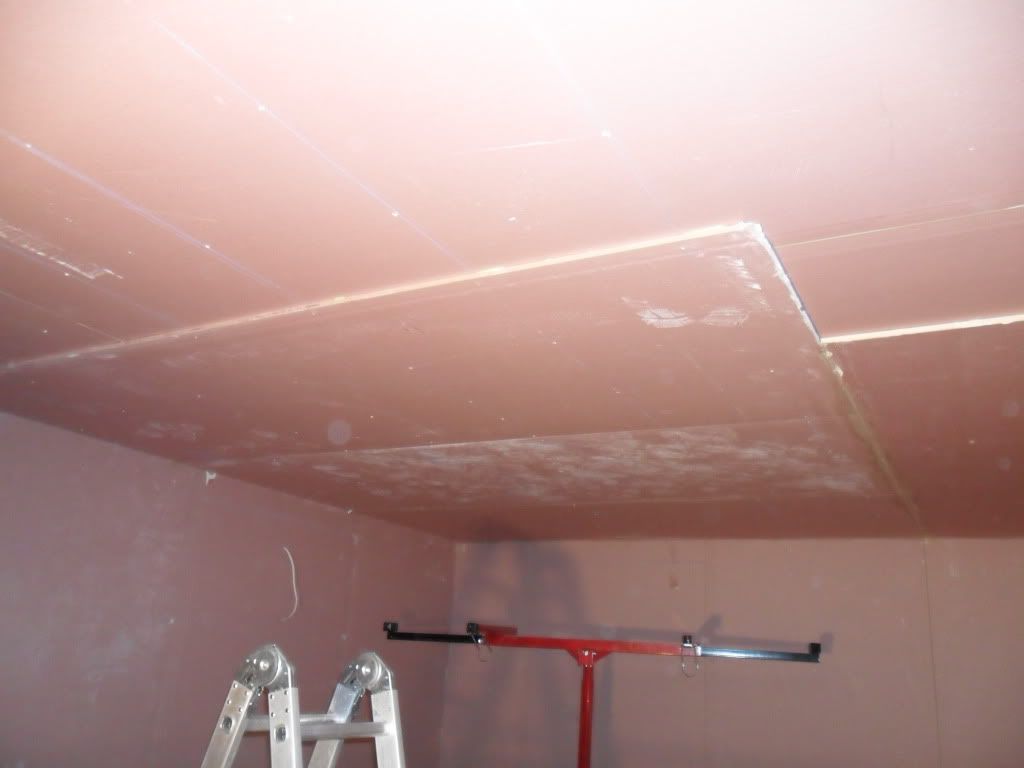 After Peter left, I did a little extra caulking on the ceiling. Now that is a crap job! Gaps are pretty good so no real holes to fill. Just made a mess on me and my clothes.
And one more thing. As much as it was great to have Peter M here, the absence of Peter 'Can't wait to help you' Elill was duly noted. Unless there is an important reason, such as CBP time at home with the bride, the next absence will be written up. Don't just think you can schmooze over here with your wine Peter and not help out! My theatre has a good chance of being your local multiplex real soon. No excuses next time. Not even your 30th!
More progress soon (I hope!)
Greg