Well, I moved to a new place, so I figured I should post my new setup. Plus, I have some new stuff.
TV is a Samsung 720p DLP. I've been toying with getting a larger Mitsubishi DLP or a flat panel, but this thing just keeps on truckin'.
Speakers are Athena Audition series F2.2s, C1.2, and four B1s (the original black woofers.) Sub is a Bic Acoustech H-100, that will get a DIY Subdude to minimize physical vibrations.
I used to have a 7.1 with rear surrounds. I've since switched to front heights because the room layout is different. I've also moved all the components except the cable box from under the TV to an outboard component shelf rack.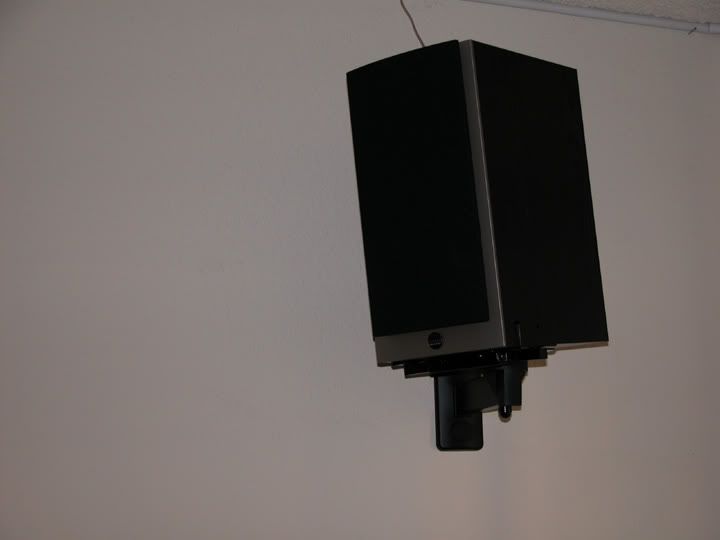 Closeup of one of the B1s as a side surround. Not shown is its mate on the other side. The other two heights are shown in the main pic.
Detail of the Omnimount shelf that holds the center. I often get questions of how it stays up there. This shelf is solid and keeps it up even in mild earthquakes. Speaker is also slightly tilted by a small rubber doorstop, $1.40 at Home Depot.
Components. From the top: Onkyo TX-NR807 receiver, Onkyo DV-CP706 DVD changer, Onkyo TA-RW255 cassette deck (still have lots of cassettes), and a Mitsubishi HS-U748 SVHS VCR. I like to use legacy equipment, even if it isn't up to modern standards.
And yes, I'm an Onkyo slut of sorts. Actually, I like DVD changers (and wish a Blu-ray 5-6 disc one existed) and Onkyo's cassette deck is pretty good. I may update to a Blu-Ray player at some point, but I haven't found one I really like yet. I have no interest in 3D at this point.
Yes, I need some cable management. I'll try to clean it up sometime.
Right now the system is pretty good as is. Probably the TV is the next upgrade, but that's sometime down the road.