So I havent decided which way I am going to go yet, but the door jamb being painted two different colors strikes me as odd...I havent found any pictures that show what that would look like .
I have, however, found a few pictures with a stained door with white trim...it could work, as this doorway isnt into any "normal" room like the rest of the house...might help make it special.
Here are a couple of pictures I have found from google images...not slab doors, but I suppose I could live with one of these looks...
Input from others is great if anyone has an opinion.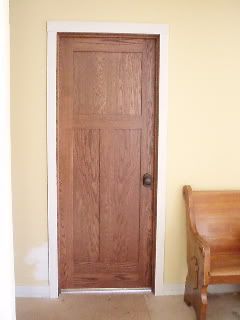 It seems as though it has been done before, I just dont want to get it finished and have it look out of place.