https://www.madisound.com/store/prod...oducts_id=8697
Well my pair is finally done
Sorry for poor quality images... Ended up using hammer paint, which worked quite well, could have used a few more coats, but I was just fed up of painting. The black hammer paint turned out to be somewhat grey, which isn't bad anyhow, it's MUCH nicer than the previous coats of black paint applied with roller, or the succeeding sprayed black matte... I'll probably use it again for my next pair if I go paint. Anyhow, looks is secondary. Nothing special really on the speakers, 3/4 inch MDF cabinet, added some bracing here and there, but nothing too serious, oh, lined the inside walls with Denin which I had sitting around... lol Not sure if it was a good idea but there, I did it anyhow, didn't want to order the rather expensive foam...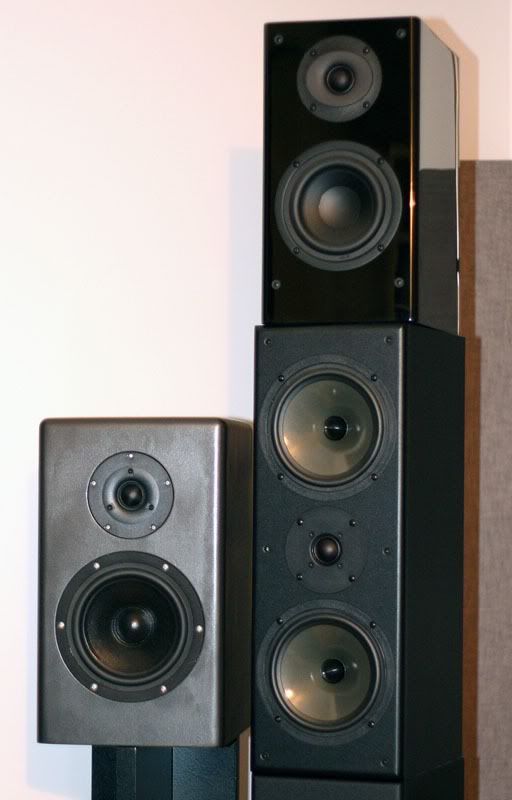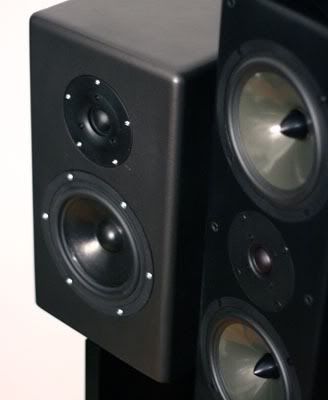 (Btw, on left the RB3, bottom right, Ascend 340SE and top right, Ascend Sierra-1, 2 shown for size comparison. The RB3s are quite big!!!
)
So quickly, without any breakin, they sound pretty damn good!
I haven't done a serious comparison yet, but I'd say that they're quite comparable to the Ascends in terms of overall quality. Which? That's what I'll try to find out, but my early thoughts were quite positive!
I've done a bit of A/Bin of the RB3 on QSC*** vs 340SE on T-Amp, then RB3 on QSC vs 340SE on T-Amp, and I've mixed my thoughts quite a bit, only thing I can really conclude on this, is that the T-Amp is inferior to the QSC... And surprisingly, even though the RB3 is less efficient than the 340SEs, they seem to mate better with the T-Amp than the 340SEs, probably because they have some emphasis in bass and the 340SEs tend to sound a bit dry on the T...
So I guess more listening, breaking in, and buying some banana plugs to be able to 'quickly' switch between speakers. But so far, great buy! For ---$ for 2 woofers, 2 tweeter and 2 crossovers, you get A LOT of performance! So far, detail is quite good, not top notch (JMLabs Utopias, etc.), but very respectable for <1000$, bass is also quite nice, definitely not boomy, just a tad bit emphasized which I'm sure many will like. I'm not a fan of bass heavy speakers, but this one isn't so bad so that it bothers me, unlike Totem Staffs I used to have a while ago... Just a bit of warmth which seems to add a bit of atmosphere, 'enveloping' I guess you could say... Highs seem clean, crisp. Very good speaker, definitely a big thumbs up so far for anyone looking for a cheap project.
***QSC 1450 amp (>200 watts pro amp) + Behringer as DEQ2496 pre, turns out to be a lot better than a Sonic T-Amp + mp3 player... Making comparisons unfair...