Hi. I'm about to redo my home theater setup and am planning on getting a Harmony 900 to control everything, but before I do I want to be sure it will work for my setup. The main difficulty is that in one location I will have three TVs (two of which are identical) and three cable boxes (at least two identical and maybe all three -- for now I'm assuming they'll all be identical, and if I can get a configuration for that it will obviously work if only two are). I have three possible setups in mind, but I'm not sure of some of the limitations I'll encounter, so I'd love to hear confirmation on which of these will work (or other alternatives). Thanks in advance!
Configuration One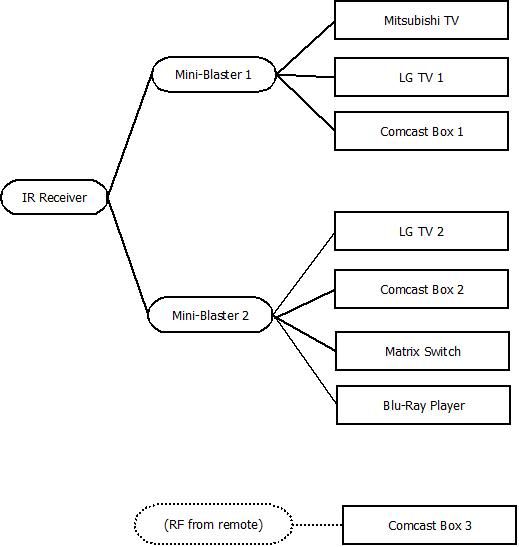 In the Configuration One I need only the Harmony 900 (along with the IR receiver and two mini-blasters it comes with) along with two sets of IR Precision Cables. The big question with this setup is this: Can I set it so that one cable box uses mini-blaster 1 only, one cable box uses mini-blaster 2 only, and one cable box uses the remote's RF only? It looks like I can separate signals between the two mini-blasters, but I want to be sure that 1) the signals meant for boxes 1 and 2 won't hit box 3 and 2) the signals meant for box 3 won't hit boxes 1 and 2. Of course if needed I could always "hide" boxes 1 and 2 so that they cannot physically receive the RF signal meant for box 3, but I'd still need to be sure that signals meant for 1 and 2 won't hit 3 (i.e., the remote will send those signals over IR only).
Configuration Two
In the Configuration Two I would use an extra mini-blaster (and maybe an extra precision cable). If I'm able to add an extra mini-blaster (would I need to purchase the entire RF System to get it?) and if I can then separate the signals so that each cable signal goes only to one of the three mini-blasters, then that should work. The questions are 1) can I have three mini-blasters on one IR receiver and 2) if I can, can a signal be sent to any one (exactly one) of the three 3) if so, can I purchase one mini-blaster or should I just buy the RF system?
Configuration Three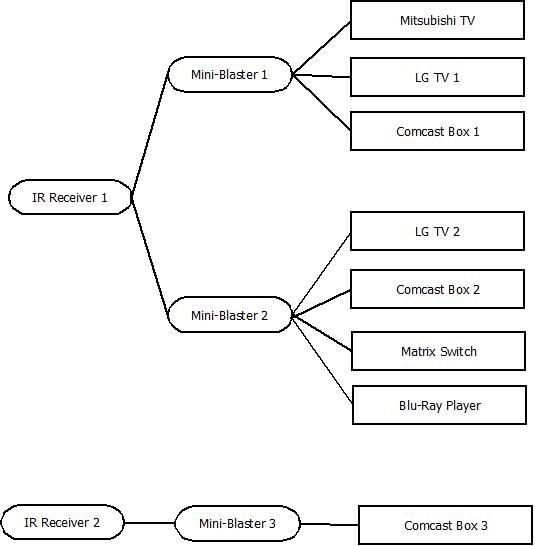 If each IR receiver can only support two mini-blasters then Configuration Two wouldn't work, so here's another option. In the Configuration Three the setup is the same as Configuration Two, except now I'm using the extra IR receiver that comes with the RF system. The question now is: with this setup, can the remote be setup to send a signal any one (exactly one) of the three mini-blasters?
Sorry for the long description, but I wanted to spell everything out as clearly as possible upfront. I'd greatly appreciate any feedback. Thanks again :-)
Note: It won't let me post URLs since I'm a new member, so I'll have to add those in to replies later. Sorry about that.
Note: I also posted this on the logitech forum, so I'll be sure to post the answers in both places in case it can help anybody else.