Current Status:


Constructing Star Ceiling
Constructing Screen
Working on Screen and Star Ceiling. Clearing up ethernet cables and trying to get whole house distribution

Too busy watching stuff to get everything else done!

Just completed:


Projector Installed/Front row of seating/moved equipment and tested it... meaning I keep watching stuff..
Still to come:

Fabric Panels
Riser (maybe later)
Electronics Rack

Current Pic: Guitar Rack Area is up.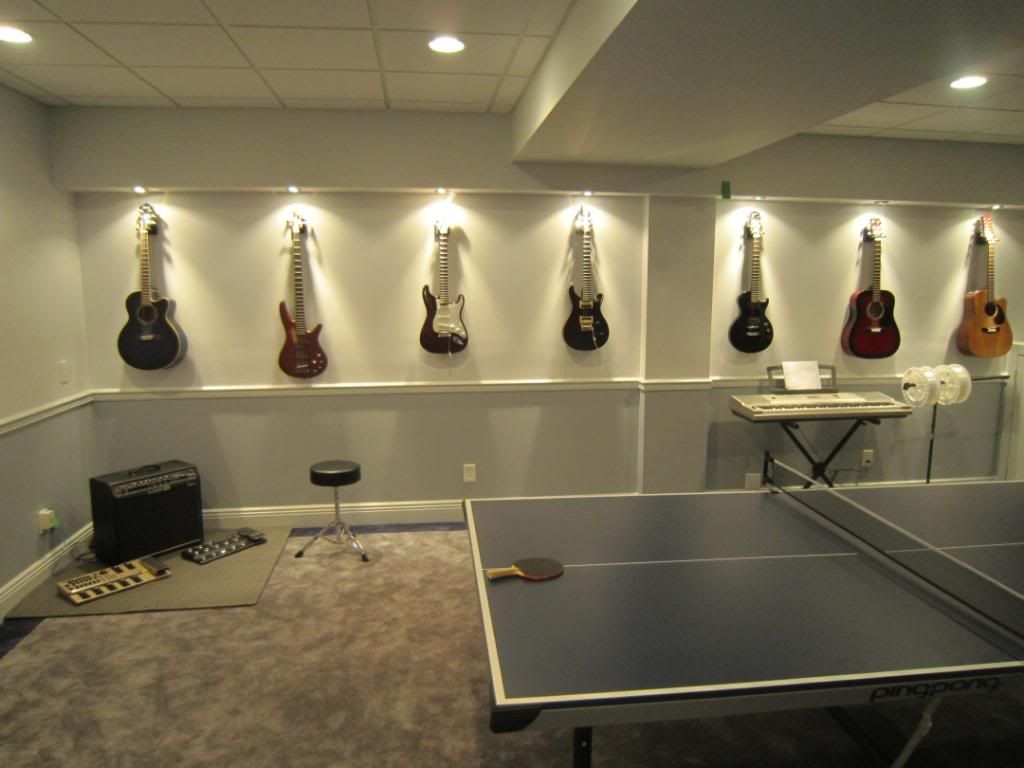 Welcome to my build thread. I had originally started an old thread but that was many moons ago. Instead of resurrecting that one, I think it is best to start with a clean slate.
I guess this thread is going to be more of a "help me, I don't know what the hell I am doing thread" than a "look at what I can do thread."
I have read and read and read as much as I can but still feel a bit overwhelmed by the information. I have acquired some gear just to get my feet wet but now I must begin. I have had a rough but rewarding few years with working all the time, building my house, starting a family. I don't want to put off my build any longer because there will always be a reason to wait. Whether it be time (usually time for me), money (when its not time, its money), having a kid (or two), town permits, meteorite headed to earth... whatever. There is always a reason to put it off; consider this my declaration that I refuse to put it off any further. After all, I don't want to feel stupid in front of the AVS community. Once you write something on a blog on the internet, it has now become written fact right? I don't want to be a liar to all of my new friends here do I?
Due to budgeting issues I think the construction portion of this will go much quicker than the actual equipment and home theater portion. I'm not sure what to do with projector/screen due to changing technology (3D, LED). Should I wait it out or buy something and upgrade later. I'm not huge on 3D but if I'm going to have it one place in my house it would be in the theater.
OK so let's go through this thing.
Prologue:
The beginning and why we are rebooting the project -
This part is not that important to understand the project but just thought I'd share this. Feel free to skip ahead... who reads a prologue anyway?
The project initially was supposed to be a finished basement... then a place where my band can jam... then a Cineplex Odeon combined with Abbey Road. Needless to say things got out of hand so I went out and looked for help. I had someone try to offer me advice but ended up just costing me a lot of money on equipment that really wasn't necessary at the time. I didn't see how acquiring gear was more important than planning the project. That didn't work out and actually left me with some gear that I think is a little beyond my level.
In the meantime, I was lining up contractors. I have relationships with several commercial contractors but I was afraid this job would be too small and they told me themselves that they wouldn't be the most cost effective. Also, none of them ever want to work in the town I live in. They had already worked on my house build and I think they had enough. That's all I will say about that as to not get into any trouble with my town. I found a couple of guys and finally found someone I thought would do a great job. He had good references, good demeanor and was very excited about the project. We met several time and had a good plan and wanted to get started on the basic framing and electrical. He assured me that the permits were in the town and then they were lost, and 3 months went by and we didn't have permits. I went to the town and they told me that they never received any permits for my address recently. He says they are lying, the town says he is lying. I started getting calls that he was really busy but someone else would call me about it and sure enough an architect friend of his called me and wanted to take over the project. I was still awaiting a final contract and more specs and I already had a contractor change. To be honest, I didn't like the way this was going so they both got the boot. I am thankful this happened early than later. No money was paid but alas, now I am alone and lost 6 (edit 12) months.
I think I can do it. I understand basic construction and its always been a worry of time over ability. I always have my commercial contractors as a backup who would always lend me a sheetrock/mud guy if I need them so i am pretty confident things will not get out of hand. I did completely finish my garage very neatly and with relative ease... Ok, still there with me?
Why do I want to do this?
At my parents home, from the time I was 10 my room was in the basement. Not a real nice one. Kind of dingy and drab. Low ceilings, cold and damp. Over time, through installing sliding doors, adding stereo sound to my VCR and TV, installing a carpet, and lots of paint and molding I made it into a pretty cool room. The nice thing was that its was all mine and no one said what I can and can't do. Try doing that on any other floor of the house. Even know I still don't have control over any room in the house. Back then our house was very modest but I loved my basement and I always looked forward to one day when I would have my own house and be able to build out the basement that would accommodate me and all of my hobbies and interests. Well, fast forward 20 years and that's where we are. Now I am 32 (as of the beginning of this thread.. probably 40 when i'm done), and I was lucky enough to design and build my own house two years ago. (I know it was bad timing but when it came to basement I put in a 12" steel beam and two lolly columns to open it up a little bit. I also added one more course of cinderblock to raise the ceiling height in the basement to 9'2". I like to maximize the height of the ceiling as much as possible.
Project Scope:
To convert an unfinished basement into a room that serves the following purposes:
Recording Studio and Rehearsal Space
Movie Theater
Game Room (mainly table tennis)
Karaoke
Central Location for Media/AV for use in house
My "Must Haves":
• 120" Projector Screen with 1080p projector
• 5.1 surround (most likely 7.1)
• Seating for at least 7
• Carpet Throughout
• Open Floor Plan - No walls
• Ability to access AV equipment to family room on the first floor and Master Bedroom on the second floor.
• Office on the first floor must have access to any computers in the recording studio and optional HD content from AV rack
• Fiber Optic Star Ceiling above seating area
• Chair Rail/Moulding - (I just like the way it looks and helps split up colors)
• Maximize all ceiling heights
• Displays for guitars
• XLR (Mic cable) jacks with returns for headphones and effects in 3 spots that go to the Main Console
• PA Speaker locations
• Drum Area (with mic jacks and headphones)
• Small Stage up front for karaoke use with cabinets to house speakers
• Dimmable and Programmable lighting system
My "Really Wants":
• Automated or manual curtains to separate the rest of the room for Theater use
• Drum Shield
• Accent lighting for music equipment and guitar displays and ping pong area
• Whole house lighting/control system - Perhaps we can piecemeal
• Masking System or Panels (manual is fine - Can't afford auto)
• Ability to access AV equipment from office
• HTPC - Not sure exactly what this is yet but everyone else is doing it.
• XLR Mic/Instrument Cables built into the walls at the key points. Included headphone jacks
Completely Optional (not likely due to budget):
• Video Cameras system for baby monitoring and doorbell area (we don't even have a little peephole)
Budget:
I know it sounds like this is going to be an extravagant build but its really not since I have a lot of the recording equipment already. I am also going to do as much of the work by myself as I can. I do not have enough knowledge about the control system so I don't know what those costs are. I am looking for a DIY solution for control that I can program myself. My budget range including equipment is $20K-30K assuming I do most of the construction myself. This figure includes equipment purchased for the purposes of the theater but does not include the items my ex-consultant told me to purchase.
Usage:
65% Movies, 10% Gaming, 25% TV (mostly sports)
Timeline:
Before I die.
Room Size:
Entire basement is 52' X 26' unfinished but that includes the stairs. The theater area is approximately 20' X 26' that is open on the two sides.
Equipment: (* = acquired)
• Projector: Projectors seem to be constantly getting better but I am looking at the JVC RS25/35 or Sony VPL-VW85. I will wait until the last possible minute to purchase. - Not purchased
• Screen: 120" 16:9 screen. I see that most people are going with 1-2.35 but perhaps I just don't know enough about that to go that route. Possibly DIY if it makes sense. Not purchased
• Processor*: Integra DTC-9.8. Purchased May need to purchase high quality HDMI switcher like Oppo for use through the house.
• Front Speakers*: JBL Ti6K Left and Rights. JBL LC2 Center. Purchased
• Surround Speakers: JBL L820. Not purchased
• Subwoofers*: Sonance II In Wall Sub Qty 2 Units each of which are a 2X10". Still need to build the enclosures. Subs have been purchased but considering selling them.
Need some Advice on this
• Amplification: Theater - *Adcom GFA 5006, *Sonance 2120 Amp(for subs). Will most likely use Adcom for surrounds and need to purchase another amp for mains. I have no idea which one but most likely something reasonable priced and used Possibly Rotel. HELP Recording/Rehearsal Studio - NHT Pro Monitors with Amp for mixing desk, Nady 2 channel 1000 watt amp (to be replaced with crown amplifier) powering a pair of JBL PA Speakers. Other - Family Room and MBR to be determined depending on control system. Not sure if I should have local HTIB or amplification from downstairs. Since my processor only has 3 zones and 2 zones of video, I think they will have to be separate units.
Need some advice on this
• HDTV Source*:
*Two Cablevision Boxes, one with DVR
• Room Correction Processor/EQ* - Audio Control Diva. Because of the open sides to the theater it was recommended that I get a room correction processor. Well I have it, I paid a ton for it and I have no idea how to use it or if I even have the additional items needed to use it.
Need some advice on this.
• Gaming Systems*: PS3, Wii, Xbox360. All Acquired
• Blu-Ray: PS3 for now. Being researched if upgrade is needed.
• Family Room Equipment(2nd Floor)* - Panasonic TC-P58S1 58" Plasma TV, Lutron Maestro Dimming Switches with IR controllers, 3 way Joytek HDMI Switcher,
• Office* - Dell i7 Computer with 8GB Ram, Dual 24" Monitors with dual HDMI inputs on each and TV Tuner card
• MBR TV - Sony 52V5E LCD TV and Sony s560 blu ray player.
• Rack: Situated in the closet under the stairs but I am worried about the fan noise. I think it is best to have a separate rack for recording studio items in the recording area and a larger AV rack underneath the stairs. As far as type of rack was looking to purchase a middle atlantic or build something myself out of wood.
• HTPC: I'm not even sure if I know what this is exactly yet but I have plenty of computers and even a rack mounted one for my studio that I can convert into an HTPC. I figure when the time comes, I will mess around with this.
• Miscellaneous - Mackie 32 channel/8 Bus recording console fed through a couple of preamps into RME AD/DA converters. Line 6 Guitar Amp, GK Bass Amp, Tama Drums, bunch of guitars, a yamaha keyboard and you get the idea.
Acoustic Treatments:
2' X 4' DIY acoustic treatments using acoustic panels available commercially. I have put these together a long time ago with great results when we recorded in my drummer's basement.
Curtains:
My aunt is a seamstress and makes curtains and drapes for people. She also reupholsters furniture. She is going to make me the curtains and I was hoping to use one of these systems on ebay for automatic curtains. Looks like they are a few hundred dollars and they seem to get good reviews. I already know I won't be able to afford Lutron.
Seating:
I missed the powerbuy from Roman for Berkline chairs. I was going to go with the simple black 13217 for 400 each. I think I can swing 9 chairs if I do this right.
Network Wiring:
Currently there is Cat 5e or 6 ethernet in each room in the house terminating in the closet underneath the stairs.
Ceiling:
For the star ceiling part I will use a standard fiber optic ceiling kit but I am going to do this in baby steps. I will get the ceiling ready for install though I need to slow down with my costs. For the rest of the ceiling, the HT area will be a darker drop ceiling type of tile and a little brighter in the other 2/3rds of the room. I am hoping to get .75-.95 NRC ceiling tile and also stuff insulation between the joists. I hope this is good enough although drums do get very loud. Another option is this "Supress Drywall" which someone suggested to me and is the equivalent of 8 pieces of sheetrock with no clips needed.
I'm not sure how to keep sound from escaping from the recessed lights. The ceiling is 9'4" high but contains a 12" steel beam through the center.
Sound Proofing:
This is the part where I really could use a lot of help. My current plan is to use Metal studs where possible and put some wood into the metal studs in the critical areas such as where I'm hanging my guitars or cabinets of any kind. I wanted to go with drop ceiling because the NRC ratings are pretty high. Also, with a drop ceiling I could always rout cables a lot easier to the rest of the 1st floor if I ever needed to. I was going to stuff some insulation between the joists to help out with the sound. I need to figure out the best insulation for this purpose HELP . I can decouple the studs from the top plate using the methods described here on these forums but I did not want to double sheetrock the ceiling. I will also be building my own sound panels but mostly for acoustic treating of the studio. I will be using Owens Corning 703 board and some microsuede.
Problems to Contend with:
Sound Proofing. Drums are louder than the movies and I need to keep things fairly quiet with a 3 yr old and a one year old in the house.
Sound Quality - Open Sides of the theater will allow sound to escape and bounce off of things we don't want it to. The curtains will most likely do nothing except provide some ambiance.
Keeping the ceilings as high as possible for ping pong. I know it sounds stupid but ping pong is no joke in my house. Ever see Forrest Gump?
No outside access except for a few tiny windows - Getting material down there won't be fun
HDMI run to bedroom is a long one. Over 50 feet. There is a conduit that goes to the attic from the rack area but its not going to be fun.
HVAC in basement is same zone as main floor. Will that matter?
Equipment:
Integra DTC 9.8
JBL Ti6K
Adcom Amp
JBL LC2
Sonance subs -
Sonance 2120 amp -
Speaker Wire/banana plugs -
HDMI 75' cable -
Audio Control Diva - not included because i need to sell and does not count towards budget.
Current Status: Planning (Started basic cleaning, etc)
Done: I have done nothing except type this thing out (edit: I even started typing this out over a year ago. - To Be updated.
DONE:
Finish detailed drawings
Details needed: Electrical Outlets, and light fixtures, all low voltage wiring
Move all my crap somewhere
Dry Lok basement - Basement is brand new and dry as a bone but I don't want to take any chances
Wall Framing
Soffit Framing
Insulation
Column framing for lolly columns
Frame Sump pump areas
Run Speaker Wire
HDMI wire for projector
Recessed Tray Ceiling area above seats
Run Sconce Wiring
Run spotlight/accent light wiring
Ethernet Wiring
Run Outlet Wiring
Run recessed lights wiring
Run rope lighting wiring
Sub Panel
To Do:
Run Recording studio cable (partial complete, waiting for supplies)
Sheetrock and mud (In progress)
Build Riser for stage and seating
Frame door for utility access room
Frame projector area (figure out where to put it!)
Frame Equipment Rack Area
Run conduit in key locations
Run outlet wiring including to risers
Build Columns
Understand Control System and install portions needed
Install Ceiling Grid
Install Cans, accents lighting
Install Star Ceiling
Install Curtain mechanism
Add chair rail
Texture paint
Install Sconces
Wire Switches
Build Rack Space
Carpet
Install Rack
Run new ducts and returns
Wire outlets
Wire Switches, Lights & Fans
Run LV Cables and Conduit
Finish Sheetrock
Install Guitar hangers
Install Projector and screen
Install Ceiling Tile
Paint
Install Seating
Posters
Snow Cone Machine
Rock and Roll
I know I can't possibly plan everything to the "T" but I think I can roll with it and adapt as needed. I know I won't have all of my must haves but I am pretty easy going. My goal is to do the best I can and as long as its good enough for me that's allt hat matters.