So I have been in the process of remodeling my basement and figured I'd start sharing my progress and design with everyone.
I still have a good amount of work to do but for now I will be putting up some before/after pics and will continue to update as soon as I can.
The plan is to eventually get a home theater setup down there as well as finish my bar.
This is what I've done so far.
Bar top: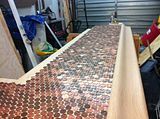 Basement: