*** EDIT 8/2/2012
Some Finished Photos

***Edit 8/21/2012
Equipment List
AV Rack Equip:
Main Receiver - Pioneer VSX 1121
Secondary Receiver (used as amp) - HK AVR 120
Home built HTPC
Probox DAS - 8TB
PS3
XBOX 360
Sony DVD player ( a cheapo)
APC-UPS
Speakers:
LCR - Aperion 3 X 5T Intimus Towers
In wall side surrounds - 4X Home Theater Direct HDW65
Rear Surrounds - 2X Aperion Intimus 4BP Bipole
Projector:
Mitsubishi HC4900 (will be upgrading soon)
*** EDIT 8/17/2011

Some dimension changes. Also changed design of acoustic panels.

*** EDIT 4/23/2011

Editing the first post to start thread with final design decision. Had gone through several designs and this my friends is the THIRD "Final" design
. Once complete, I will use this first post to summarize the final product and of course final photos.

So Here it is the Third and "final" ...final design... subject to change without notice.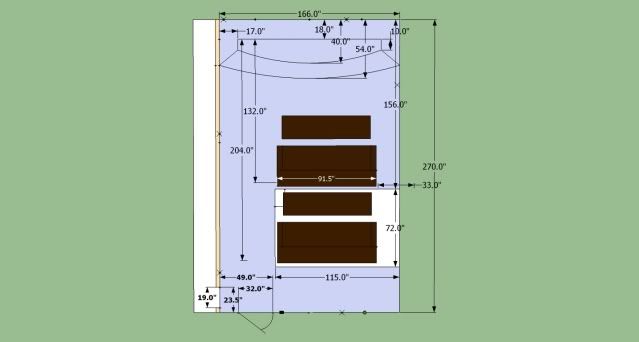 Electrical Layout:



Screen size: 120" wide 2.35:1 AT Screen
Sound: 7.2 surround
Equipment list: (Reserved as this may change)
Color scheme: Burgundy and Tan (subject to change)

Final Pictures: (Reserved)
Edited by MysticalJet - 8/21/12 at 6:06pm