Edit: Here are pictures of the (basically) finished room...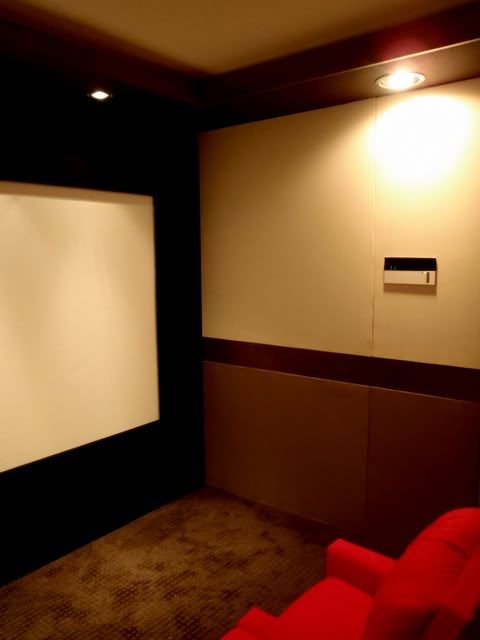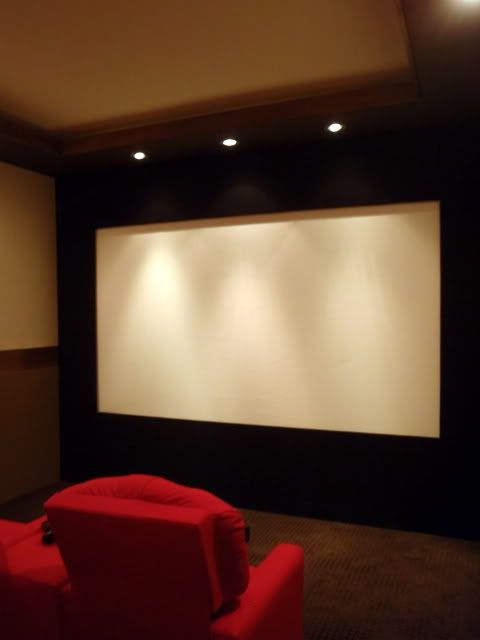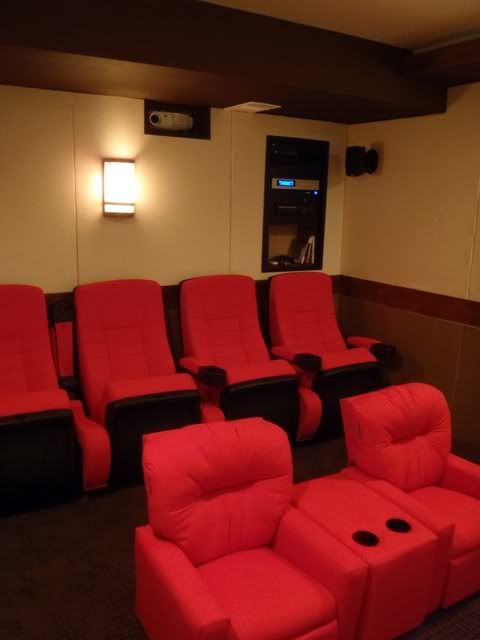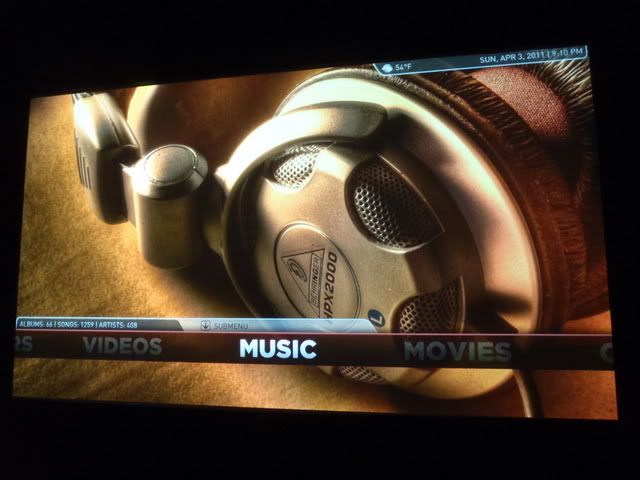 Original Post: After nearly a year of prioritizing other projects around the house, it's time to finish my little gaming/movie cave. I'm working on a tight budget so I'll be DIY'ing as much as possible, but since I don't have much experience I'll be relying heavily on the combined experience of you fine folks!
The room is a tiny basement bonus room, measuring approximately 9' x 13' with a large built-in desk/cabinet at the far end of the room. The first iteration of the build involved hanging the PJ (Optoma HD20), mounting a small DIY screen on the built-in, installing 5.1 sound (Klipsch Synergy Quintet + cheapo hand-me-down sub), and building a modest AV rack in the back of the room for an Onkyo TX-SR606, a home built HTPC (w/ 2TB NAS out of sight), and an xbox 360, as well as some controller/remote/game storage.
Here's where I started...
Goals for the next phase are basically to revamp the decor of the room, bringing it forward about 4 decades, and to increase the screen size.
Here's a basic sketch of where I'm currently at with the room plan...
I've gone back and forth a hundred times on how the screen should be implemented; should it be flat against the back wall for as big as possible 16:9, or brought forward a bit with a false wall to house the speakers and potentially some storage? I obviously don't have a lot of room and it would sure be nice to stick the Rock Band instruments in there. I also really like the look of an AT screen with illuminated speakers behind it. Whatever solution I go with will get an image size bump by moving the projector back a couple feet into the utility room behind the theater and shooting it through an opening in the back wall.
What I settled on (although I'm open to feedback!) is a 21" deep screen wall with a DIY AT scope screen. This yeilds a throw distance of 11' 2" for a max 16:9 image size of 89"x50" at a viewing distance of approximately 9.5 feet. So, what I'm thinking is that if I reduce the image height by just 4 inches, I can build a scope screen at 108"x45". I don't feel this impacts 16:9 too drastically but with an anamorphic lens it would push scope content (which is a big chunk of our viewing) out to just 2 inches shy of the walls on either side.
This is my biggest concern at the moment:
Do you think 16:9 content at 80"x45" would be big enough from 9.5 feet? Various calculators make me think it will be ok but I'm hoping for some actual feedback.
So, in addition to building a new screen, the decor obviously needs some work. Here's the plan (in probably the wrong order)...
1. Remove built-in desk/shelving, textured plaster ceiling and wood paneling. Replace drywall where required.
2. Cut and finish a hole between theater and utility room for projector.
3. Build a shallow soffit on the two side and the front walls. This will carry conduit and will house three small cans over the screen wall, one larger can on each side wall and a rope light in a tray around the interior of the soffit.
4. Install multi-zone light control switch.
5. Build screen wall and AT scope screen. Wall mount the LCR speakers and install accent spotlights inside screen wall.
6. Install audience lighting consisting hopefully of two small cans. I know I can get one over the rack as that HVAC duct terminates before the side wall, but I don't know if I can get another one over the seats. Perhaps a single can on a track here?
7. Finish walls with DIY fabric paneling.
8. Install seating, a row of 4 Capri rockers...
The lighting plan I'm thinking of would be 4 zones:
1. Three cans over the screen wall and two cans on the side wall.
2. Three accent spotlights behind the screen wall pointing at LCR speakers.
3. Rope light in soffit.
4. Audience lighting.
I think this would give me enough options to program some cool lighting variations. Haven't researched or chosen a light control solution.
So, this opening post is largely just me throwing all my thoughts against the wall in a somewhat scattered manner, but hopefully I'll get some feedback and some discussion going and before too long we'll have another room transformed into something pretty cool.
Thanks for reading!