Hi all,
I have an LG plasma 50PS3000, about 13 months old, still under warranty.
About 5 months ago, this ghost image appeared: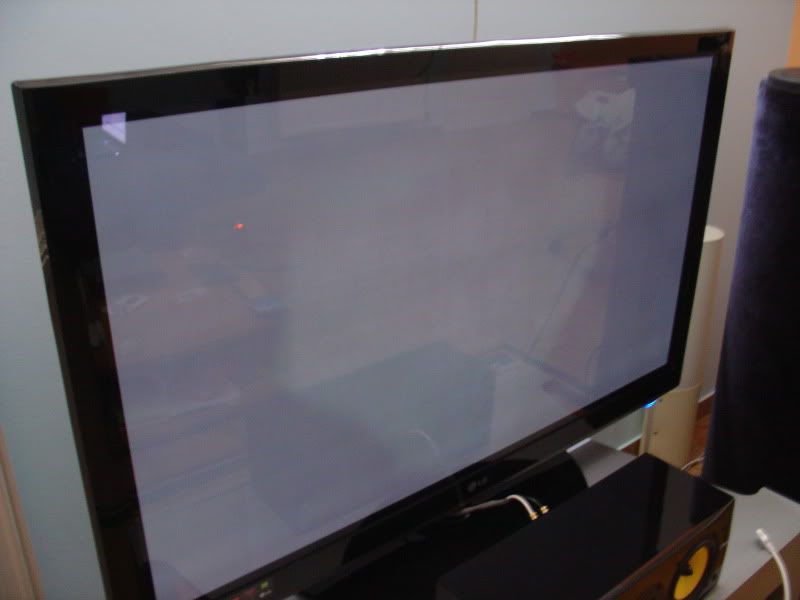 (The screen was displaying only black at the time the picture was taken. Every item that you're seeing is just reflexions. The "black bar" at the far right is the reflection of the PC-13U subwoofer, not burn-in)
I am referring to the grayish funnel-shaped ghost image in the center. It has sharp edges on most of the right side and bottom and somewhat fuzzy edges on the left side and top. I generally cannot see it during movies but it is
very
apparent in dark scenes.
I called LG Greece, they took the TV to inspect it and at first declared "no problem, we can't see anything wrong". I had to drive to the service center to show them what I meant. Anyway, they told me it was a "ghost image" and that it should go away with time (TV was at 600 hours at the time). They suggested I should run screen savers, watch full-screen programs and wait about 800 hours(!) for the image to go away. They also told me that it was probably due to watching too much 16:9 and 4:3 content all the time. I am a well-trusting person so I took their word for it and took the TV home.
But it got me worried...
I have to add that:
I do NOT play video games, I do NOT have a DVD or Blu-ray player to give me static menu screens, I do NOT watch TV (really, I estimate I watch tv about 1 hour every 2 or 3 months, if I have guests who want to turn it on).
I only have the X-treamer media player which is set to activate the screen saver after 1 minute on pause. I also have a Pioneer VSX-1020K but it has a built-in screen saver and in any case the ghost image appeared before I purchased the 1020.
I run the "colour wash" built in screen saver for 15-30 minutes every time I finish watching a movie.
I had not broken the set in with any slides etc. but I had calibrated it to realistic contrast and brightness levels using the DVE disk and I was (still am) using the power saver option to "intelligent sensor, high" which is protective for the TV.
and that: I do not let anyone else use the TV (except for one time when the family watched my brother's wedding, max 2 hours).
The set gets IR quite easily but it is
very
transient, a movie or a screen saver just for a couple of minutes washes these images away and they never interfere with watching any program anyway.
Now, what do you think that ghost image in the center is? Can't be burn-in. Setting aside the fact that I am anal about my plasma TV, burn-in is supposed to be overused pixels which now have reduced brightness, therefore appearing darker. This thing is brighter, just like image retention, only it is permanent. Unless I burned-in the rest of the screen and the only part that has any phosphors left is that funnel in the middle...
I have been running screen savers, white washes, colour washes, the Pionner image retention cleaner, everything, day and night for the last couple of months, even unplugged the TV a few times. It doesn't get better. Might even be getting a bit worse. Why should this ghost image need "800 hours" to go away?
I just called LG Greece and asked them to have a look again. I am worried that I will be getting the same answer which I think is wrong. It could be something else, e.g. a faulty screen, and
while I'm running 800 hours of screen savers the warranty will expire
If I am wrong, I wouldn't want to argue with them and be a jackass. But if I am right, I would like to have some arguments to explain my point. I downloaded some images of burn-in to show that it's supposed to be darker. I would very much like to hear your opinions on this.