Well, after a few misses on how to get this done, I think I've got it for the moment. What I attempted to do was to make a motorized horizontal mask. Saw a video
on youtube that showed making a masking system using a tubular motor. I didn't know there were such things as tubular motors until then. I needed the tube concept because I don't have much room above my painted screen area. Below the screen I had plenty so I could just use the sliding bar with black mask attached that could be raised and lowered.

Anyway, concept is pretty simple,
Ingredients

http://www.av-outlet.com/ Cant give the direct link to the motor, you have to click on "roller shade components"

Tubular Motor
aluminum tube (sold by people who sell the motor)
Brackets (comes with the tube)
Remote(came with the motor)
2 AL bars
Some sort of channel for the bar to slide in on the bottom to keep it flat
String/cord
2 hose clamps to hold the cord on the tube
couple of those adjustable hooks to help with adjustments
Black top mask with pocket sewed into it
Bottom Mask, (I have 2 pockets sewed into it, one on top and one on bottom but only using the top one, thought I would need a bar slid on the bottom of it to keep it straight but it seems to be fine just hanging).

Very simply, The top is a tube with the mask rolled around it and the Al bar is slid inside the pocket that we made. Motor plugs into a wall outlet and has an IR cord attached to the motor. Strings wrap around the tube and are attached with hose clamps. Strings go down and attach to the bottom bar which is slid in the bottom mask. The bottom mask is just hanging and the bar slides in the channels to keep it straight.

When the motor rolls the top mask down, it pulls the bottom mask up. The weight of the top bar is way to heavy for the motor to pull it back up without the bottom mask attached which acts as a counter weight as well when the top mask is going up. I switch to string from a metal cord for what wraps around the tube, seemed easier to use. The bottom cord is a metal cable with clamps for adjustment. You could use any kind of cable I would think.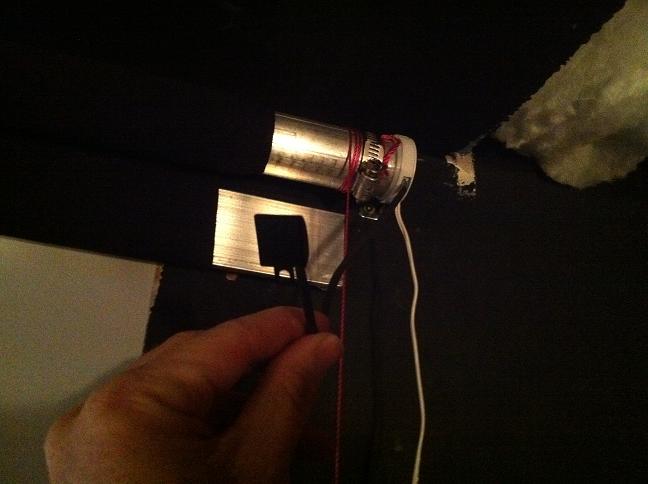 The thing I'm holding is an IR cord that accepts signals.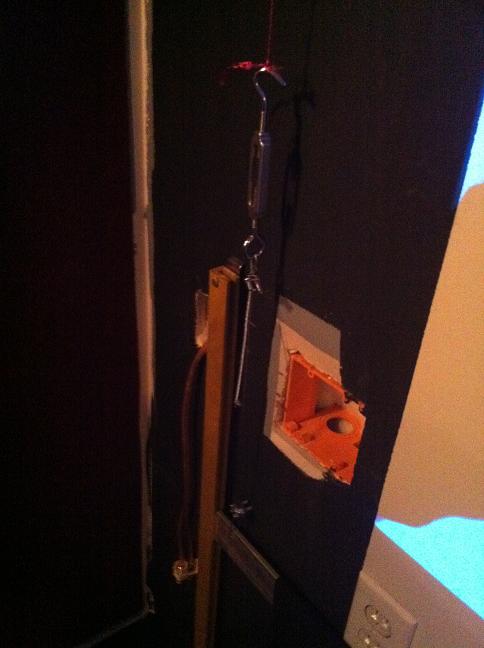 Front left bottom... bar is in the channel.. yes i have an outlet in my screen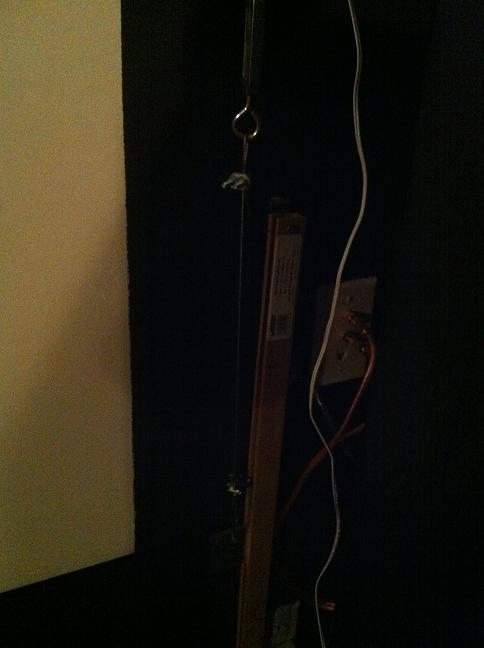 Bottom right... bar is in the channel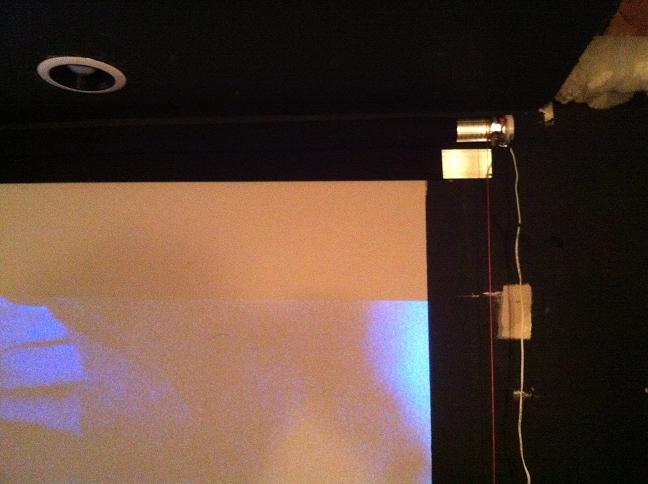 Open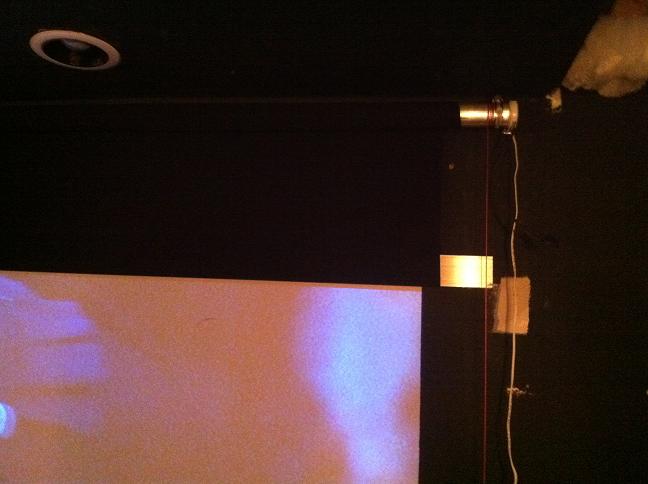 Closed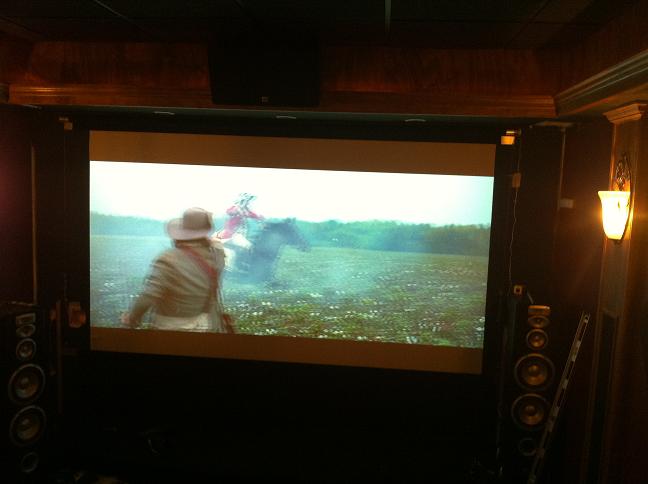 Open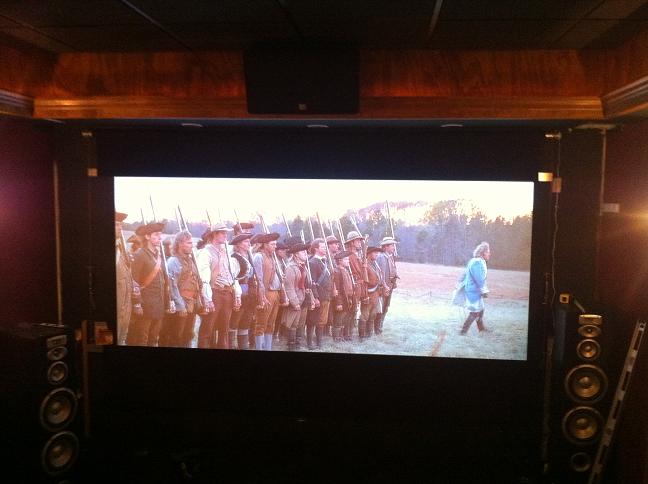 Closed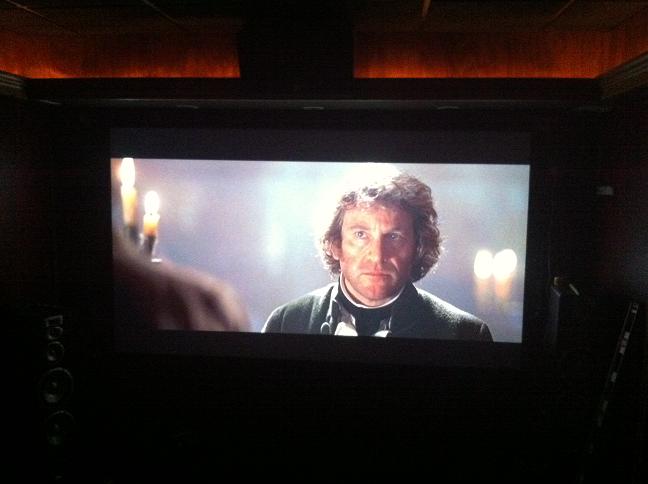 Open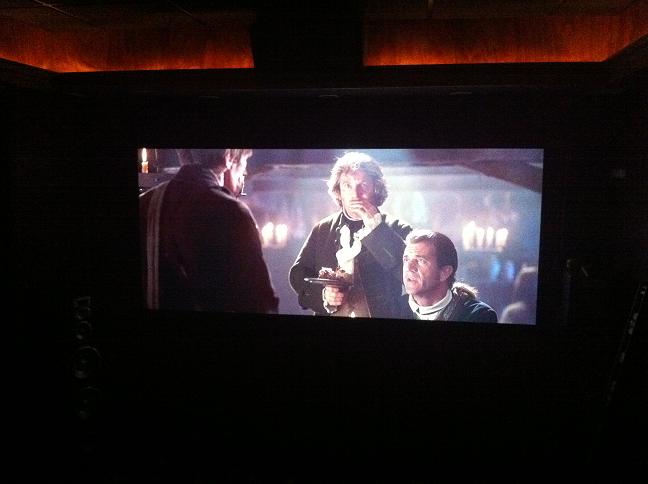 Closed

Motor and tubes cost me just over $200 shipped. They couldn't ship me a full 10' tube without a large shipping fee but they could send me an 8' and a 4' at no extra cost to ship. So I had a friend who is a welding genius weld the two AL pieces together. Very happy with the results on that. The bars cost me $50 at a local blacksmith shop. They are 2" pieces. I didn't think they would work because of the weight but seems to counterbalance very nicely. I had found some lighter AL pieces of Hammered carpet grip at Home depot that I thought were straight but when I slid them in and put them up you could see how bad the edge was. If I were somebody starting this project, I'd find the lightest material possible as to not strain the motor.... Maybe should have used 1" Al pieces but they didn't have those.... Anything that will stay straight and not sag over the 10' span.

So for around $300 I have what I want for the moment. The motor does strain a little but for as little as it will be going up and down I think it will be fine. They have stronger motors as well but they cost more. Wanted to try it for the lower cost.

One note, trying to get all this straight wasn't fun. I thought getting the projector lined up for normal viewing was bad enough but getting it set for this seemed to be even worse. Seemed the bottom wasn't going up as far as the top was rolling down. Finally seemed to get the projector straight.

I just hope it stands the test of time. I still need to redo my false speaker wall also to get the top to fit around the motor. That is the next thing... Looks fine for the moment without it tho. Forgot to mention also, you can program the motor to have limits as well so you don't go to far one way or the other. You can also program one middle position. For now I have the upper and lower set so it doesn't roll up too much and just rolls down to the right spot for the ratio I'm watchin right now.

Hope this helps somebody.
Edited by Wazzey - 12/23/12 at 8:32am