I have finally decided to create my own build log.
I live in a 2 family home, owned by my family. We recently kicked my mother out to a nice nursing home (she actually is getting remarried and moved 2 blocks from her work). So I moved from the second floor with my wife and 2 kids to the first floor. My brother moved upstairs with his new wife and baby.
The basement was 90% finished when we bought the house. All we did was paint the walls and throw in some indoor / outdoor carpet. The owner told us they never got water. Well, we got water. Ripped the carpet up and some walls and never refinished. I always wanted to finish it again and this is my chance.
I have learned a ton already from this site and hope to learn more from you all. I will be doing 95% of this build by myself and 5% with the help of some licensed family members for the important stuff like hooking up electrical and plumbing help.
PLEASE FEEL 110% CONFIDENT TO SHARE ANY COMMENT YOU MAY HAVE!!
Thanks in advance
Robbie
The Plan
Well, if only it was as easy as this. We want a room were my kids can go to and just have fun. My daughter (9) loves to have her friends over to play Wii dance and Sing it. They also just like to dance and make stuff up. My son (12) and I are big gamers. The entire family loves anything sports team that starts with "Boston". Especially the Bruins. Thats why I figure a projector with a 100"+ screen should do well at one end. We had a little bar when we bought the place but it was crappy. I want to build something nice. That will be at the other end.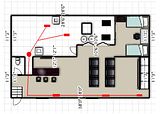 Looking towards the back of the house
Currently in the cabinet sits a 32" RCA tube tv, Playstation 2, Wii and Directv box. Eventually a false wall will be built in front of the stairs to house the screen and components.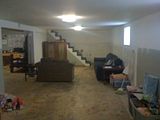 Front of the house
Where the computer is now, the old bar was. That is my latest project. Onthe other side of that wall lies my main drain pipe and then a small bathroon. More on that later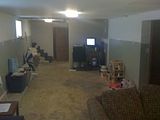 Door to Laundry / Workshop / storage / locker room
you dont want to look behind this door. (atleast until I finish my work bench)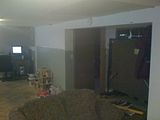 My sons Bedroom
My sons room is tucked in the corner. Not going to keep him awake, he's 12 and I think he hasnt slept in 2 years. I always find him reading or listening to music at night.