Not much of an update but I want to feel like I am making some progress. Walked away from it a couple weeks ago but got back into to knock out most of the mudding. Been kind of busy with other stuff. Hoping to get a coat of primer on the basement soon.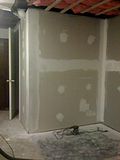 Some good news though. A week straight of rain and I only had 1 little damp spot were I used to get rivers flowing. I havent resealed between the foundation and the ground yet so that should just about take care of all the water. There was a puddle outside above this spot from the roof gutters dripping also. Need to take care of that.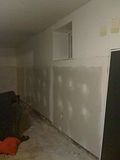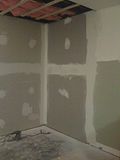 Been having too much fun I guess, instead of working....Took my son shooting for the first time. He had a blast.
http://youtu.be/VQF-5poPT_4