Hey all, long time lurker, but first post here. I'm an HTPC/WMC7 enthusiast and enjoy PC/media integration with my daily living. I'm no high-end audiophile, but just outfitted my new apartment with a Xantech DIGI-5 4-source, 4-zone distributed audio system, and thought I'd share the progress and photos with this forum.
I purchased the Xantech D5RHK, which includes a
4-source, 4-zone rack mount receiver
,
four keypads
,
four mini IR remotes
, and
four IR blasters
for your centrally-located components.
As with some of the others from NuVo and Russound, the hub connects to each of the zone keypads via cat5/cat6, providing power and audio, while also relaying IR commands. Keypads then connect to the speakers with standard 16/2 speaker wire. The back of the hub has connections for four sources. There's digital optical and coax for all four, and analog (RCA left and right) for sources 3 and 4. Jumper switches beneath each source allow you select between analog and the two digital.
Unboxing: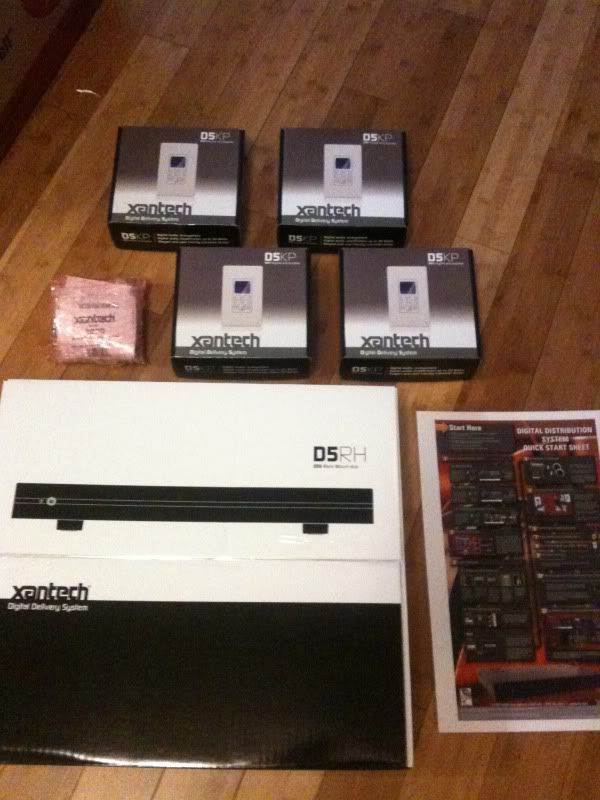 Components (IR remotes and blaster cables are in the pink bag)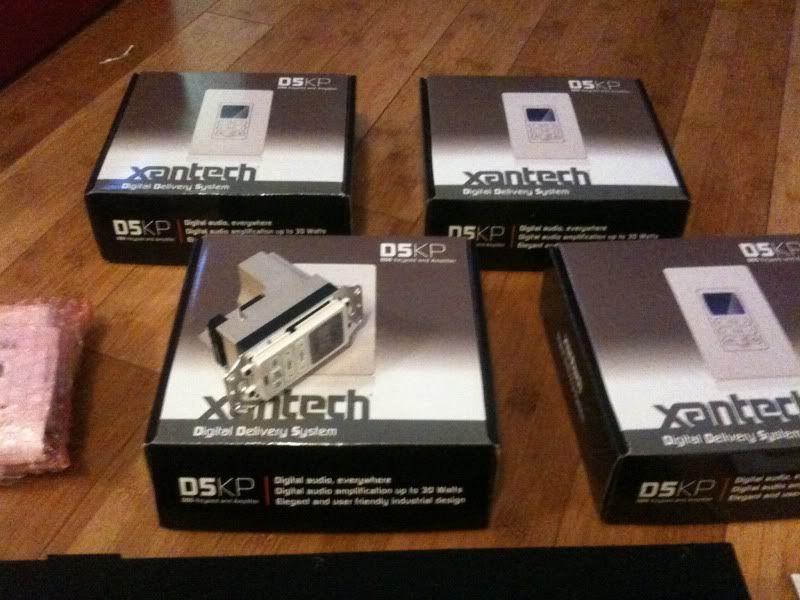 Keypad laying on top
Two mini IR remotes and two IR blaster cables (four of each are included with the kit)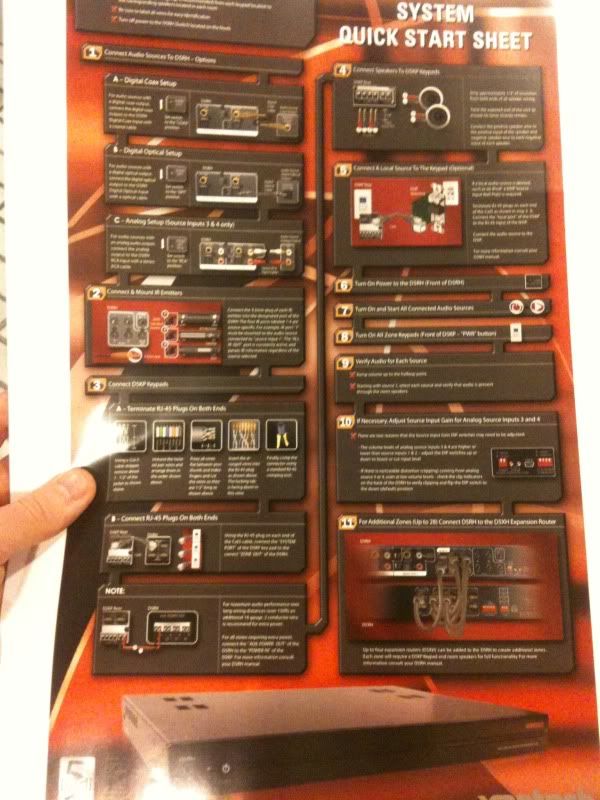 Nice colorful quick-reference instructions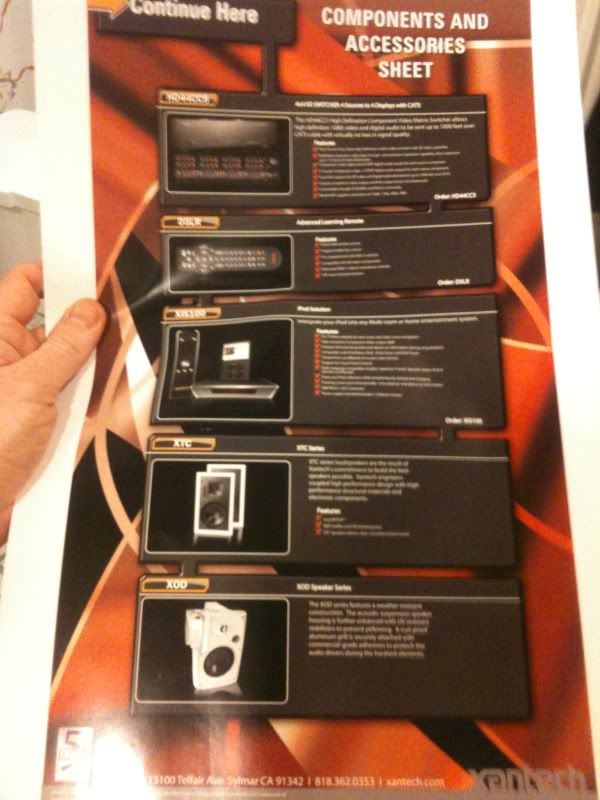 Back of page - other components for purchase
The
keypad unit (Xantech D5KP)
itself is about 2.5 inches deep, with an available cavity to stash cable slack: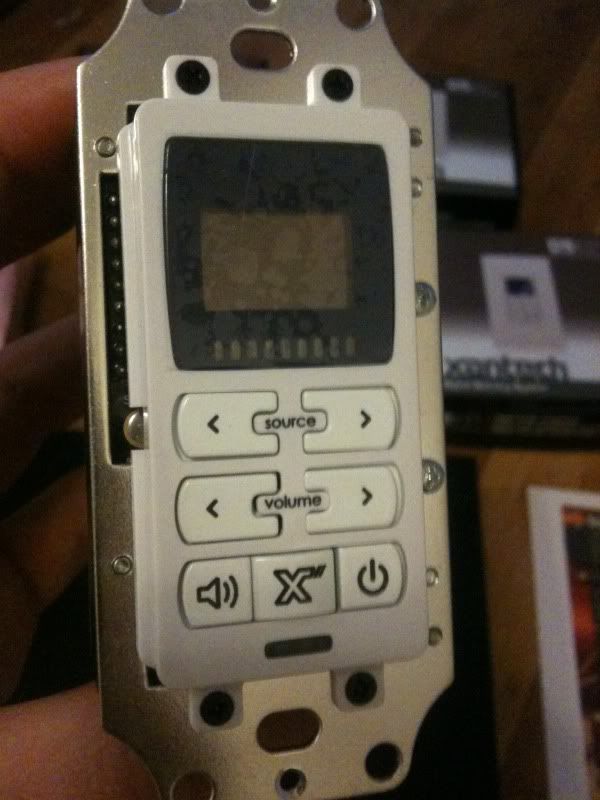 Front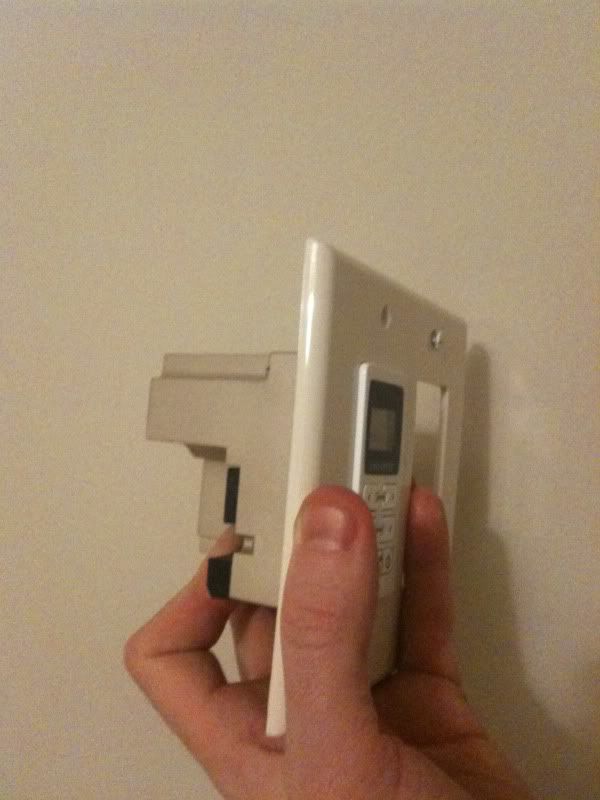 Side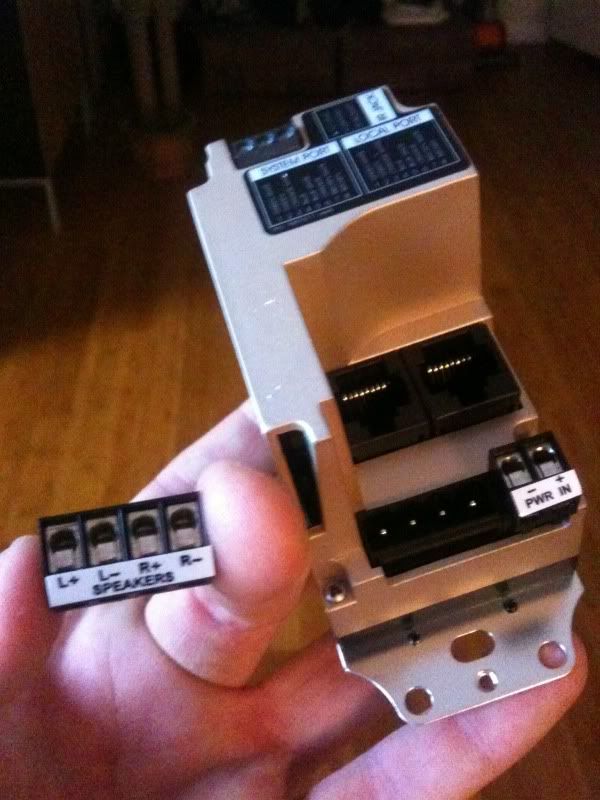 Back, with speaker connector detached (makes it nice and easy to get into the wall!)
I had a friend come over and help with the rough-in for three of my rooms (kitchen, bathroom, bedroom). For each, I wanted to set up the single-gang keypads alongside existing decora light switches to achieve more of a "stock" look. To keep with code, we installed a plastic divider between the low-voltage Xantech keypad and the high-voltage switches and outlets that shared the same gang box.
Keypad installation in kitchen: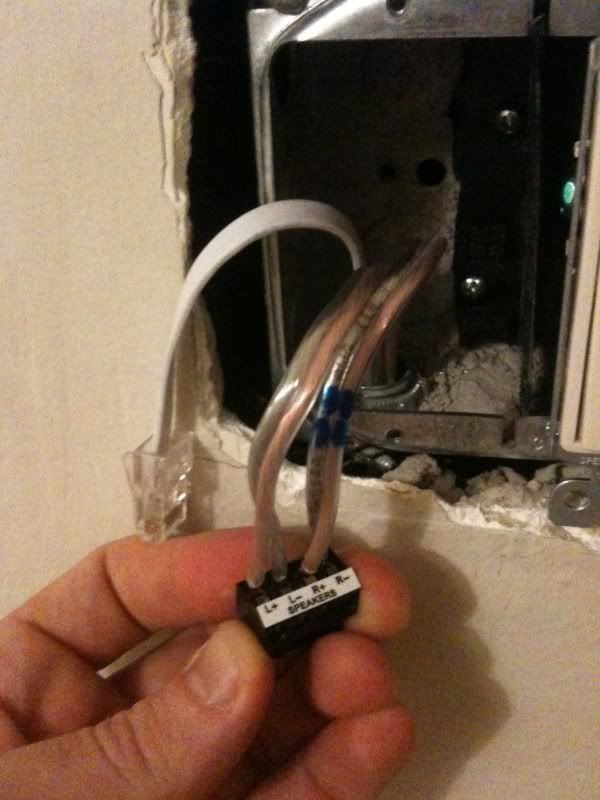 Double-gang box in kitchen - if you have access, better to use the punch-in from the back so cables don't snag/bunch as you insert the keypad.
Before proceeding to the other locations, I started an audio source, connected the cat6 at both ends, and plugged in the speaker connector to the back of the keypad.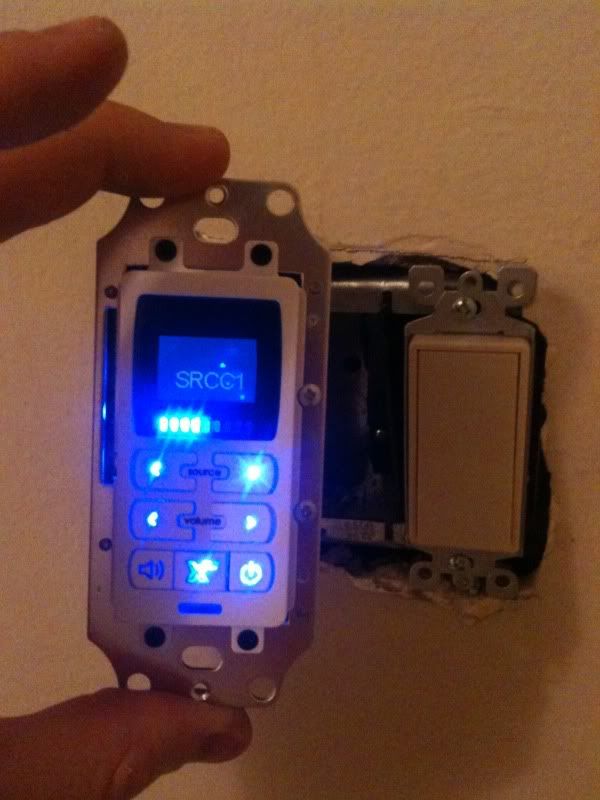 Quick test - WORKS!
For reference, normally, I'd have gone with in-wall speakers, but with plaster walls, I decided to go for a set of Orb Mod-1's. I opted for the brushed aluminum finish for a polished look (no pun intended)
The keypad has two setup menus - one is accessible from the front by holding the center "X" key for three seconds (bass/treble/balance, etc.). The other contains more advanced options (source names/backlight brightness & time out settings/zone lockout (kids rooms)/etc.) and that's accessible by pressing a button on the side of the keypad unit. You have to remove the faceplate to access that side button for latter menu.
Here's photos of the keypads in kitchen and bathroom
: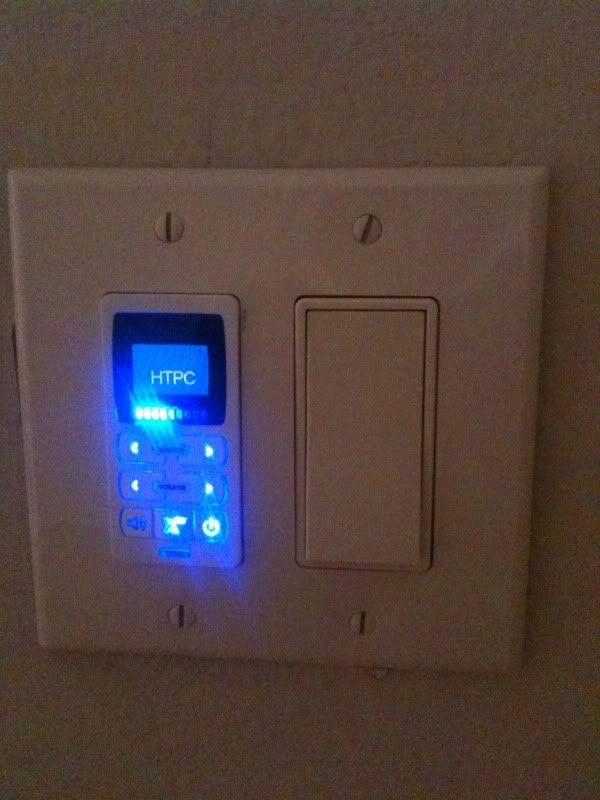 Source - HTPC, brightness level - 8 (of 8)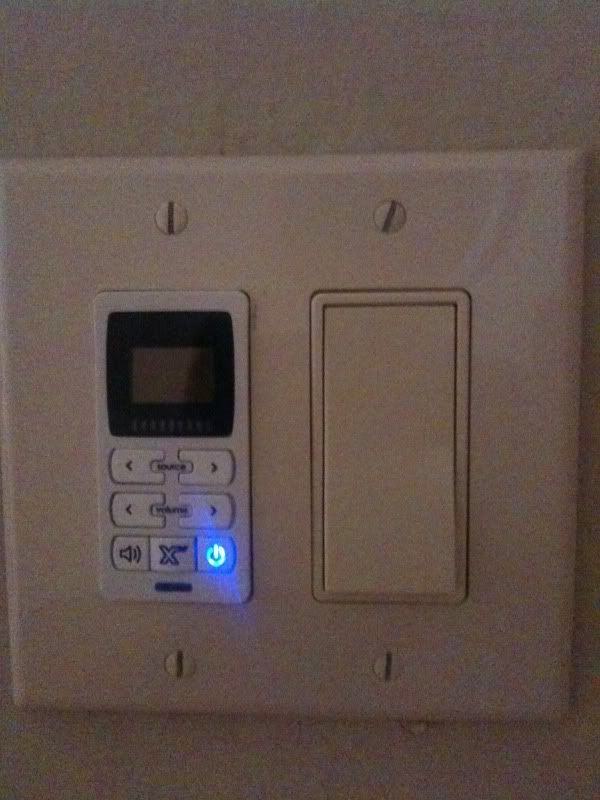 After user-defined timeout (mine's set at the default 30 seconds) only the power button illuminates. Brightness here is set at 2 (of 8). This is the lowest setting and emits about the same amount of light as my Leviton GFCI outlets (except those are green and this one's blue)
Color change kits are available (and on their way to me). The kit includes black, ivory, and almond to match your decor.
Bathroom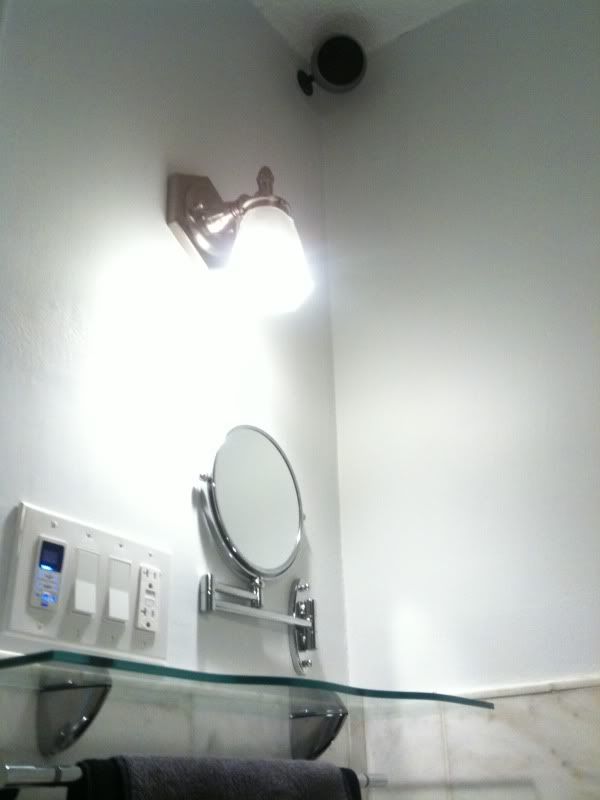 Bathroom - Quad gang box, with plastic divider between the three hi-voltage switches&outlet and the Xantech. Look up for the Orb speaker!
I'm still troubleshooting the bedroom connection. I had new floors put in, and flat cable run underneath the floor for this room (the others went behind baseboards). I troubleshooted (changed keypads,cables, multiple sources, etc.) and will probably re-crimp the cable when I can (the wires inside these flat cat6 cables are VERY hard for me to line up).
For now, I'm using analog just for testing, but have some coax cables on their way. I have three sound cards in my HTPC and have configured
STP MP3 Player
to load on Windows startup, playing a defined playlist out of "sound card 2."
Pandoras Box
outputs my station to "sound card 3". Both apps start up quietly and just sit in the system tray - you'd never know they're working unless you select sources 2 or 3 from the keypads. My primary sound card is reserved for WMC7, system sounds, and anything I'm actively doing on the computer. That sound card will be split to both my living room receiver and source one of the Xantech system.
Audio quality is fine for my needs - I have a single speaker mounted in the kitchen and one mounted in the bathroom. The keypad drives these things pretty loud, so I can easily hear streaming talk radio or my playlist while showering and getting ready in the morning.
So, that's it for now. I had to remove product/software URLs since this is my first post. If I left anything out, or if anyone has any questions, feel free to ask away. Hope this helps since there seem to be a lack of reviews/installation photos anywhere on the internet...