Current Status of Room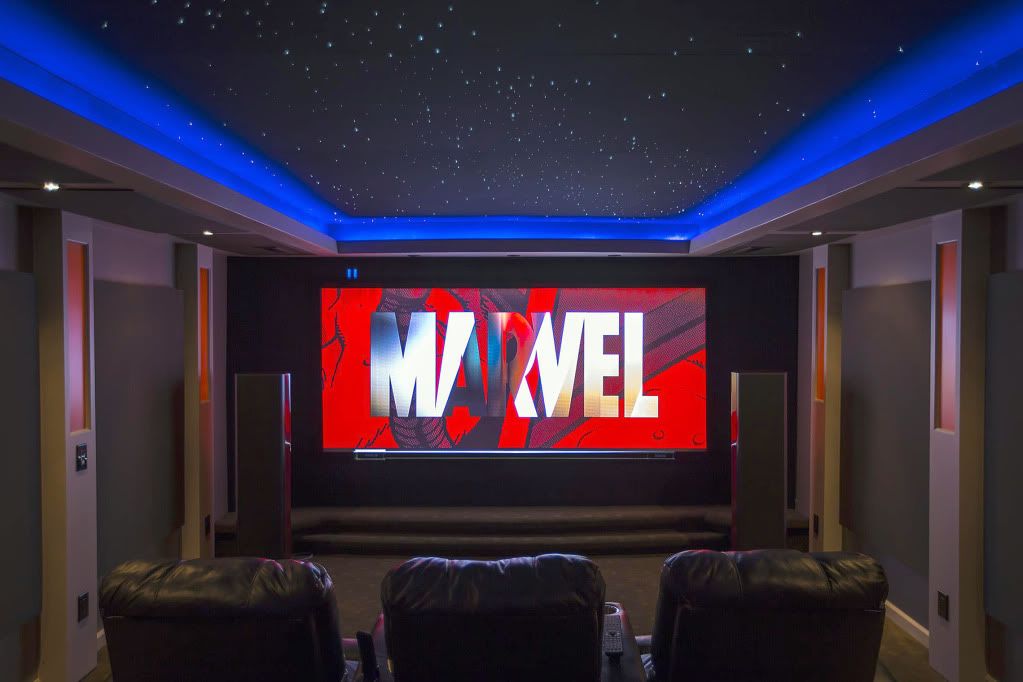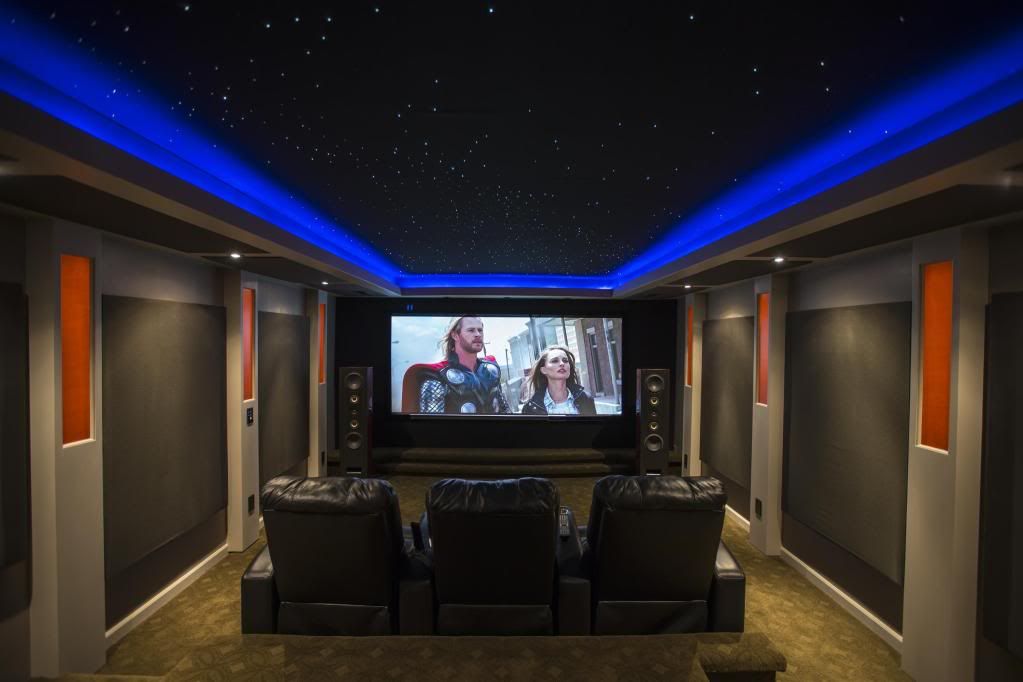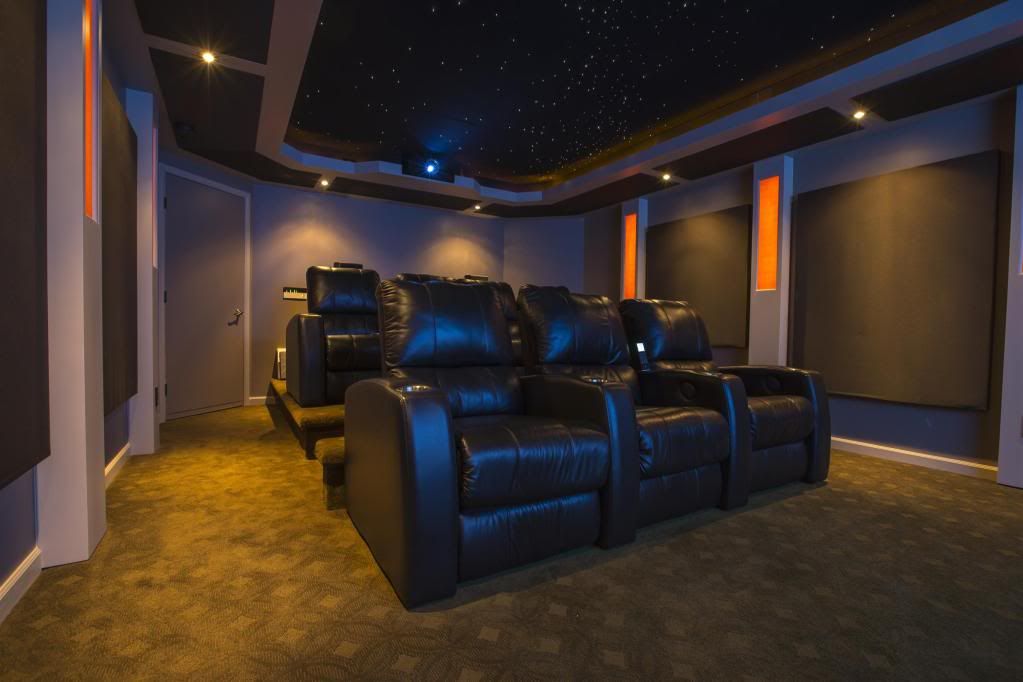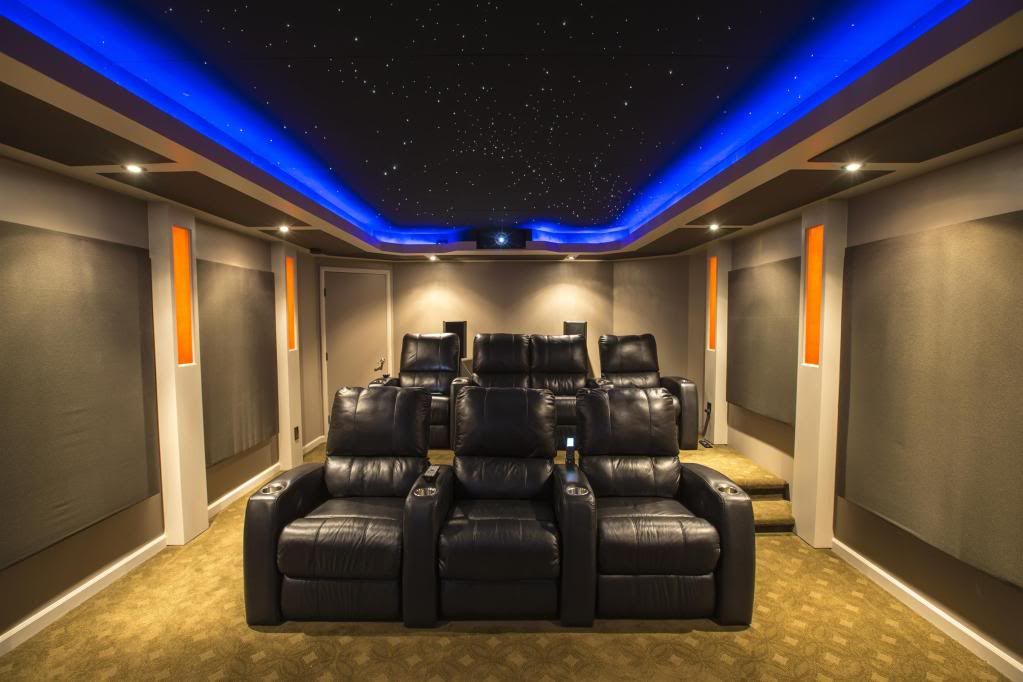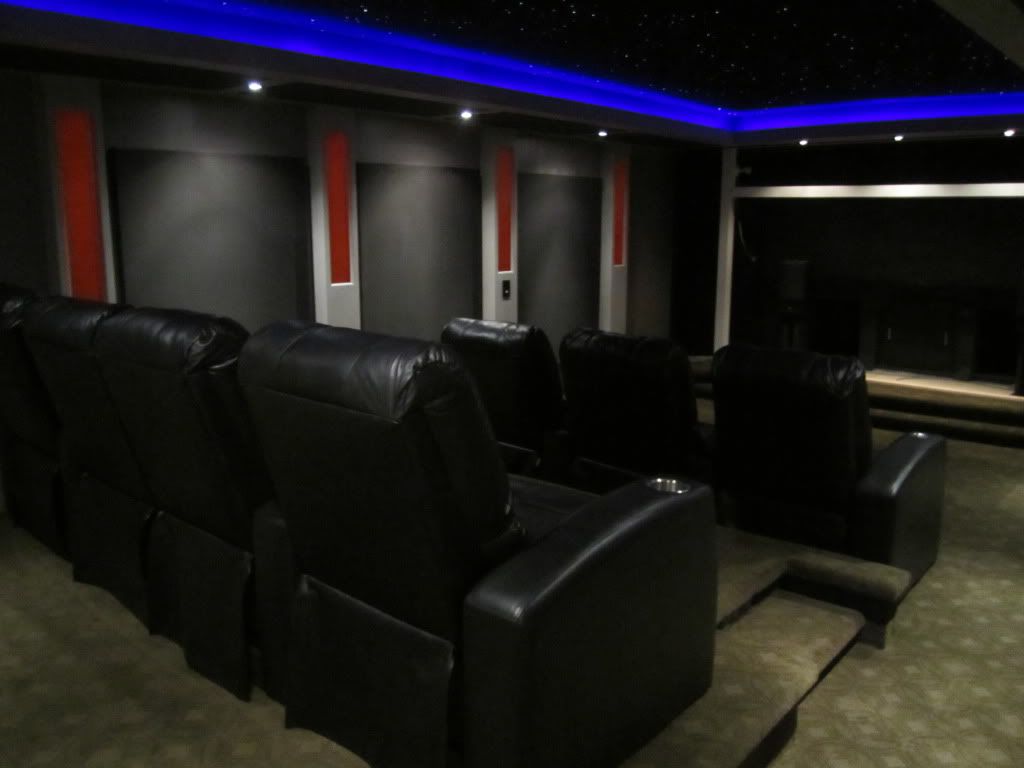 Thread Index:
1. Planning start
2. Infinite Baffle Subwoofer Manifolds start / finish
3. Infinite Baffle Chamber start / finish
4. Framing: start / finish
5. HVAC: start
6. Drywall: start / finish
7. Soundproof Door: start
8. Soffit: start
9. Subfloor (Delta-FL) start
11. Stage: start / finish
12. Star Ceiling: start / finish
13. Light Tray: start
14. Columns: start


Gear:

Projector: JVC RS45
Screen: DIY 130" CIH 2.4:1 Acoustically Transparent Seymour Centerstage HD
Speakers: PBN Audio EPS, PBN Custom EPS Center, PBN Monitor
Subs: DIY Infinite Baffle 4x18" drivers 1500 watts
Amps: Sierra Audio Whitney, Rotel RMB1095, Berhinger EP4000 (Subs) (2x) Buttkicker BKA1000
Pre/Pro: Integra DTC-9.8, Aragon Soundstage
Sub EQ: Behringer Feedback Destroyer
Blu Ray Player: Oppo BDP-93
Music Server: Squeezebox - Music Hall DacMagic - Might be upgrading to Benchmark Dac1
Other: Buttkicker LFE, Grafik Eye lighting control, PS3, Furman F1000 UPS for projector, Belkin PF60 for non 12v switching.


* Original Post *

After many years I now have a good space for a dedicated home theater / listening room. In my previous houses there was never enough room or a good space for a dedicated theater. We added on to our last house and made a nice spot for a dedicated theater, but we had decided to move before my dream theater became a reality.

I've only been in the house a few months, the entire basement is unfinished, and I've been finishing off some other rooms downstairs so that I can focus on the theater. While I've been working on the basement, I have started planning the theater room in my mind and on paper and thought it was time to get a build thread up to ask questions.

I'll start off by listing what I have to work with and some wants / needs / goals for the theater.

I have a pretty decent space - The space is a basement space with concrete walls on 3 of the 4 sides. Ceilings are 8'8". The room is 15'6" wide by roughly 30 long - I'll take up 4 feet of length at one end for an Infinite Baffle subwoofer chamber. Equipment will be located in my utility room that is just off the back of the theater. I have attached a preliminary plan with my room dimensions.

- For sound isolation, I plan to do a room within a room construction, Double Drywall / Green Glue, Isolation of HVAC - (edit - Ended up using a triple layer with OSB - GG - DW- GG- DW)

- Infinite Baffle Subwoofer (4 fi IB18's) - This is something I have wanted for a long time but never had a room where it would work.

- Fiber Optic Star Ceiling (Used FOSI for star ceiling)

- Grafik Eye controlled lighting – (I am going to try two rope lights in a soffit around the star ceiling – I am going to have an Orange or amber light and a blue light – My goal is to try and replicate a sunset with the lighting– hence the theater name.

- 130" diag scope 2.40 screen (10 ft wide) – I may try an automated masking system.

- Initially planning for 5.1 only – will prewire for other possibilities.

You may notice on the plan that I seem to have an extra set of speakers. I do have pair of tower speakers that I love that I do not want to bury behind a screen and need room to breathe. Using these is going to limit my screen size. I will be using this room for a lot of 2 channel music listening, and also multichannel audio (SACD, DVD-A). I enjoy both movies and music, but sound quality is much more important to me in Music than in movies. (I do want good performance with both though) I'm thinking of possibly having LCR's behind the screen, and using the towers for music listening only – I may consider some type of ball bearing sled in the floor to move the speakers away from the walls for music and put them close to the walls and out of the way for movies. I do like to fiddle with positioning the speakers so I'm not sure how well this solution will work.

I started a thread discussing the tower speakers. http://www.avsforum.com/avs-vb/showt...732&highlight= It may be a compromise, but I think I can make it work. If it absolutely does not work, I'll still have planned for speakers behind the screen.



With the current floorplan – I am already considering making the following changes – Moving false wall out further – Not sure if the space I have for false wall behind screen is big enough. 2 rows of 3 seats instead of 4 in back row. I like symmetry and the 4 row seat my look funny.

One other thing I'm wondering about is rear subwoofers – I know Moggie (old vic) planned for this and am wondering if this will help a great deal. I do have some extra DIY subwoofers that I built that could go in the back, but they are big and I like the idea of a stealthy subwoofer.

I'll try to get some pictures up of the space I'm working with. Been using it as a work area for the rest of the basement, so it is full of tools and stuff right now.



Edited by stockmonkey2000 - 9/12/13 at 7:48am