I noticed very little out on the internet tubes about the Epson Pro Cinema 800, so i decided i would share my experience.
I had been going back and forth on a few different projectors for a while. Most of them were Epson, all of which were LCD.
I kept looking and looking, as I was on a pretty tight budget. I found the Epson Pro Cinema 800 refurbished model direct from Epson. YES it IS 5 years old, almost 6, but I upgraded from an old Sony VPH-1040Q... so the Epson is brand new in my opinion. I got it for $550 with 2 year warranty and on call service line (part of Epson's warranty)
I was worried that i would notice a substantial difference between the black levels and color accuracy from the old CRT to the new LCD. As i went from a 15,000:1 contrast with the CRT to a 5000:1 contrast with the LCD.
And my brightness, from 500 lumens to a maximum of 1800 lumens.
as for contrast/ Black levels:
Let me jsut say this, if there is a difference, i can't see it.
I was/am very impressed with the black levels in the Epson, as well as the shadow detail... I'm seeing things i didn't know where there...
As for brightness:
The Pro Cinema 800 in it's highest setting is brighter than anyone needs it to be for home theatre. I calibrated it, and then 24 hours later, recalibrated and reduced image brightness even more. I'm probably projecting at about 700-800 lumens. If you think it needs to be brighter, not only are you wrong. You are doing something wrong lol.
I have attached some pics, they do it NO JUSTICE, as the webcam doesnt pick up anywhere near the same detail, color, contrast, or sharpness you see with the human eye. Everything looks oversaturated and lacks the MPPPH you get in real life viewing.
This is just to give you an idea
There are substantial available adjustment settings, more than most would know what to do with.
So far I have watched the following Films on standard DVD, and am more than satisfied, downright impressed actually:
* Street Fighter: Legend of Chun Li
* Sunshine
* True Grit
* GI JOE Rise of Cobra
* 300
* Sin City
* The Mummy
* Finding Nemo
* The Fifth Element
* X2: Xmen United
Tonight I'm gonna watch I am Legend, Star Trek, & Terminator Salvation
CHeck out the pics
X2:
X2: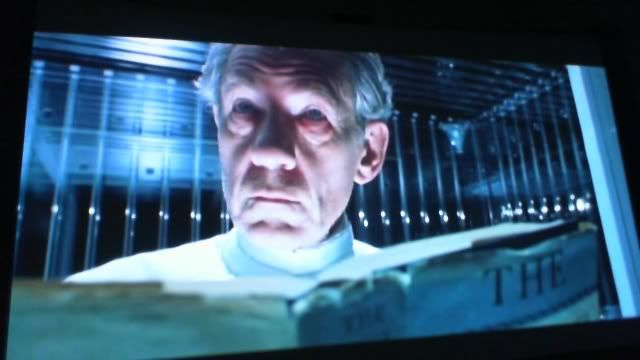 Sunshine: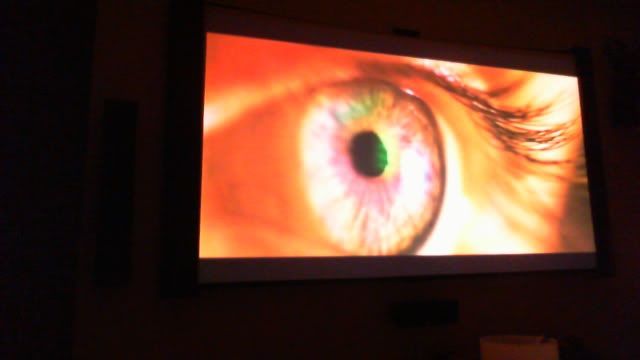 Sunshine:
Sunshine, good idea of Shadow detail, tho blacks look washed out... blame the Webcam, not the PJ
FOX LOGO:
Hope this helps someone out there who was looking as hard as i was... sorry the pics aren't of better quality! remember the projected image is 95% better than these pics, these just give a good idea of color & detail... pics are fuzzier than image... image is very crips, very clean, very sharp.
Couldn't ask for more for under $1000
-POJ