I live in a two story home with an unfinished basement. It is a 4 year old home. We are finally getting around to finishing the basement. Total basement size is around 1900 sq ft. and finished area will be around 1300.
I don't have the skills most of the DIY folks possess so I will not be doing this on my own. I have chosen a general contractor who will finish the entire basement. He will get help from these forums to plan my Home Theater.
Here is the floorplan.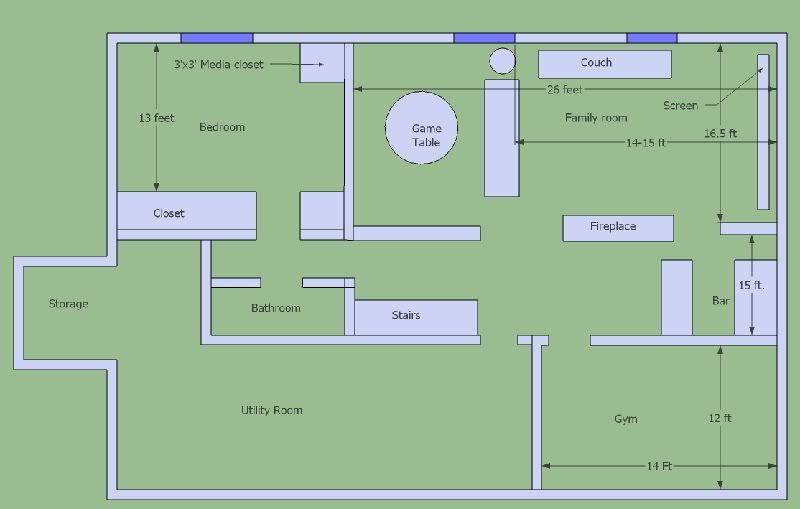 Home Theater will be in 26 x 16.5 inch area. This is unfinished space so drywall will reduce this size by a little bit.
The screen will go along the wall on the right size as shown.
Seating distance will from the primary viewing couch will be 14-15 feet.
Media closet will go into the bedroom that is next to the family room.
Media closet will be 3'x3'. It will be vented using cool components ceiling cooling kit and will probably be connected with HVAC.
I was thinking of putting 1 20 AMP circuit in Media closet.
The compnents will be receiver, bluray player, directv hd receiver, apple tv or XBOX
I was planning on using in-wall and in-ceiling speakers. I got a great deal on Paradigm reference series speakers so I bought them. I have not picked the up yet so I do have the flexibility to get floor standing or speakers.
Here are a few other pictures that might help in showing the space.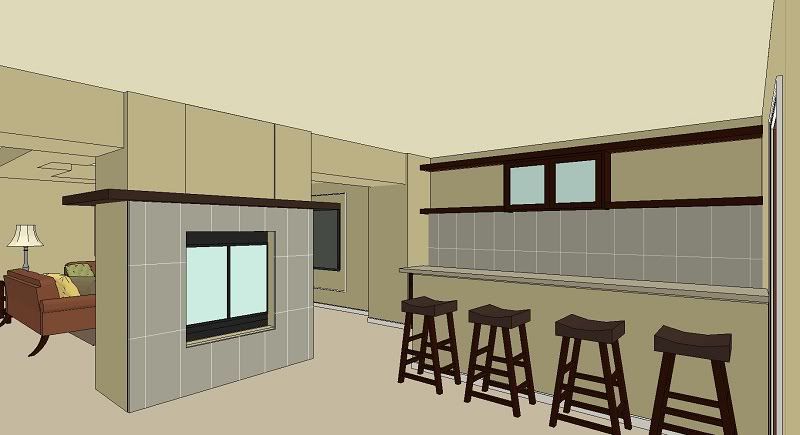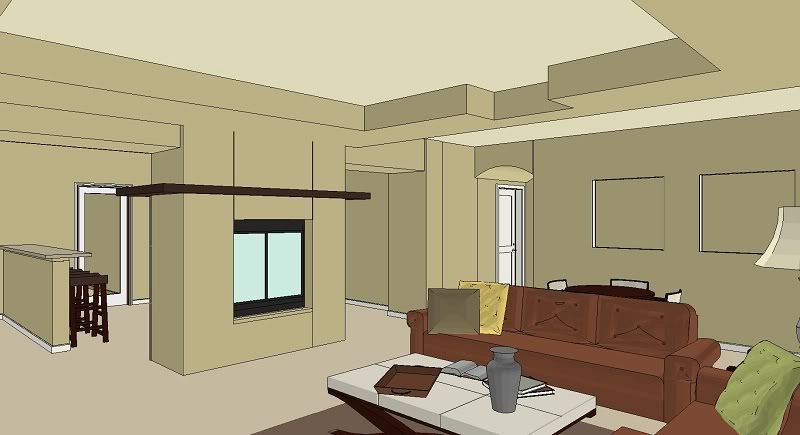 Speaker Models
Paradigm SA-LCR3 with backbox for center
Paradigm SA-35 for left
Paradigm SA-35 for right
Paradigm RVC12SQ, RX12SQ and X850 In wall Subwoofer.
Paradigm AMS-150 for surrounds
Paradigm AMS-150R30 for rears
I purchased these speakers before I read "What I could have done better" thread and other home theater build threads.
It seems to me that building a false wall is a best practice. This will allow me to use floor standing speaker. It seems to me that floor standing speakers of the same price will probably sound better than an equivalent in wall speaker.
For example my Center Channel SA-LCR3 retails for $1200. The back box is $400. I haven't done shopping but I think I will get a better center channel for a similar price. I will have to stick with Paradigm because the dealer already has my money so I have to to stick with the same brand. Based on your feedback I am willing to change all the speakers from in-wall/in-celing to traditional speakers. I can easily switch my surrounds but the rear speakers seem to be 11 feet away from the seating position. This is why I went with directional in-ceiling speakers. Will normal in wall speakers that 11 feet way sound better?
It also seems to me that AT screen is the way to go. I have been looking at Seymour Center Stage XD screen. I was thinking of getting 120 Inch screen. The center channel will go behind the screen and the other two speakers will go on each side of the screen. Is this screen size correct for my viewing distance. I was thinking of going with 16x9 screen but there are a lot of folks using 2.35 screen. What is the main benefit? I know that most movies are short in 2.35 format but there is a lot of content in 16x9 format.
The home theater will be used to watch movies. If we have a get together sometimes we will have folks hang out in the theater room without watching a movie. My toddler will also play here.
Sound Proofing
This is a difficult topic for me. Initially I thought the goal of sound proofing was to keep loud noise from theater to get into the rest of the house. After reading these forums it seems that the opposite of this is true.
Sound proofing is not cheaps. My fear is that I do not have the budget to do all the things that are recommended. If only do a few things like double layer of drywall with green glue am I wasting my money. Since I am in a 2 story home and we are only a family of 3 at least right now sound proofing seems hard to justify. There is where it will be very helpful if you can share some cost effective way to do the sound proofing. What are things I can do to get most bang for the bucks?
Layout and Sound quality
This is my biggest concern. I am not sure my current layout will provide good sound. The home theater is not an enclosed area. I have fireplace in the middle and that might cause issues. What other layouts I should consider to improve the sound quality. My wife really likes fireplace in the middleo of the basement. It is very close to the bar and theater. If I had a choice I would have place the home theater where the bedroom was. This would have given me enclosed space that might be better for the theater. However this will mean that bedroom is closer to the bar and fireplace might have to move. This might not be possible unless I can provide compelling reasons to change the layout.
Lighting
I will use Crestron iLux CLS-6EX to control the lighting zone.
Thanks for sharing your experiences.
PS: I will be signing up for Pro Theater Layout Services but it never hurts to get opinions from other folks have or are building home theaters.