Here is my living room where I spend countless hours sitting&sipping...
Finally decided to post some pics of my humble abode, hope you enjoy it because I sure do. Sorry for the quality of the photos...
The Product
:
The Panel: Panasonic TC-P58S1
The Brains: Onkyo TX-SR706
The Protection: Belkin PureAV PF60
The Sources: Sony PlaystationPS3 (Slim), Scientific Atlanta Explorer 4250HD (RogersCBL), Sony CD Player DVP-NS67P, Vidtec DVD-K39 CD/DVD Karaoke System (loads of fun...)
The Speakers: Paradigm all around; Monitor 9s for L&R, CC-390 Centre Channel, Atoms around back, DSP-3200 Subwoofer. Being a pround Canadian, had to go with the 'Digms, they make 'em right down the street from me!
The Extras: Logitech Harmony One Remote, a couple of half-decent Phillips Mics for singing, Auralex GRAMMA isolation pad for the sub, a gang of DVDs (hardly ever used now), an ever-growing stash of Ray-Rays (more shelving needed ASAP!), and of course, a fridge full of Heine's for karaoke nights/movie nights.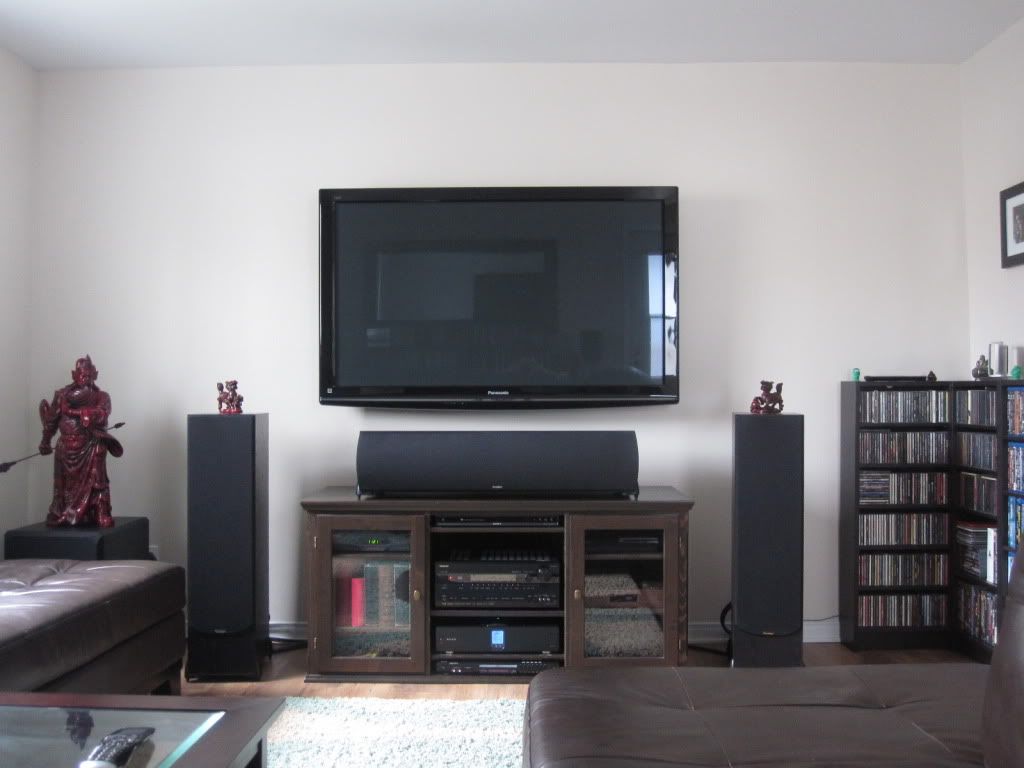 The main viewing position, my favorite seat in the house.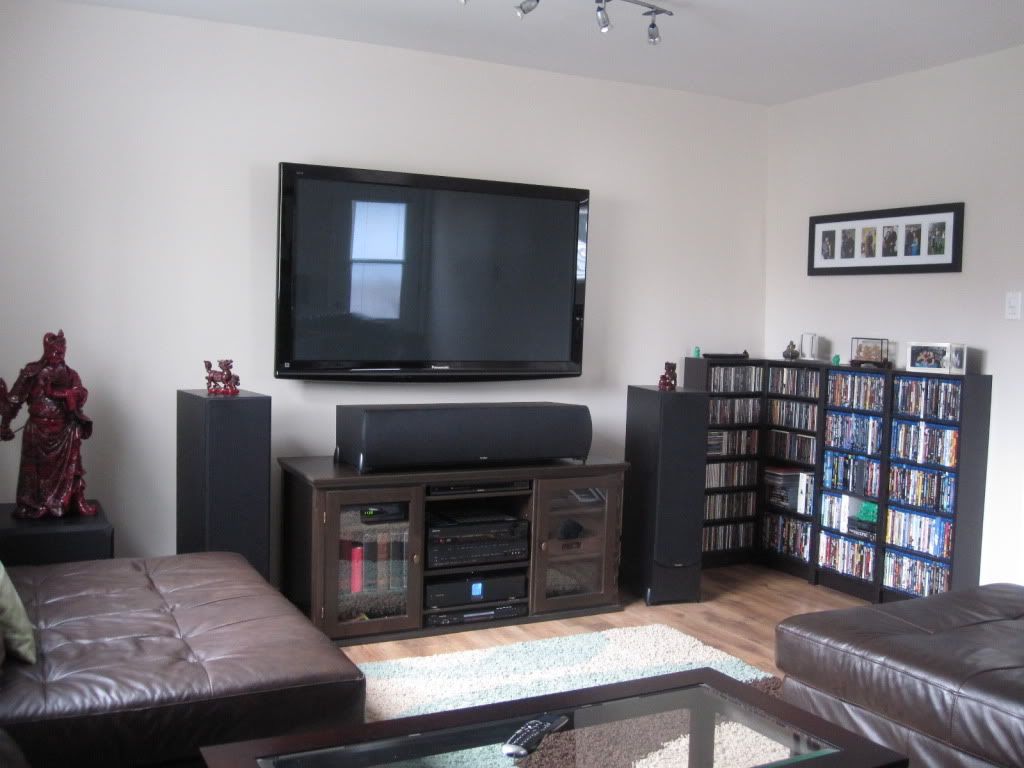 You can see all the Ray-Rays on the side shelf, plus all of my CDs.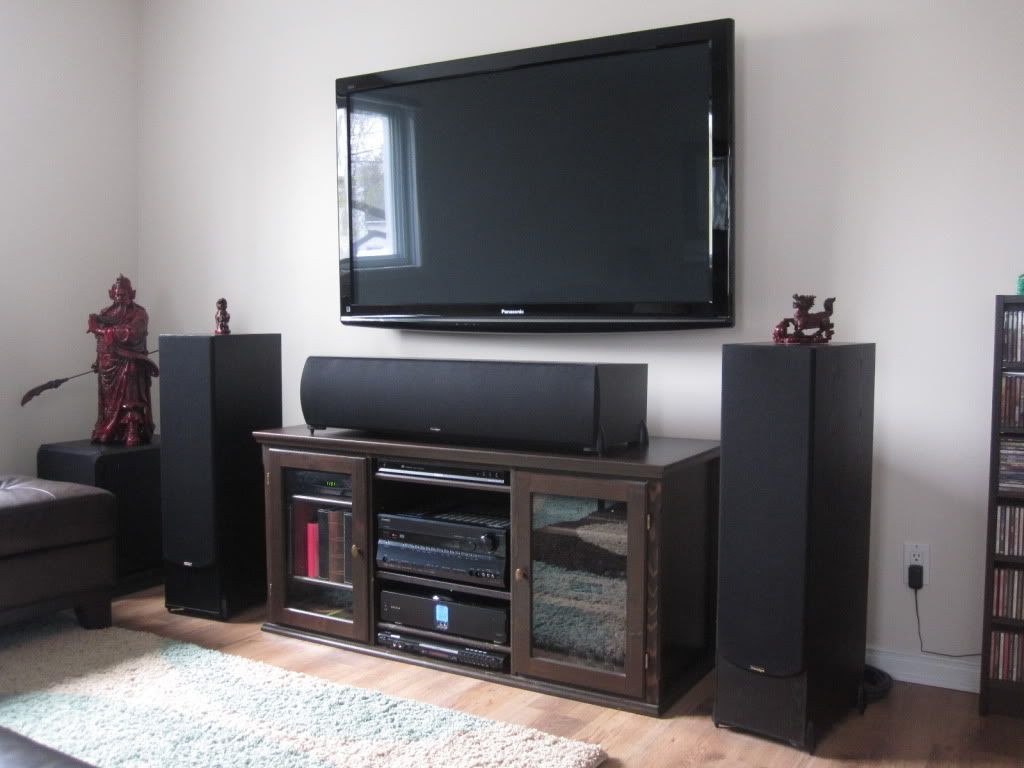 The Monitors are toed-in after countless hours of tweaking, and getting things just right.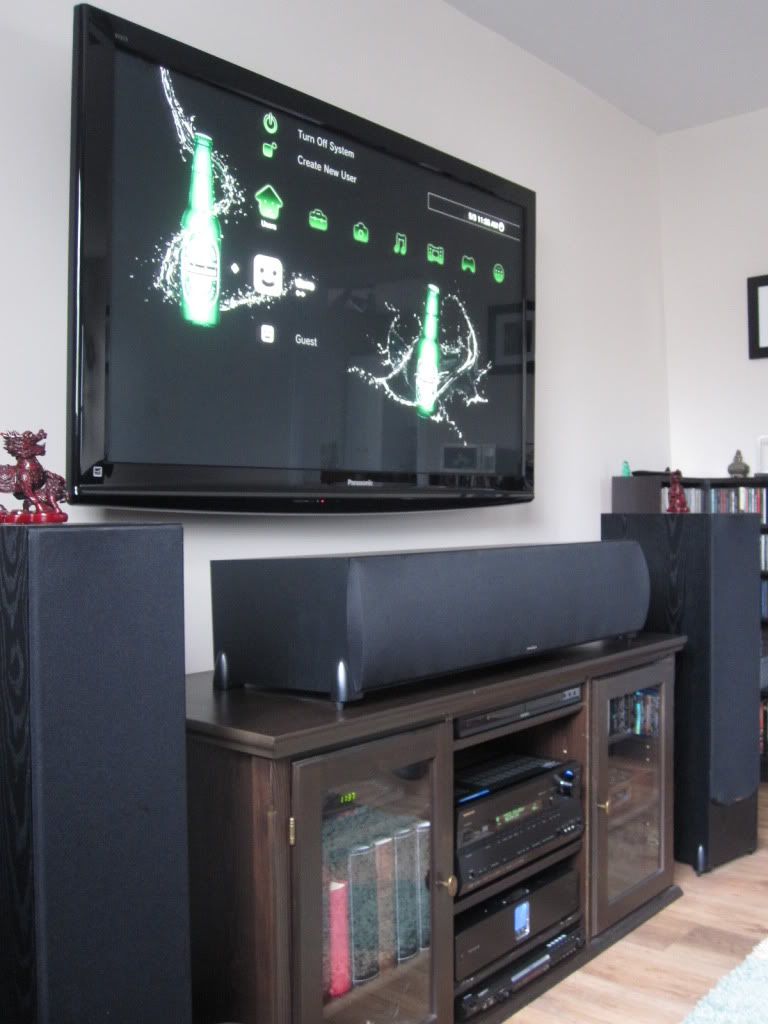 The CC-390 Centre is slightly angled upward towards the viewer.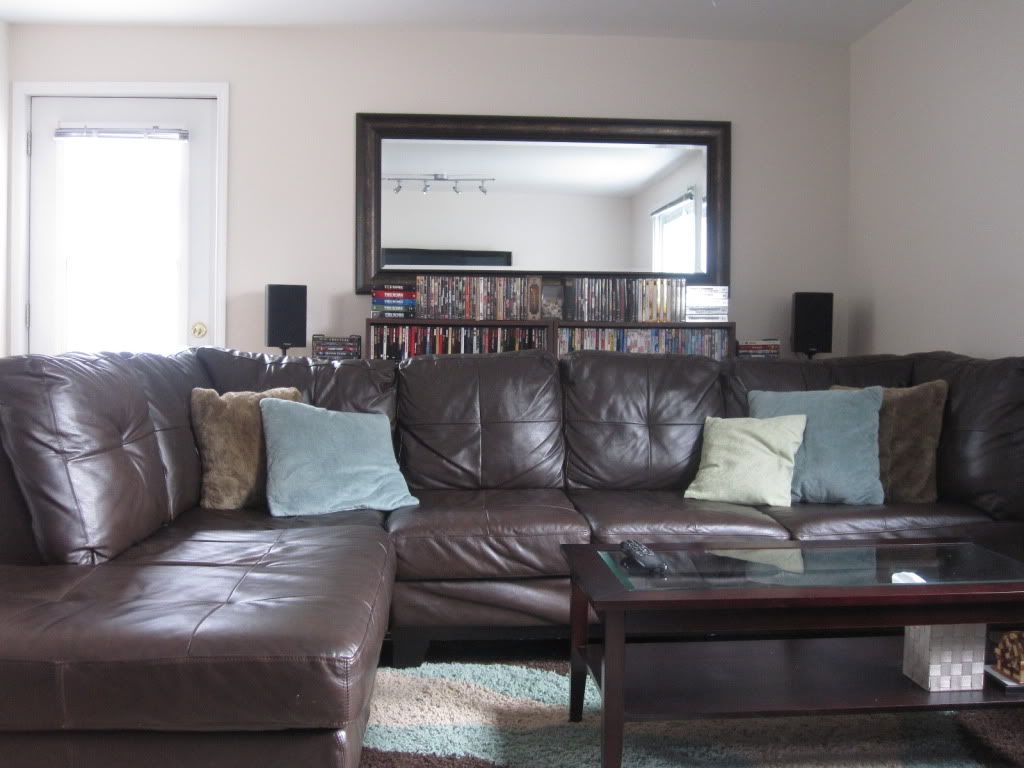 Big, comfy couch for rocking-out on and for some heavy lounging.
Redwood sculpture of Guan Gong on the Paradigm DSP-3200 Sub (Gods of war love heavy bass)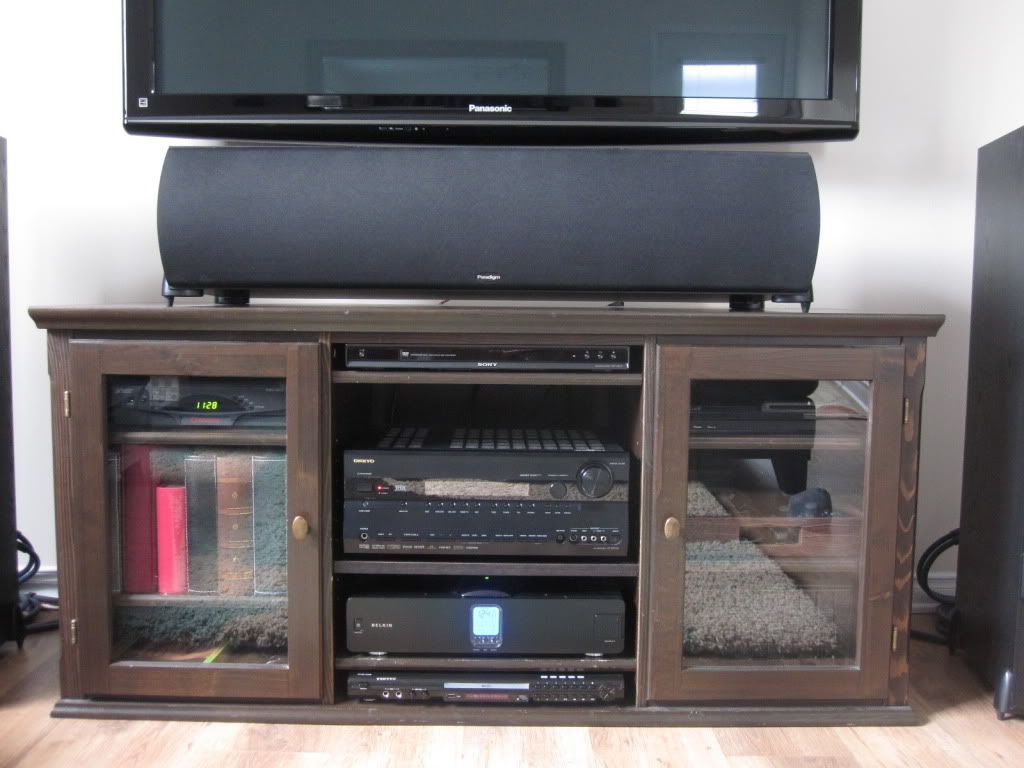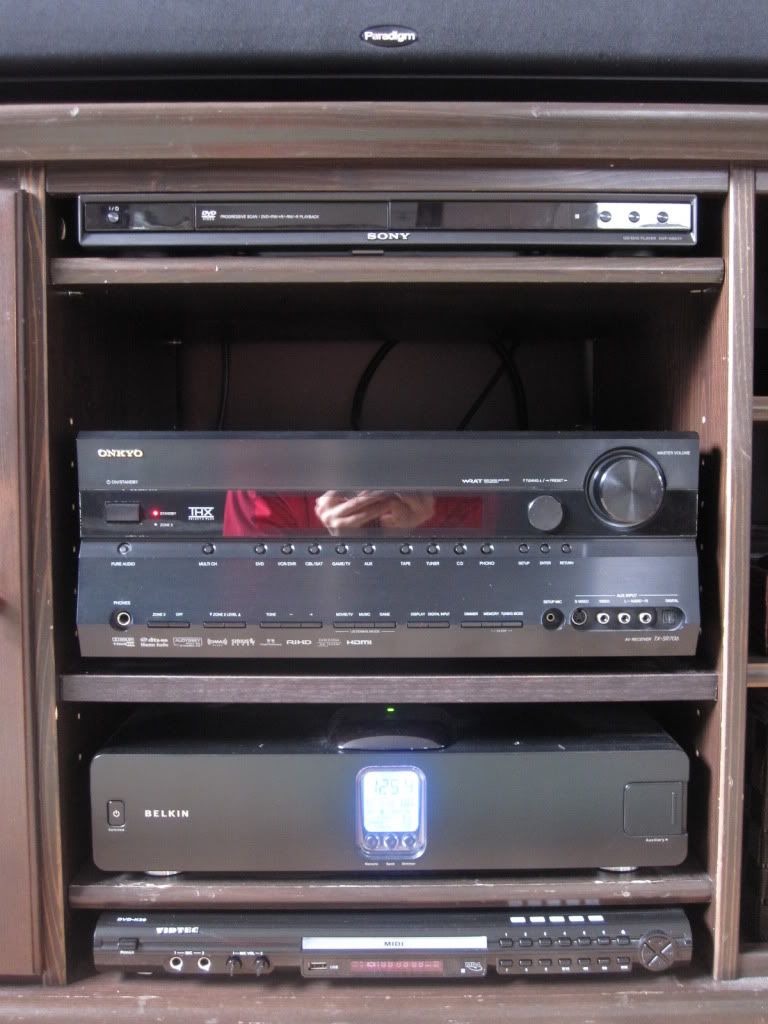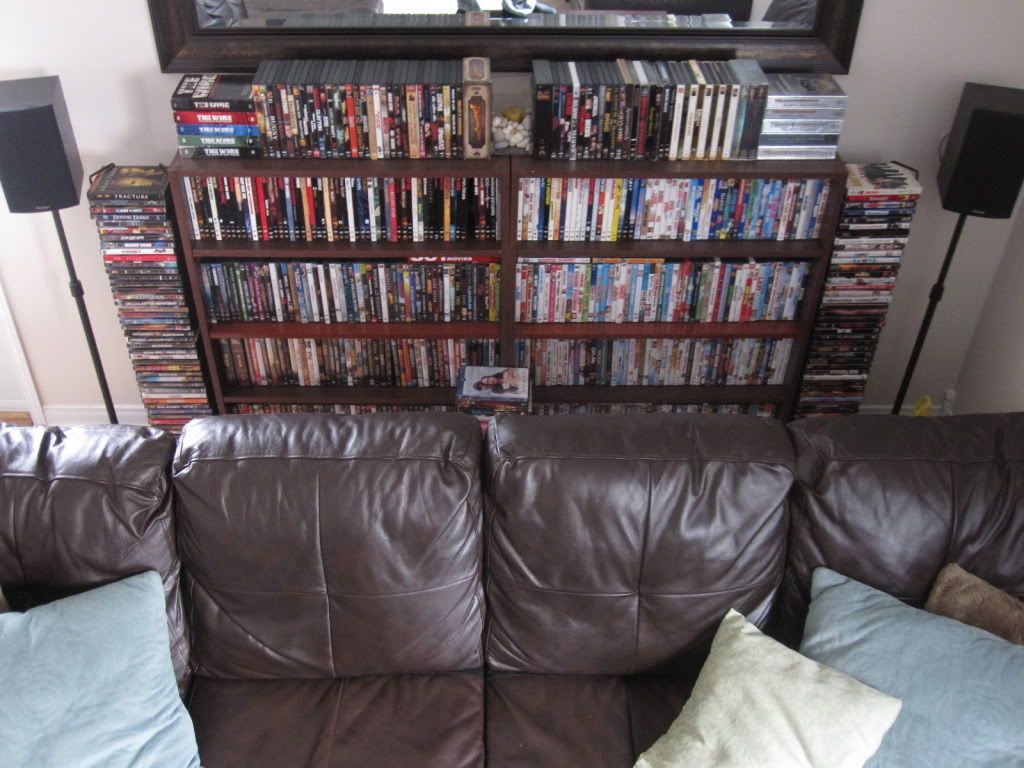 DVD shelving (more needed badly....) with the Atoms on the side.
Thanks for taking a look, let me know what you think etc.......