Well I'm finally getting around to starting a build thread, although the build itself has been going for around 8 months.
Room dimensions are
Width 418cm ( ~13.7 feet)
Length 532cm ( ~17.5 feet)
Ceiling is raked from 245cm ( ~8 Feet) to 299cm ( ~9.8 feet)
The walls are solid brick.
Equipment list
Denon AVP-A1
Elektra Theatron 7 channel amp
Toshiba HD DVD
Oppo BDP-93
Lumagen mini 3d video processor
JVC X3 projector
Crystalmorphic anamorphic lens
Cineslide
120" 2.37:1 DIY curved screen using centerstage XD material
Triad gold LCR inwalls
Triad silver surrounds
Seaton Submersive subwoofer
JL Audio F113 subwoofer
Crowson TES-100 transducers
Behringer feedback destroyer
Audyssey Sub EQ
Behringer EPQ2000 amplifier ( for transducers)
Phillips pronto pro touch screen remote with RF
Lutron light controller
HTPC
Qnap 2 bay NAS
Design
I used Dennis Erskine for the room layout and acoustic design.
I originally planned on using the room for movies and music and had purchased some nice JMlab floor standing speakers. But after giving it some more thought (probably should have done this before the JMlab purchase!) I decided on a dedicated theatre room. I find most of my music listening is done now days either in the car or on my ipod. How much time I would actually spend sitting down in a room listening only was probably going to be minimal. And the room would end up a compromise both ways.
Original plan.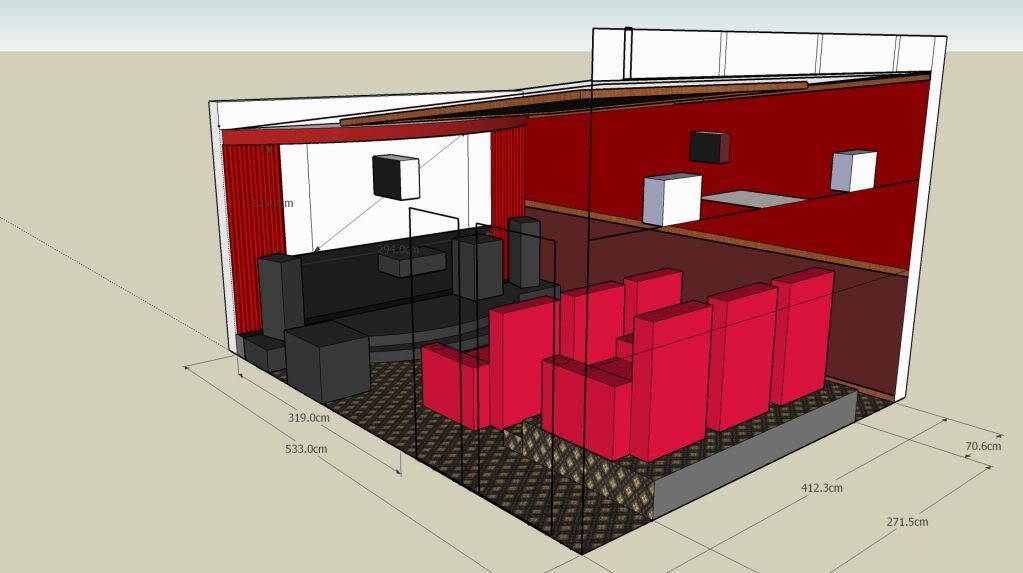 So the new plan was a dedicated theatre with AT screen.
New plan.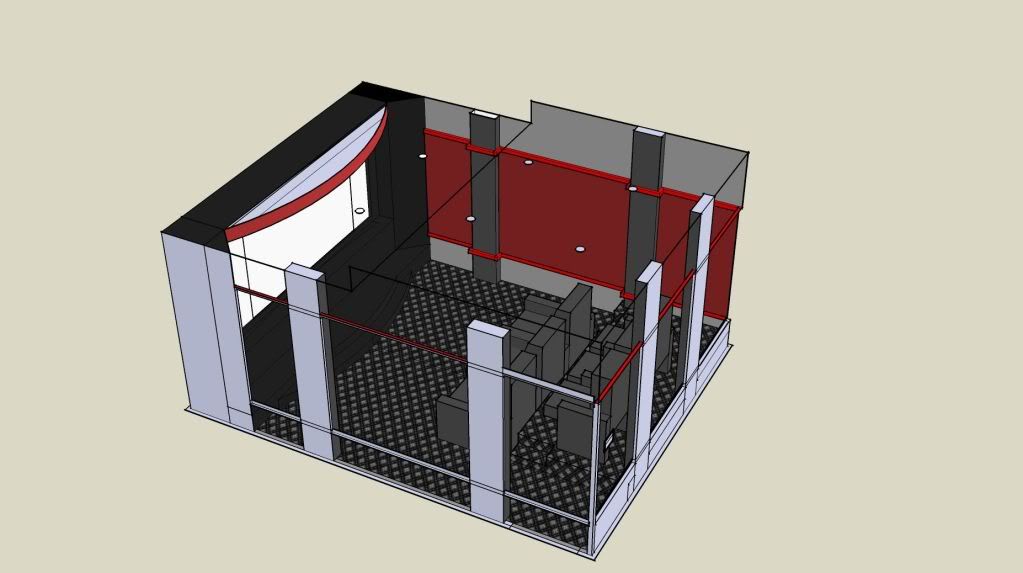 APOLOGIES IN ADVANCE FOR THE POOR PICTURE QUALITY OF THE PHOTOS, THEY WERE TAKEN ON AN IPHONE.
I chose Triad inwall golds for the front, as they are very shallow and wouldn't eat up too much of my already small room. I bought these on reputation alone.
This allowed me to keep my screen at about 1.5-2 feet from the wall.
On Dennis' instruction I installed hat channel and RSIC clips and 13mm ( 1/2") gyprock. The ceiling was also to be stepped.
Before any of this could happen I had to remove a brick fireplace that was in the corner. No easy task. It took 3 solid days with a jack hammer to remove. What a mess !
There was also a window that I had to deal with.
To be front wall.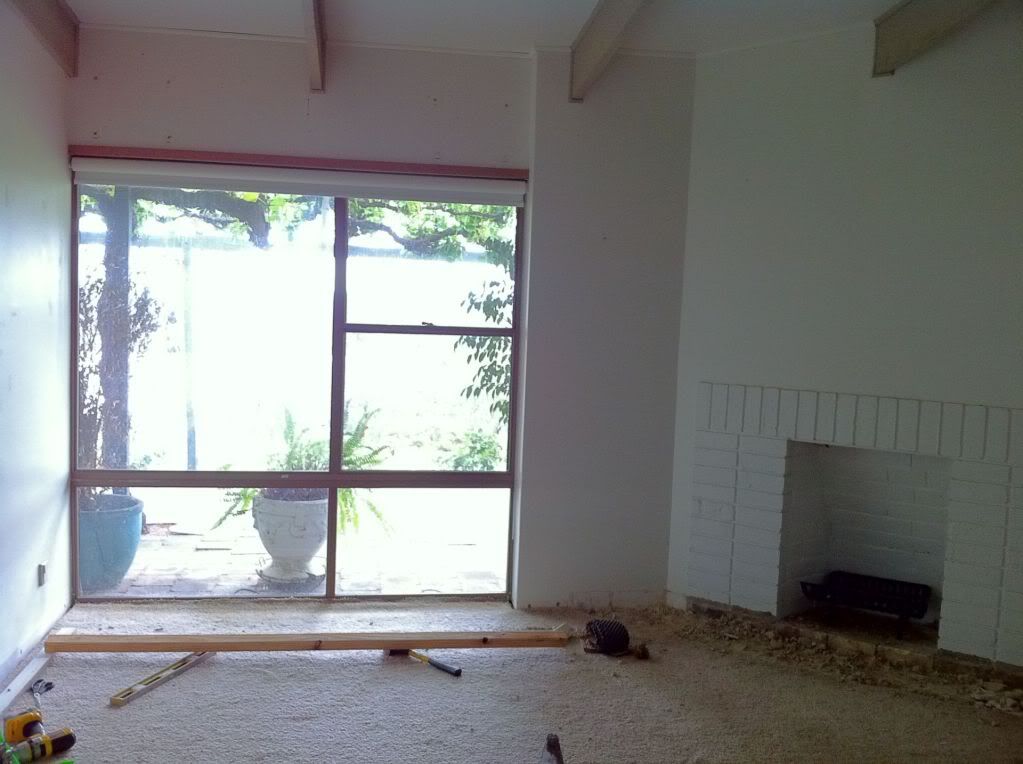 Bye bye window.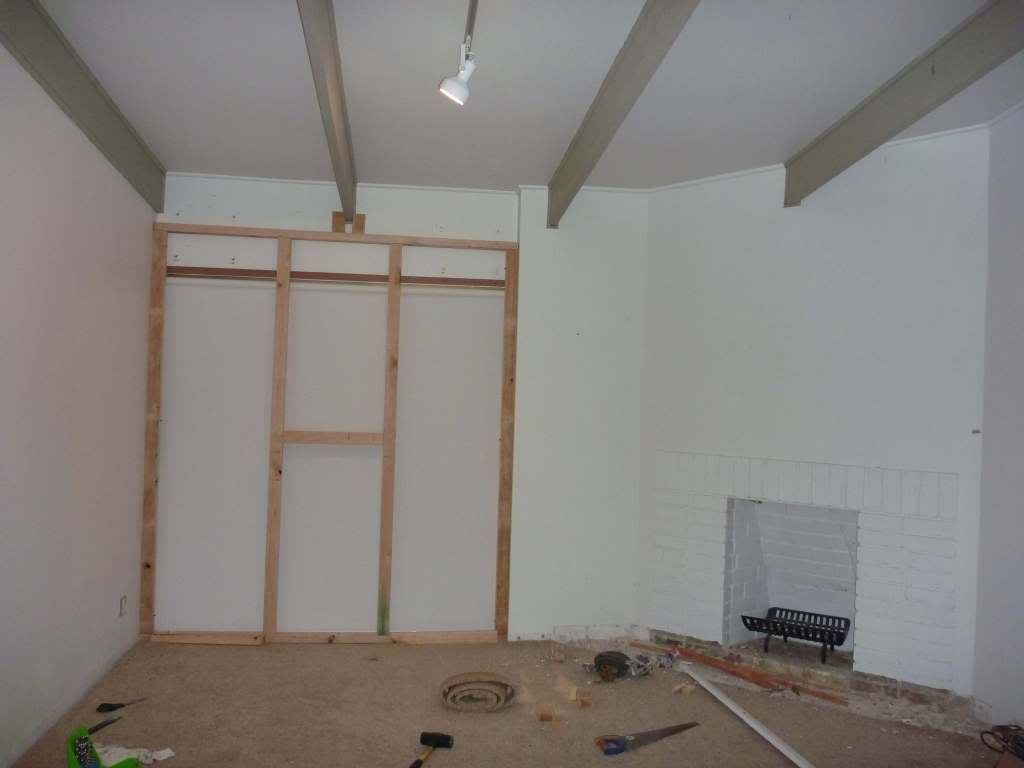 Tear down begins !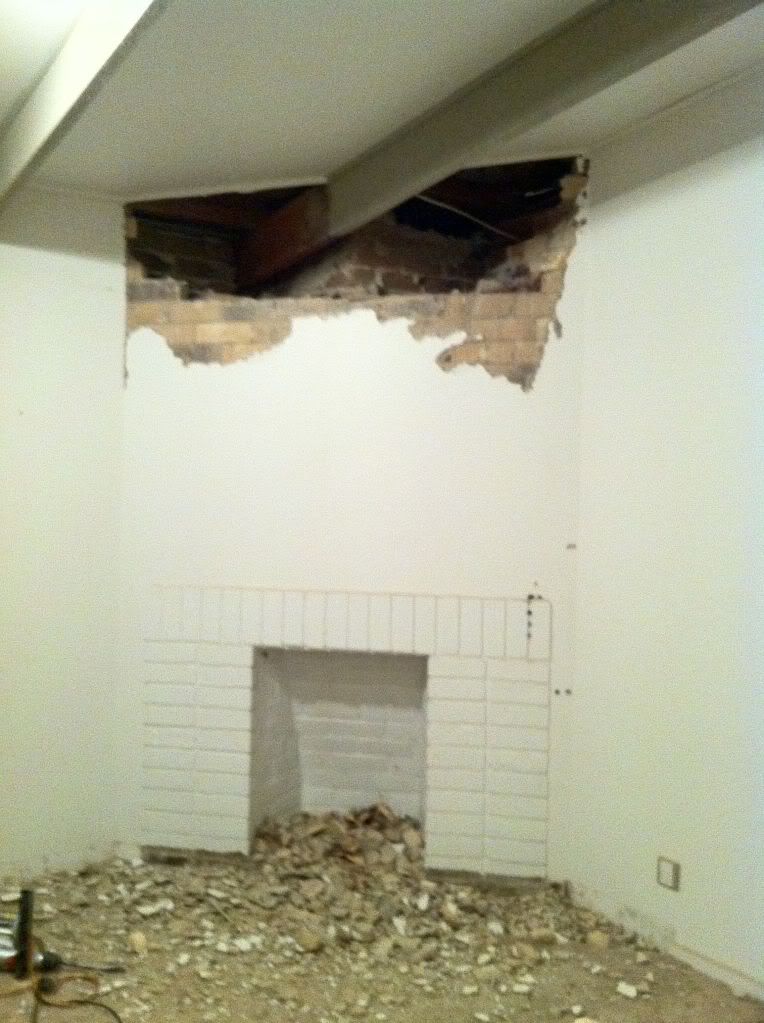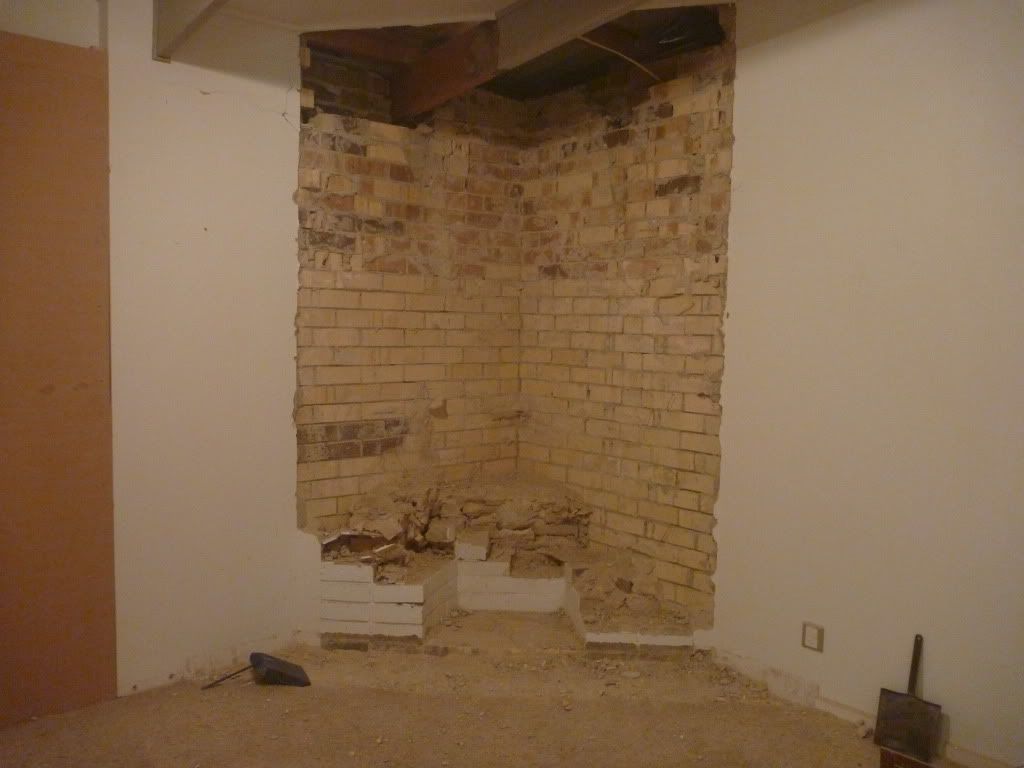 Finished !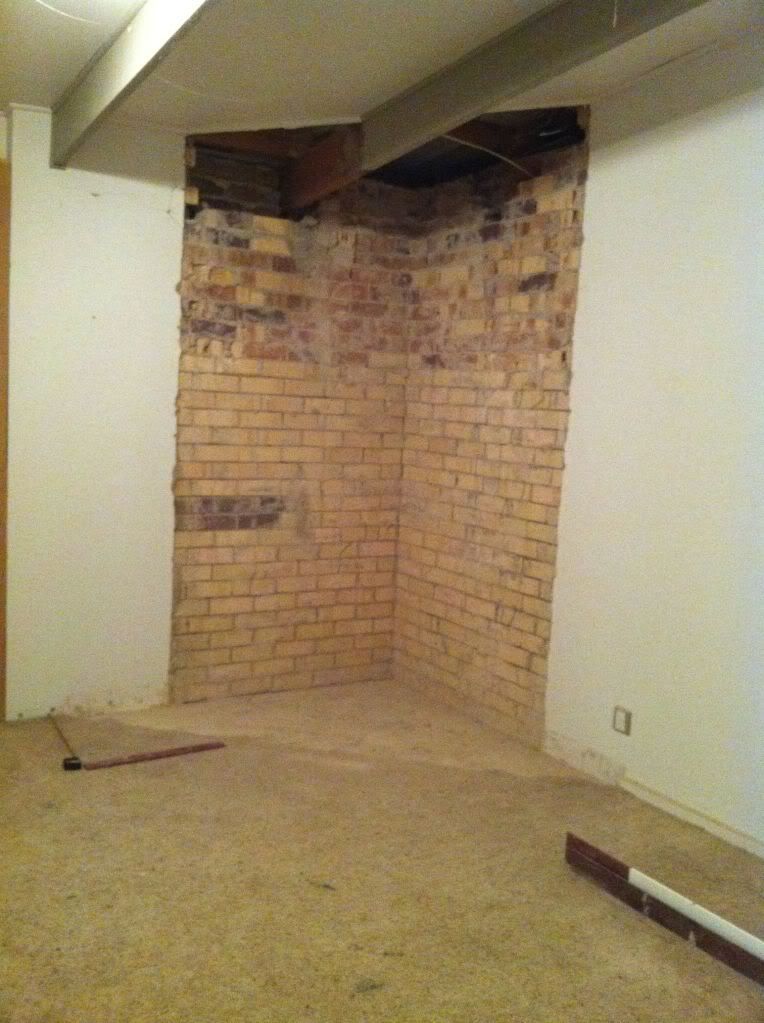 Installing the clips. I had to hammer drill each hole then fix with nylon fastners.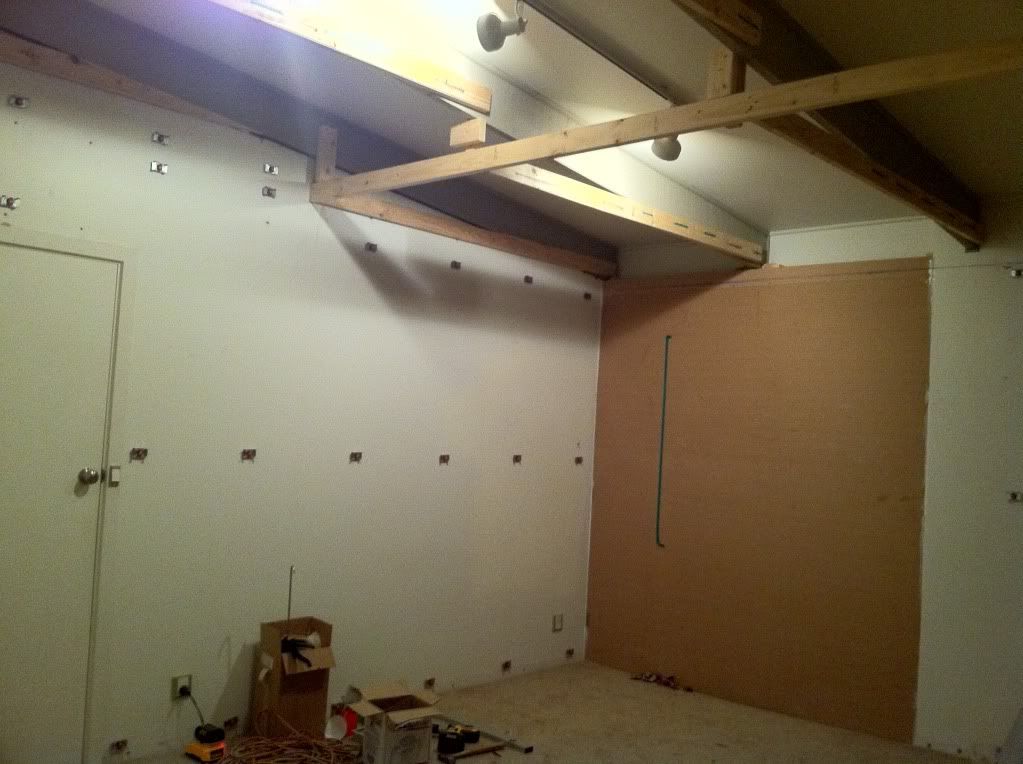 I should have staggered the clips better. But after talking with Ted White I decided to leave them as is. It wasn't going to make much difference in my install.