Reading through sooo many threads, looking at sooo many great setups, and I'm getting stumped on a few odds and ends for the new place. We get the keys next week to a foreclosure condo/villa and I have a bit of time to tear into it. 1st thing is the kitchen moving to the other end of the unit, to appease my wife. That includes removing the existing kitchen, moving electrical around, capping plumbing, removing ceramic tile, etc. New false columns, shelves, and beams to hide cables, etc. are going in as well as nice carpet will be laid in this area under the south loft. The south loft will be my home office and I will have the media "closet" up there and will drop cables to suit. Looking at the plans and sections you'll see I have included a drop down DIY screen. If I'm lucky floor joists are running east/west, but I think I'll be adding a good sized header and having to build up the joists to carry the floor around the new hole, or flip down, or roll down is the final solution. Projector placement is another problem I foresee. I'll shop for this as I get other things done. Then there's acoustic treatments to the room to keep the neighbors happy, but not too critical as there are poured concrete demising walls to the roof peak.
I would like advice on speaker locations for the 5.1 and possible 7.1 system for the main floor. WAF is important here. She is happy with the 5- DefTech ProCenters we have and hates those "big ugly boxes"... 2- Paridigm Phantom V.1, Pinnacle sub, 2- Blose Interaudio 100, 2- 15" homemade subs, Wharfdale Center, a couple more DefTech ProCinema 800's, and another 8-10 more... So some if these will be in my loft, some in the garage. I'll have a 5.2 up there with the majority being music. You get the picture? It has taken 8 years to convince her those "cubes that you pay 50x more than they're worth and sound like $h1t" are not going in the new place. Amps at the moment are adequate, but will be upgraded in the future.
The ultimate goal is to get this odd shaped space to sound right. I'm thinking of linking the two main systems (LR & office) to work in unison, but the office is a reverse layout to the living room, and 9' higher. Don't really want to be flipping speakers around all the time.
We watch TV 50% & movies 50%... I have tunes on during the day while I'm working, and usually loud.
Critique, Ideas, Feedback, have at it, it'll all be welcome.
TIA
Main Floor Plan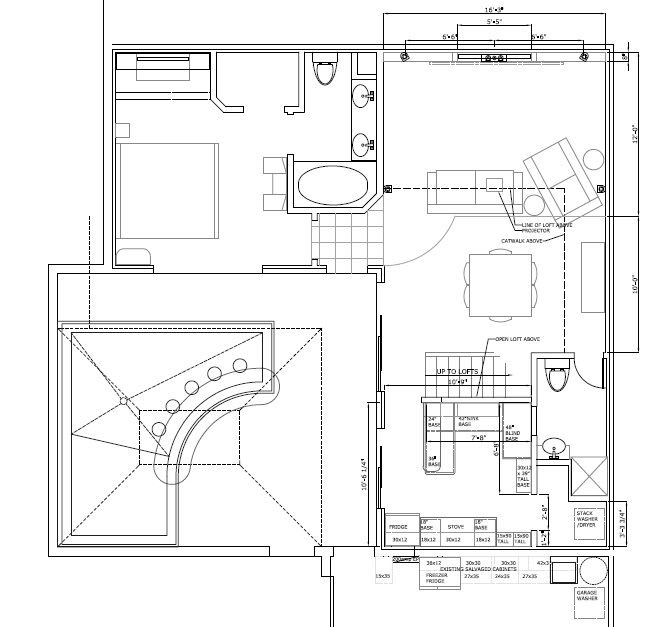 Lofts Plan
View South Section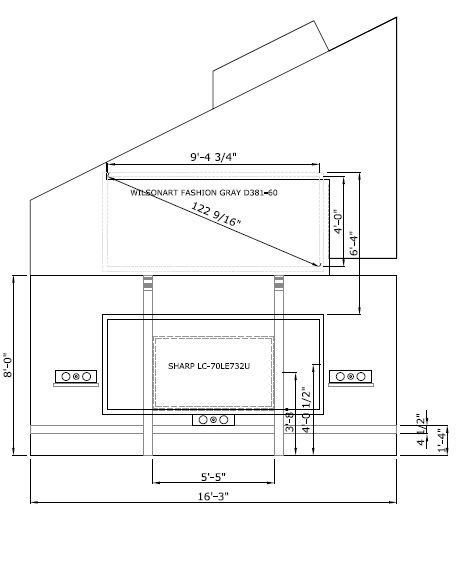 View West Section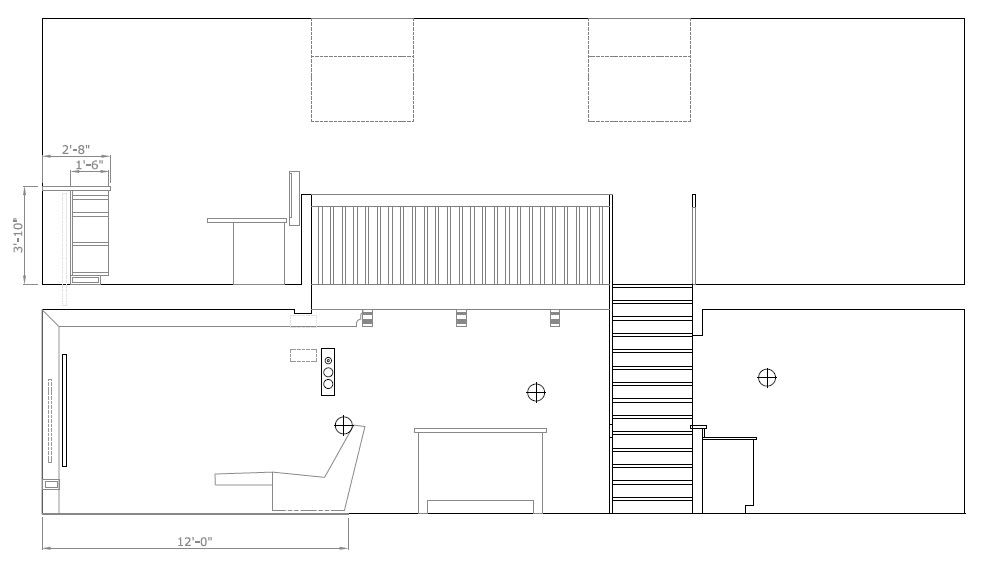 View North Section
"The Before"