Hiya all,
Ive got a pair of pro studio speakers that just sound awsome, but have limited low end.
2 way speakers, audax tw034 tweeter and a volt b250.2 10 inch bass unit in a (approx) 8L ported cabinet.
(the inside pair in the picture)
http://www.voltloudspeakers.co.uk/Lo...dy_b250_2.html
http://www.audax-speaker.de/index.ph...ax-tw034x0.pdf
As this speaker really kicks arse, with a (to my ears) realy low distortion, good dynamics and tight sound compaired to other speakers ive owned, but is far too ugly and boring looking for my liking, I was thinking of doing somthing with them that would suit my home and requirements. My listening room is large (circa 150m3). Low distortion and low dynamic compression at reasonably high output is the aim.
I love the idea of digital active xo's such as mini dsp -but unfortunately, they will be used with lossless bluray much of the time and hence an analogue signal will only be available and im not to sure about converting from digital to analogue so many times
-Some food for thought-
Troels gravesens best sounding speaker (his own words) uses this tweeter with a waveguide which he supplies.
http://www.troelsgravesen.dk/JA8008_DTQWT.htm
The wife blew me away by saying she likes the look of Jack Bouska's ultimate speaker-
http://jgbouska.tripod.com/audio/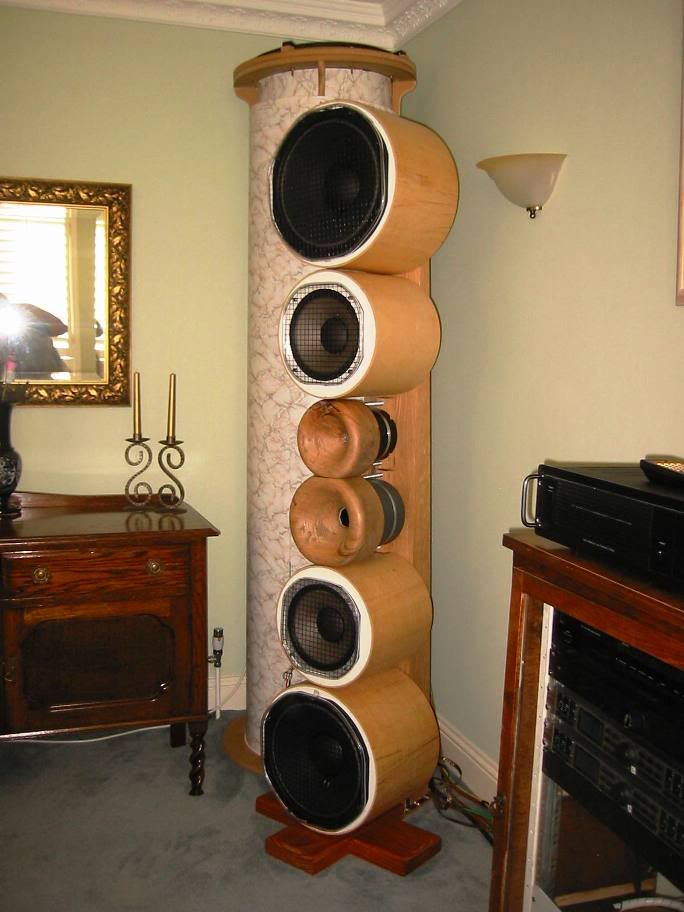 I dont want to start spending crazy money, as this design must have cost many thousands of GBP, but would love to attempt somthing like this in style at least, possibly with the second hand jbl pro audio drivers that are often available on fleabay. However I accept that the efficiency of the volt/audax drivers is much lower than the drivers listed on Jacks design. It seams the volt bass drivers are often matched with the atc mid dome (sm75s) Ive heard this driver and was mighty impressed, but its also very expensive.
http://www.audiosmile.com/forum/showthread.php?t=13825
a second volt b250.2 can be had for about £100, so a MTM could be possible.
Open to all ideas/suggestions?
What would you do?