UPDATE: 01/07/2014
Here are the updated results so people can just find them on page one.  Since this I have tried DR-200 and DR-250 arrays(dual stacks) with better low end and midbass than a single.  This also makes it very important to tame the highs from 32 to 40 tweeters which can become overwhelming.  They also have a huge coverage being dual stacked so now if you are sitting or standing it does not matter.  I ahve also built an eD DIY sub system which has more low end naturally than the CHT system but less midbass naturally.  With EQ I can make these sound nearly identical so I would chose which ever you can get cheaper but with eD no more go with DIY or CHT. 
Ok guys since my shootout is over I just wanted to rank them from 1 on down and I will include some older speakers since I had them head to head against my 5000's before.
1. Dual stacked DR-250's($650)
2. Dual stacked DR-200's($600)
3. DR-250's($350)
4. DR-200's($300)
5. JBL 4675($2500)
6. JBL 3722N($750)
7. eD cinema 12 upgraded($850)
8/9. JTR triple 8 sealed($1200)
9/8. CHT SHO-10's($350)
10. JTR triple 8 originals($800)
11. M&K S-5000's($1299)
12. KL-650's($1499)
13. Triad in room LCR gold classics($1200)
Added: SEOS Fusion pure 10-I would rank the highs 5 and the woofer with the SHO-10.  So overall you can switch it out with either the 888LP, eD cinema, or SHO-10.  If the SEOS had the 12 inch driver of the eD I would rank it 7!  If it had the dual 2226's I would rank it 4!  Yes, I like the SEOS WG and CD very much. 
Now this is my preference for reference level movie watching where I value big dynamic sound with detail over everything else. Many of the speakers had better highs than the JBLs but their big dynamic sound was just hard to ignore! Now their lack luster highs do make them not as good for music and I will rate them for music now. I am talking 100 dBs for music because above that the triads would fall apart which means 112 dBs at the speaker.
 
1. Dual stacked DR-250's
2. Dual stacked DR-200's
3. DR-250's
4. DR-200's
5. CHT SHO-10
6. triads
7. JTR sealed triple 8's
8. eD cinema 12 upgraded
9. M&K S-5000
10. JTR original triple 8
11. JBL 4675
12. JBL 3722n
13. Klipsch KL-650

I am now focusing my energy on subs again and will be trying out a couple different subs to dethrone my current system. My current system is my favorite and having EQ and much better measuring gear helped get a proper response and much more low end so I did not have the chance to compare my eD system using the same. As of right now I will rank my favorite sub systems I have owned but know that my most recent setup has the flattest response, deepest, with the most power. I could have changed my mine with the same equipment on my older subs and why I will try some other stuff out. Anyways here we go.
1. Added new, 8x18 ficar audio IB for the easy win!
1. eD 12x12 sealed system(LT engaged)($4200)
2. 8x18 sealed CHT(LT engaged)($2800)
3. Dual Danley DTS-10's($2000)
4. 8x18 eD sealed($2000)
5. 4 Cinema F-20's($1200)
6. 4 eD LLT sonos($1000)
7. Dual folded horn 18 pro subs($700)
8. Dual double 18 vented pro subs($1000)
9. SVS 16-46 CS plus subs($3600)
10. Klipsch THX ultra 2 subs($3000)
11. SVS PB2plus($1200)
12. M&K MX-5000's($4999)

I know I could have done more with the eD sealed system with my EQ and such so now I have different subs coming to try out! BTW, it will be sealed from now on as I get the widest bandwidth as I am flat from 7-200hz with my system now so I won't chance losing the bandwidth. The Danley's did some awesome bass waves that none ever did until last night when I boosted my 10-20hz region and now I get the same effect. If the eD system did the same thing it would have been ranked higher because it did more tactile and visceral effects than the DTS-10's but not that pulse which was very cool and shocking. They were the only subs to ever do it until I figured out where it was happening so I am sure I could do it with the eD system. BTW the top 5 systems I ranked are much better than the bottom, not even close!Hey guys, I am testing 5-6 different pairs or sets of 3 speakers to see which one works best in my theater. My room is 21 x 15 x 7, sealed, 4 concrete walls and floor, and the room is well treated. To give one an idea that thinks it is an easy room for subs due to the size I lose 12 db's at my LP from the speakers. Baiscally I need 117 db's of clean spl at the speakers for me to hit reference levels at my LP. I already started to talk about this in the DIY forum in my F-20 thread. I am buying mostly used and some new speakers to compete and nothing too expensive or it defeats the purpose. The speakers I am going to test are:

1. Triads In room Golds- these are the smaller, older versions
2. M&K S-5000's
3. BFM DR-200's
4. JTR Triple 8(not sure on sealed or vented as I have not ordered them yet)
5. CHT Sho-10's

I will measure each response without EQ and give my impressions and then I will EQ them within +/- 3-5 db's and then listen to them. They will all be level matched and run with my 4 F-20's at a flat calibration. I will take pics as well. I have been listening to the M&K's and Triads for a week now. I wanted to test just how sensitive the speakers are when playing music and here is what I have done so far. I calibrated each speaker to 75 db's including the sub. I played a song and turned it up until it hit 100 db's peaks at the most. I used my RS digital meter set to fast, A weighting, and Max. The Triads needed 0 db's on the Master volume to hit 100 db's. The M&K's needed -5 db's on the MV, and the DR's needed -21dbs to hit 100 db's. The Triads sensitvity rating is 90 db's, the M&K's are 93dbs, and the DR's are 104 db's. You can see during music playback the DR's are even more sensitive.

I listened to the first 3 speakers with no EQ and the DR's need to break in. I don't expect the DRs's to sound great compared to the others as it needs more EQ to sound good. Well, The M&K's and Triads sound really close. The M&K's vocals are more forward and slightly rougher than the Triads. The Triads had a smoother sound and more feeling. The M&K's are more dynamic and can play louder. This is a preference for people as they are close. Again, this is without EQ, so I will see which I like better once I put them on the same playing field. As for the DR's, well, I had them built for me and they are OK looking. The guy was sloppy on gluing the tweeter array and the paint is thin in some places. I would send them back for the money based on finish. The Triads are the best built speakers so far as finish and solid feel goes. The DR's have some much potential that I hope EQing and break in makes them sound better. They sound huge, play louder than anyone can stand, and have tons of palpability or feeling. The problem with them for now is that they sound rough on the vocals. Put it this way, if I can get them remotely close to the M&K's or Triads they will blow them all away, including the JBL's. They are so dynamic and effortless but like I said, to rough for now. This is just the beginning. Here are some Pics and graphs.

The front stage. These are the M&K's. I have not taken a picture of the others in place yet.




Their unEQ'd response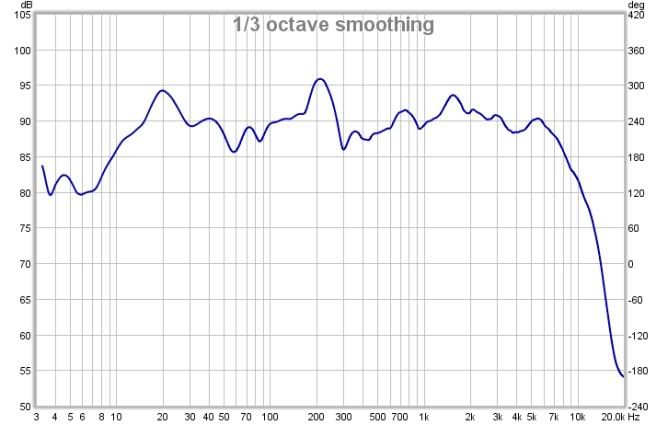 The Triads look like this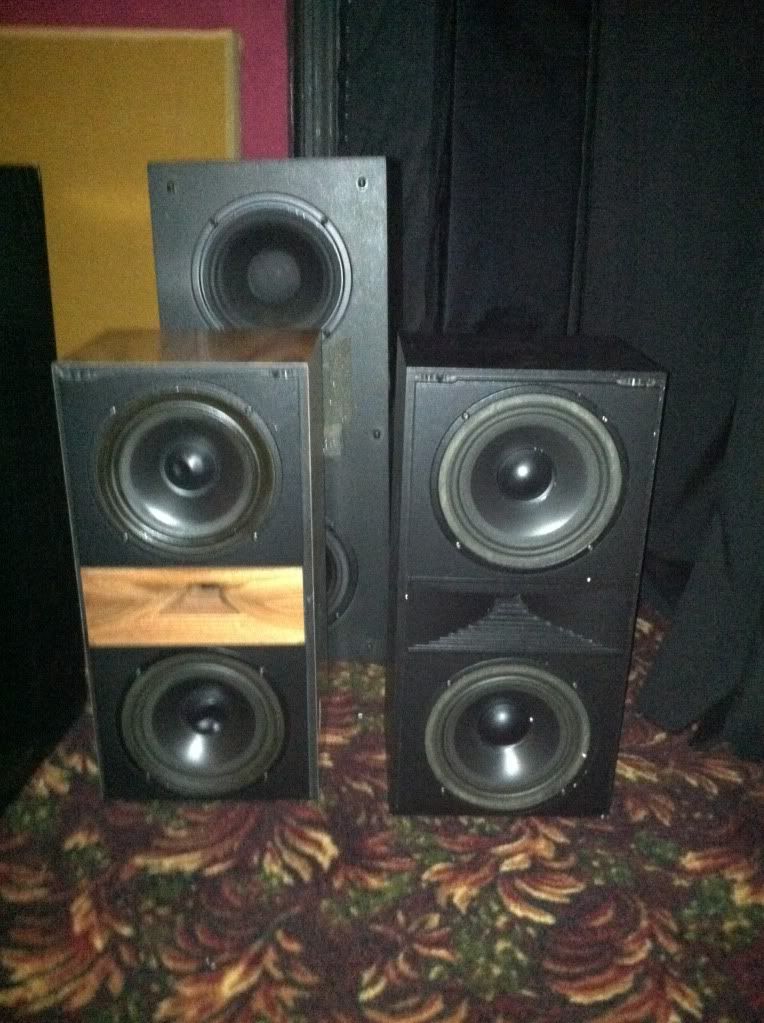 Their Response




I don't have pics yet of the DR's but I will

Response




You can see why 3 out of 3 people picked the M&K's so far, the Triads are very close and I like their feeling and smoothness better, I mean they sound softer. The DR's sound the roughest or hardest, like their is and edge to a piano. Here are more random pics




M&K's without grill(how they are behind the screen)




M&K vs Triad




My rack




DR's almost completed




I have much more to come. These are replacing my JBL's which were my reference standard. I like the sound from the M&K's and Triads better but the JBL's midbass and big sound was better. I am hoping to combine both with the DR's.
Edited by MKtheater - 1/7/14 at 2:00pm