As it stands now (as always subject to change, and it's changed many times already) I'm going to go with stained wood columns and wainscoting at 36" and the upper portion will be fabric panels with 1" acoustical material (not ideal but it will work). The room will actually shrink just a bit as I'll be putting the new wall directly under the main support beam. This will allow for room symmetry and the fabric panels will hide the windows.
I have found a number of inspirational elements that I intend to copy. Images and elements I'll be borrowing below (many ideas from fellow AVS'ers as well).
This is the ceiling design I want, it will be a bit more shallow due to my ceiling height but should be doable (I've lived with a 4"-6" lower soffit than this planned design for over 10 years so this should be no problem). Also it will be most of the ceiling with the front wall soffit being wider to accommodate the front speaker columns on a 45 degree angle. That is where I plan to put the HVAC return as well, probably with an inline fan. Making the coffered ceiling area a square will make the math easier as well.
These next two show general column and wainscot design. The second shows some fabric panels. My colors will be different but you get the idea.
I'll also only have sconces on the 3 columns in the back. One sconce in each back corner and one in the middle of the back wall. The back corners will also have as much bass trap material as I can fit in them between the speakers, riser and sconces.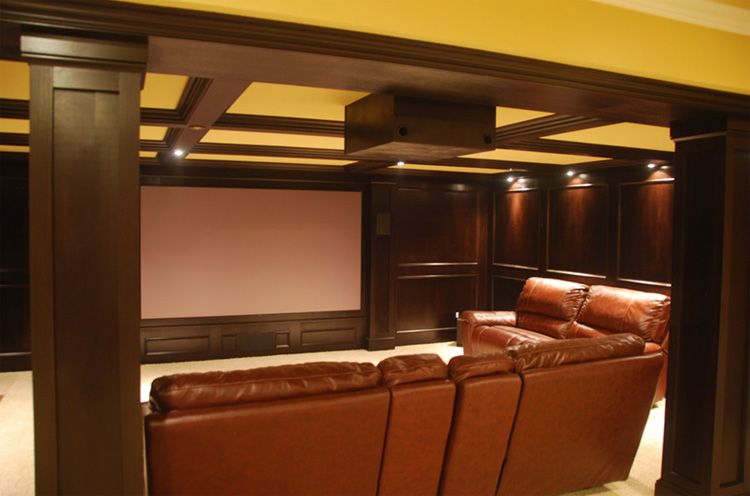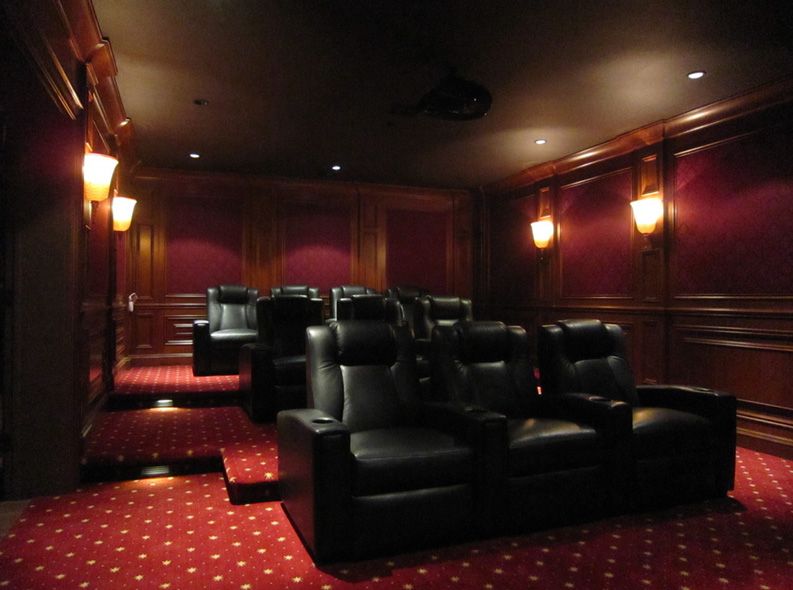 Basically 1x4 or 1x6 lumber with ¼ ply and some trim molding, fairly easy to do just a bit time consuming with stain and poly. The ceiling will take more time with all the angle cuts.
Most current Floorplan:
I'll probably move the front row another 6" forward so the back row can recline more (although in all honesty it will only get used a few times per year). I plan to run all speaker and AV cabling though the soffit and right rear column which backs up to the rack area.
The green spot on the wall is a TV in portrait format which will have "posters" loaded on a thumbdrive. I'll run an HDMI to that location as well just in case.