Hi everyone -
I'm Mike and thanks for stopping by. I've been saying I would start this and now is the time. I've been working over the past 2 years on finishing the rest of the basement and now getting into the theater space.
I want to start by saying that everyone on this forum has incredible builds going and the knowledge is unbelievable. I hope to learn a fraction of what some seem to know about theaters here and thank you for sharing.
I've been browsing the forum for over 2 years now and been collecting ideas and information. I've settled on a plan and have started the build. So I want to get everyone up to speed.
Overview
My thread name was chosen because the space I left for the theater has a window due to our walkout, so hence the view (and the not so ideal set-up).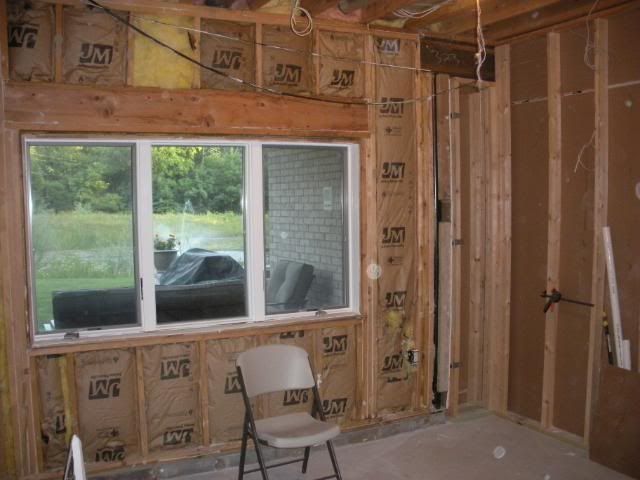 The theater space shell is approximately 12'w x 15'l with just about 10' to the floor joists.
The overall plan showing part of the basement is below;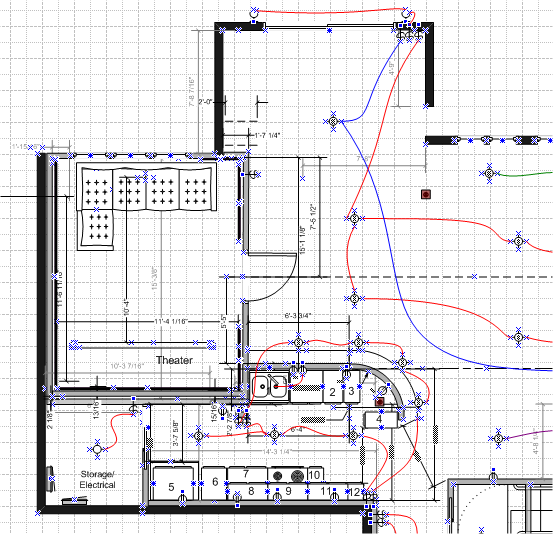 Plan View of Theater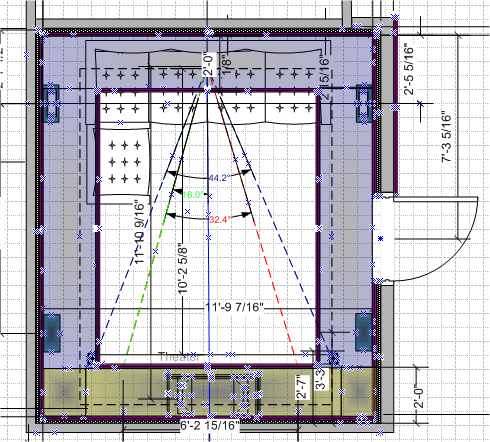 Side View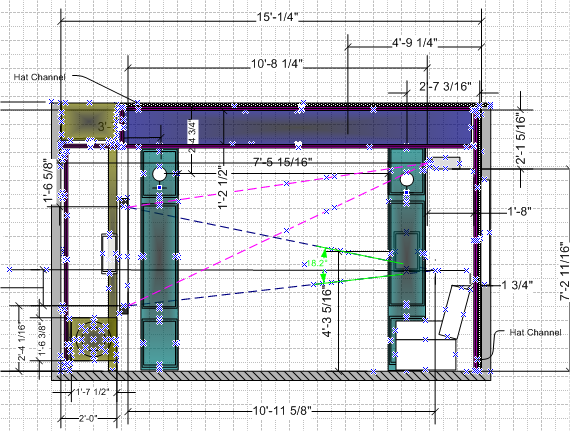 The equipment will be stored in the storage room behind the theater in the first pic above.
Equipment List:
1. Projector: TBD (looking at Panny AE7000 or JVCRS50U)
2. Screen: 110" 2.40 scope; TBD (leaning towards SMX)
3. Speakers: Dali Phantom Ikon In-Walls for LF/RF,RR,RL and Dali Vokal In-wall for Center. Will add 2 rear in ceiling at future point.
4. Sub: IB set-up; 2 x 15" Fi drivers
5. Sub Amp: Behringer EP4000
6. Sub Eq: Behringer DSp1124P
7: Amp: TBD (probably Anthem PVA7)
8: DVD: TBD (probably Oppo BD93)
9: Pre/Pro: TBD
10: HDMI Switcher: TBD (looking into Altona HDMI Matrix switcher)
11: Others; Network switcher, PC, DirectTV receiver
Open to any suggestions to
equipment....pros/cons/adds
...
Current Stage of Build:
The current stage of build is putting up the drywall. Hope to be done this weekend. I'll show you below some of the steps upto this point (and expect to hear some oh, Mike, you forgot this or that).
At early framing stage; looking towards theater door from across basement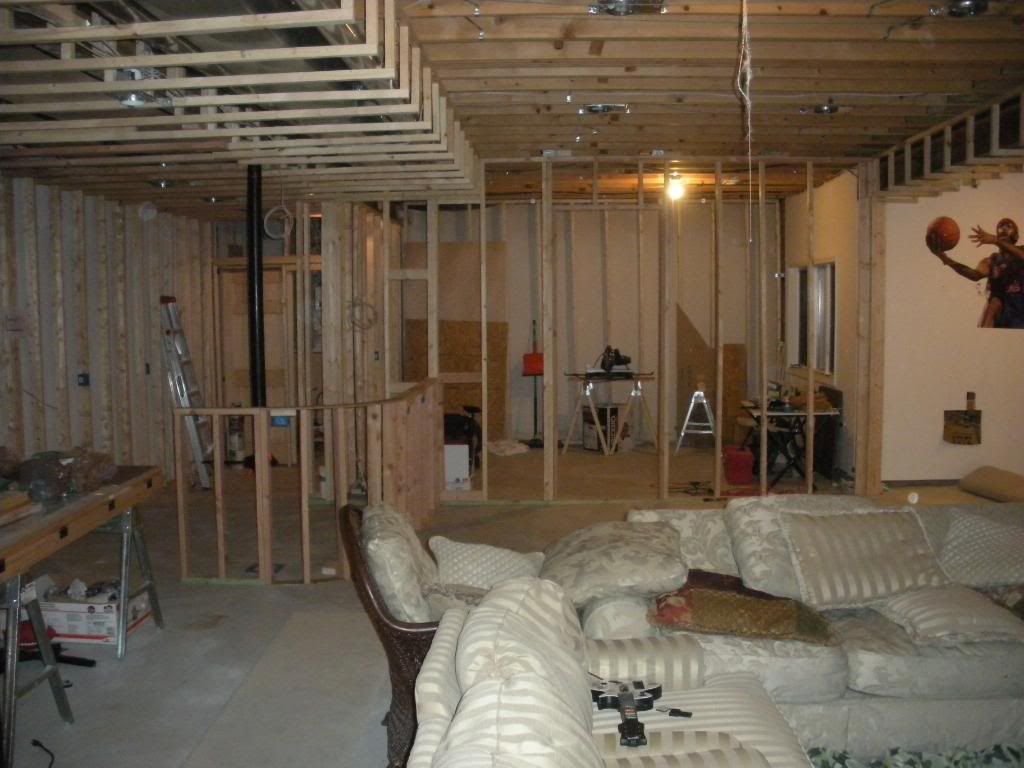 Screen Wall prior to covering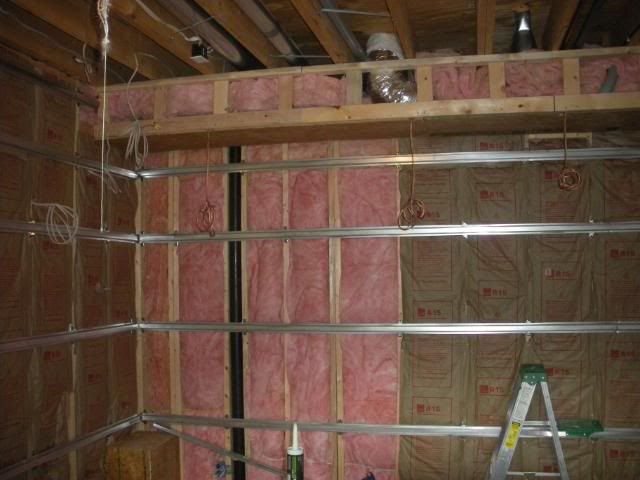 Looking towards door and front wall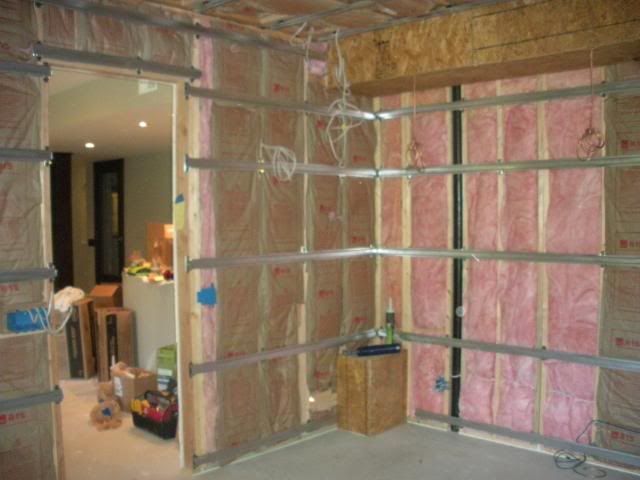 the box in the pic is covering up the drain pipe as it comes from the kitchen sink on the other side. Plan is this will be within the IB cavity space.
Looking at back wall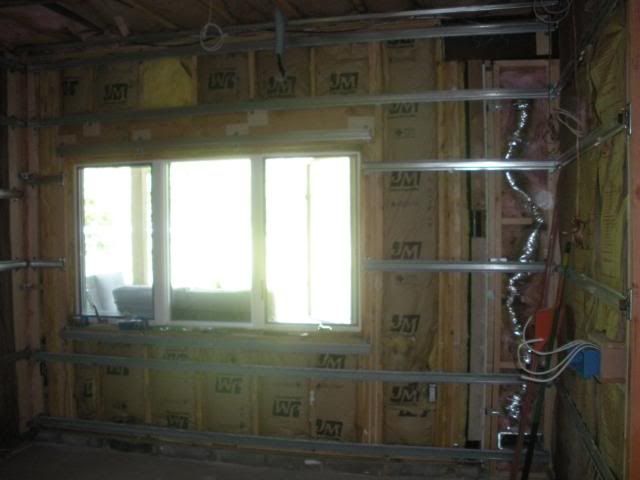 the duct work is a passive return vent that dumps into the main basement space shown below (theater door is in background).
I've also added a lead-in pipe to pick up PJ exhaust, which I plan to run an in-line fan for that is not in the pics yet.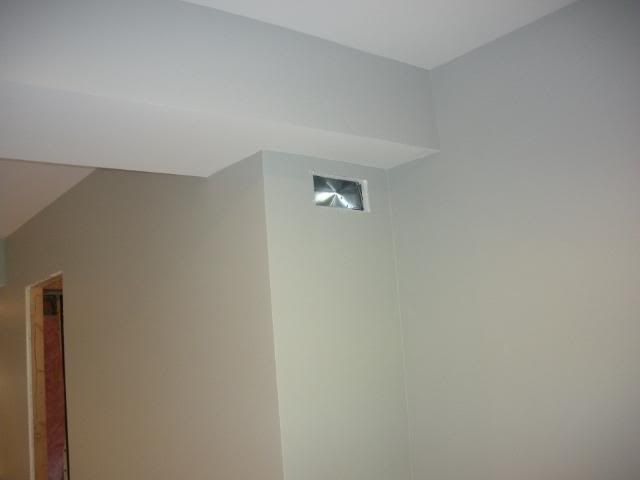 Side wall looking from door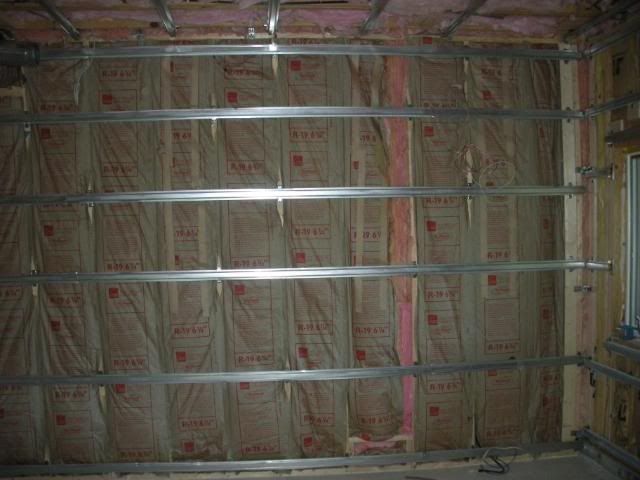 I'll post more pics once we finish up more work tomorrow.
Thanks for tuning in and look forward to the feedback.