Those of you familiar with the
HDfury
know that the HDfury, HDfury2, and HDfury3 are in very high demand, particularly with the analog sunset upon us. You may also know that a number of resellers have been asked to stop selling them.
Monoprice
purchased several batches of each and sold them unbelievably fast, but (if I understand correctly) they were asked to stop selling them, so ever since they have been listed as unavailable. I believe the same thing happened to Curt Palme. They also seem to be unavailable on Amazon.
So, what about eBay? Well, I own a HDfury2, and I bought it used on eBay using the Buy It Now option. It had been listed for less than an hour at the time of sale. I received it and am very happy with it, so much so that I'd even like a second one to use with my monitors that lack HDMI (and therefore are not HDCP-compliant).
So every couple days I search "hdfury" on eBay. A couple days ago there was a HDfury (original, I think it was the blue version), HDfury2, and HDfury III all selling auction-style. I bid on each one, just to receive three MC999 e-mails this morning indicating that eBay had removed the listings. They all came at about the same time, so they were likely removed all at once.
One of the three was worded differently, suggesting that it was a counterfeit product that was for sale. This very well may have been, but
The photo of the item for sale appeared to be the real HDfury2
I have seen imitators (e.g. HD Fire Fury) on eBay, and interestingly enough eBay seems to drag their heels on removing THOSE.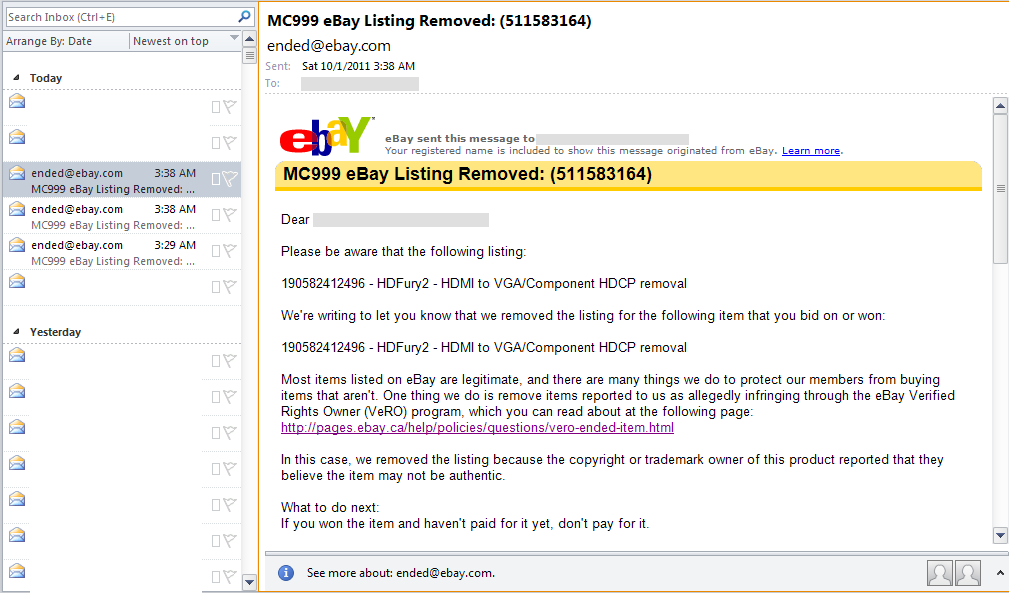 So basically eBay is folding in to pressure by the DCP people who hate the HDfury, even though it's technically not illegal and (when used as intended by the manufacturer) does not violate HDCP regulations. Or maybe eBay is in cahoots with the movie studios or something who also discourage these devices?
It should be fairly clear that despite what eBay says, these "crackdowns" are not to protect the BUYER of said device, for if that were the case, then eBay would be cracking down on the other stuff I see regularly on that site that drives me nuts:
Counterfeit products (and not just the fake HDfury's)
Items with intentionally misleading titles and descriptions, such as passive VGA to S-video adapters that are labeled as "VGA to TV Converters" and the like
Miscategorized items
Conclusion: If you are looking to SELL an HDfury that you no longer use, eBay probably isn't the best place for it. If you do go that route, make it a Buy It Now sale rather than auction-style, or maybe a short auction (certainly not a 5-, 7-, or 10-day).