I figured its about time to start up one of these threads to get some helpful advice and encouragement.
We moved into this house (our first home) back in December 2010. After finishing quite a few projects, its finally time to start on the basement. We'll be finishing a rec room/theater/bar/game room. We love to entertain and having a dedicated theater doesn't really fit the bill for us.
I've done some rough sketchup drawings of the concept for our basement. We'll also be putting in a bedroom, office, and full bath.
So, here are some details:
Equipment closet will contain:
-DirecTV HD DVR and Bluray for living room TV (located upstairs)
-DirecTV HD box
-PS3
-HTPC
-AVR (probably TX-NR709)
-Preamp for whole home audio system (probably TX-NR509)
-We're currently looking at a 120" 16x9 screen with 15' viewing distance. The projector will be one of the last purchases...because we all know you can't be productive with one in the house...
-I'm still undecided on speakers. We'll be on a strict budget as this build progresses. I'm thinking monoprice in walls for the sides and in-ceilings for the surrounds. I'm not overly concerned with the sound quality here since it isn't a dedicated theater and the room is anything but ideal. I'm thinking an AT screen with the front, sides, and SW behind the screen wall (more for WAF than SQ). I will probably end up building a custom set of speakers for behind the screen wall.
Well, here are a couple of quick-n-dirty renderings: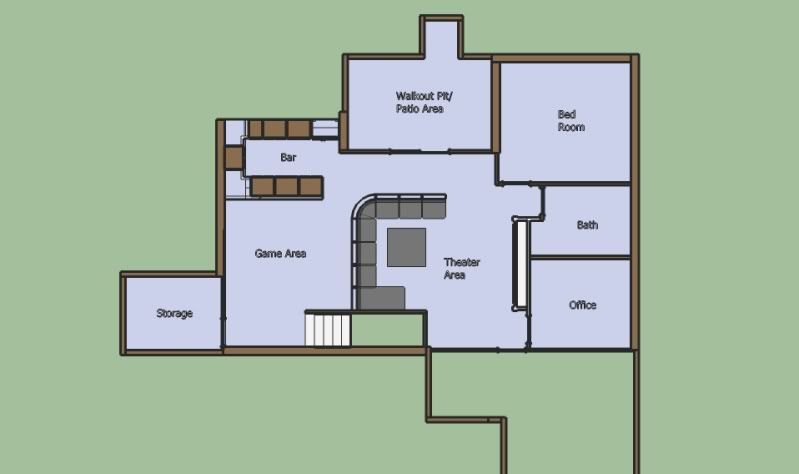 Rough Idea of screen wall
Rough idea of Bar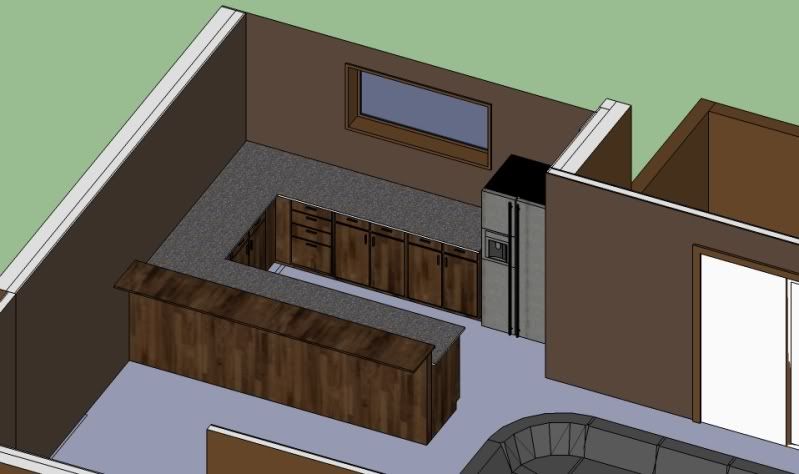 The bar will actually have a sink on the short side as well as a kegerator and tap centered along the side with the bar top. I'm also still trying to decide on what to do for upper cabinets. There is a large window on the back wall of the bar.
I'll upload photos of my current framing progress tomorrow, as well as my lighting/power/low voltage plans. Thanks for looking!