Greetings fellow AVSers! I have been a long time lurker on this forum, and I have to say, this board has served as both the inspiration for my project as well as a tremendous knowledge base. There were so many questions I had as I went through my project that were answered by some simple searches on this board. So I hope that my experiences that I document here can help inspire and educate future remodelers!
My thread is a little different in the fact that I am already 3/4 of the way done with my project. I'm gonna walk you through the first three sections and finish up on the last part when my bank account catches back up. (I seriously drained it on this man cave).
Here's how this will break down:
1. The plan
2. The Game Room remodel
3. The FLOOD (oooh, yeah, my world got f'ed up)
4. The Media Room remodel
5. The Bar build
So without further ado, let's get started.
A couple things about me. My passions include homebrewing and/or drinking quality beer, great AV experience during movies, and music. I wanted to incorporate all of these things into my design. The important things to consider was a) good sound throughout, b) a bar to showcase my brewing projects, and c) a play area for favorites like ping pong, darts, foosball, etc. I wanted plenty of storage so I could keep the area as clean looking as possible.
I moved into my current Michigan house in 2006 and was immediately taken by the wide, open, semi-finished basement. The previous owners had at some point had a finishing company come through and install drop ceiling and a strange paneling system. The panels were drywall with a textured surface almost like wallpaper.
This is the north side of the basement. It is divided in half by the stairwell.
The view from the north room toward the stairwell and the south room.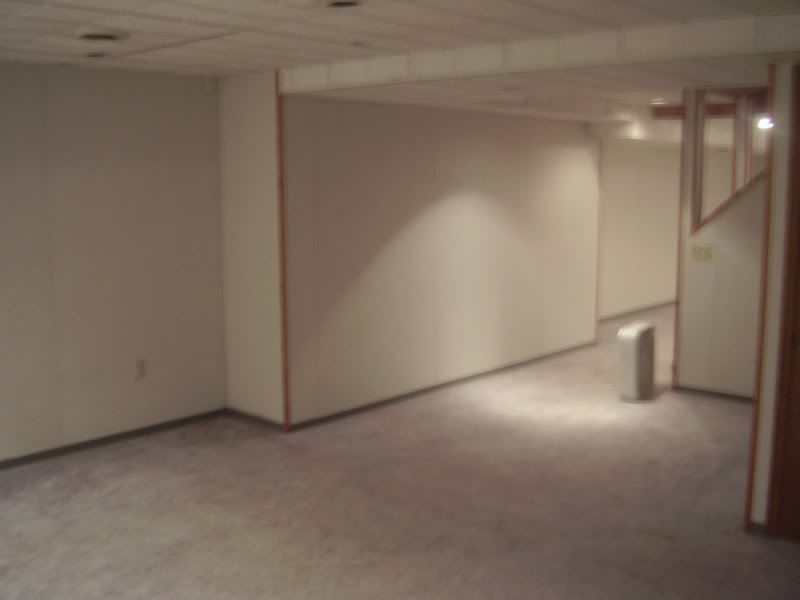 Looking from the south room toward the north room.
Here's a view of the media room with our old crappy, mismatched couches and the TV right after we moved in.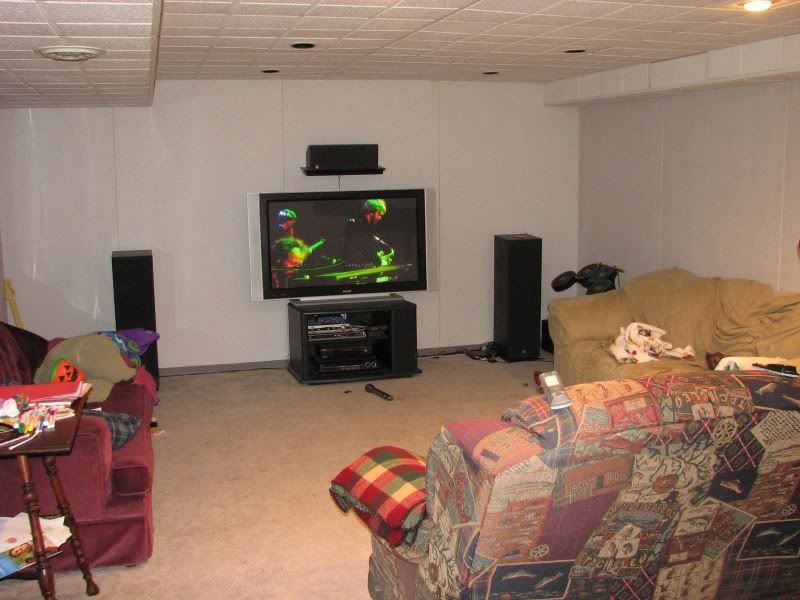 A view toward the small closet that houses my kegerator.
I started working on a plan to take the basement in sections. I drew up this little diagram and started saving money.