ddgtr>LOL, Geoff, can you post some of those super cool eye candy racing bike pics??<<br />
Over the years (Oct'85-95) ('03-'08), I've had different numbers; #24 the first two, then #235 thru '95 with the exception of '92 I was #8 ('91 was a good year for me). In my come back career, my number stayed #316. In some of my practice sessions, I've used borrowed bodywork with estranged and temporary numbers (that really plays with spectators and fellow racers minds when they think they see you but someone elses number).
I started at age 25 and now 51. I can still go pretty fast (relative) as I was able to get in a couple of instructor sessions this last season (you can tell by the "Instructor" vest). Being able to pass street boys on liter bikes with a slow 600 is still attainable. To be competitive on a professional level?, well I'd like to think so.....
I've had the privelege of competing in nationals when WERA traveled the U.S. and came up to the N.W. and I've been as far as Riverside Raceway and Road Atlanta for Grand National Finals held by Amer. Suzuki.
I've had the pleasure of rubbing elbows with the nations finest and most professional racers like Wayne Rainey, Kevin Schwantz, Doug Polen, Scott Russell, Colin Edwards, just to name a few. Anyone remember a guy named Wes Cooley? Used to be sole bread winner for Amer. Suzuki prior to Schwantz coming aboard, I had him over for steaks and brews and then kicked his a** at the '91 Seattle WERA event. That was one of my best performances to turn in a 5th pl finish against the nations best "factory" riders before going AMA.
I'm trying to prove the old saying "All good things must come to an end" isn't true. There's another old saying, "There may be snow on the roof, but there's fire in the furnace".
If the economy hadn't crashed, I'd still be out there getting free bikes and product sponsor. I do beleive things happen for a reason, heck, I wouldn't have met you guys if I hadn't turned my attention to H.T. when the racing stoped. But I'm still hopeful I'll get back out on the track at least at club level, I still love it and hope to be able to do it till I can't get on a bike anymore. Fortunately, my fellow instructors (2FAST track days and instruction) lend my bikes to instruct from so I am able to get in some track time here and there.
So, with out further adue,
First two pics, from '91 - '05, same corner, tire technology has come a l o n g way. Note long time sponsors RS-Taichi leathers and Arai helmets (T logo on shoulder)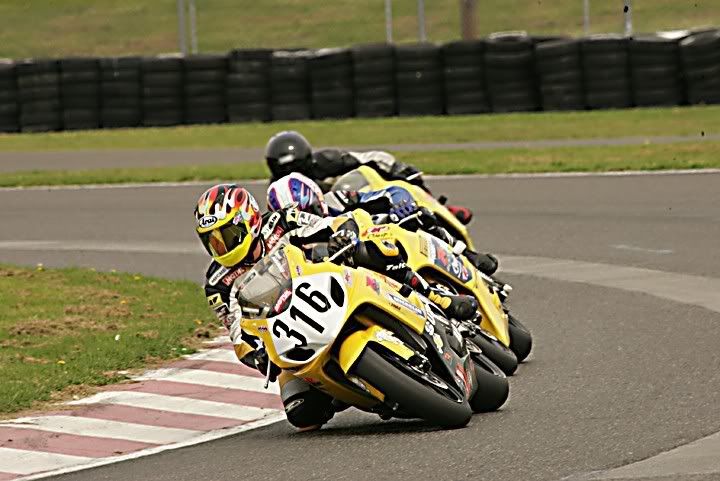 Hand to hand combat, who says you can't develope close relationships in racing
Chasing down a liter bike while on a 750 (tires don't fail me now)
Leading a couple of liter bikes while on a 750, talk about a pack of wild dogs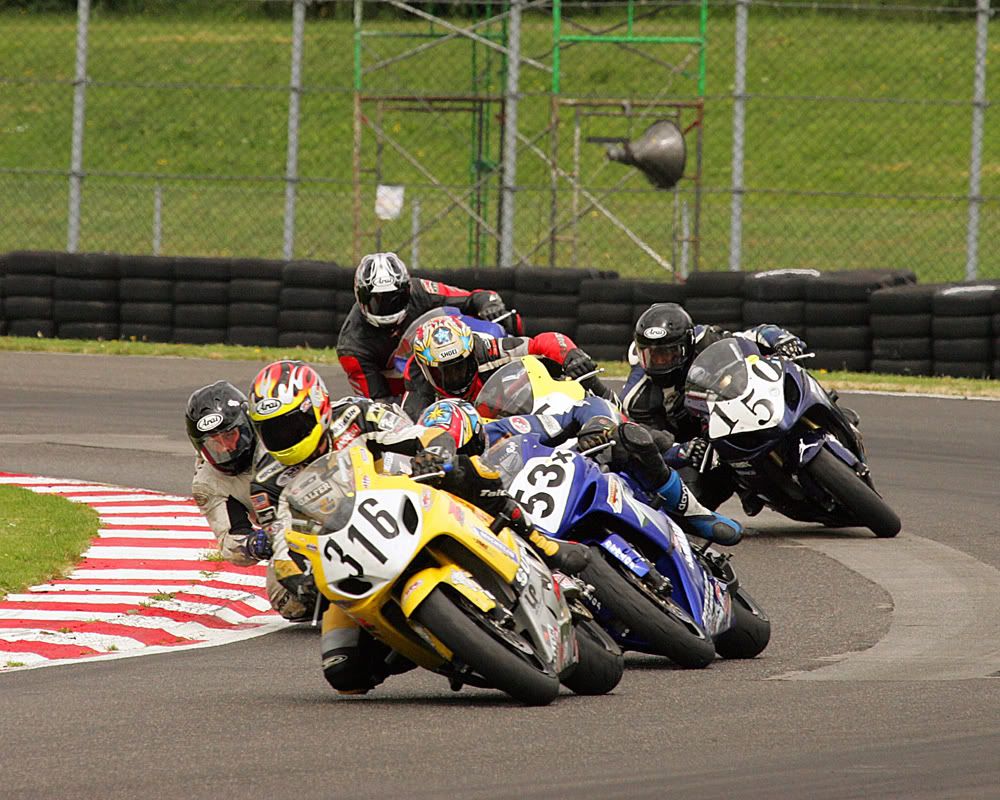 Instructing on a liter bike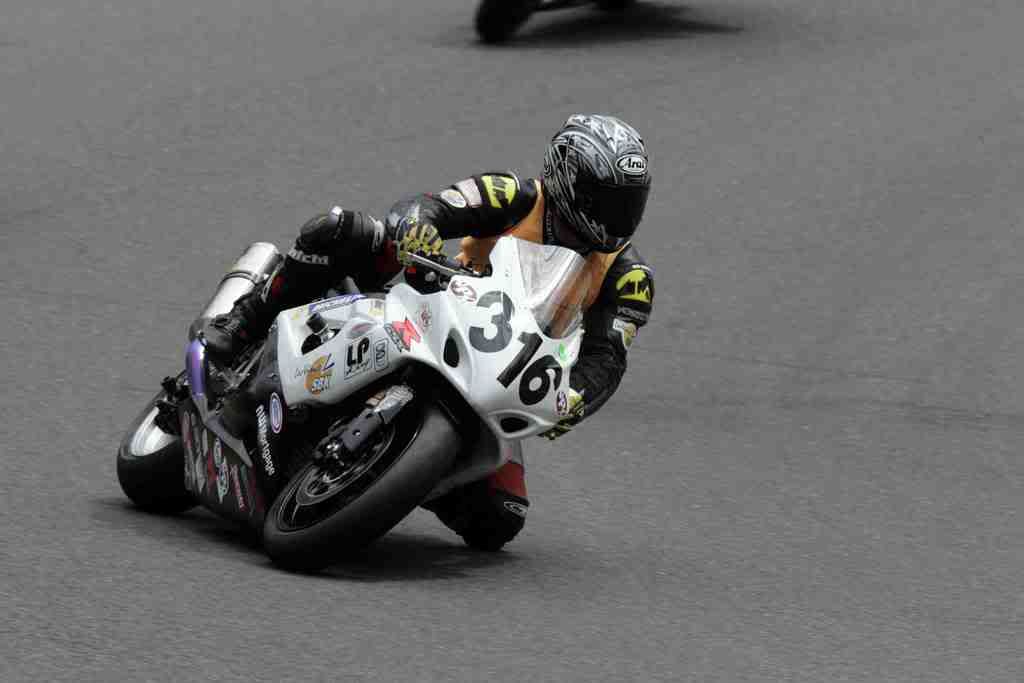 Racing on a liter bike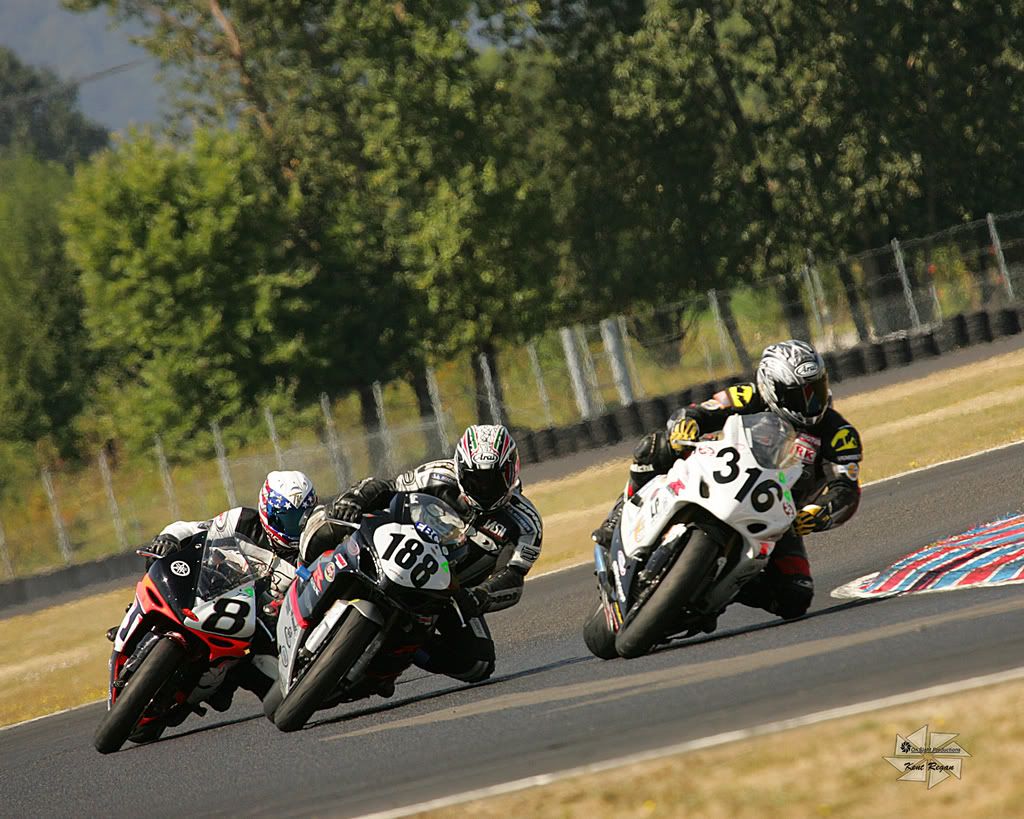 Crashing a liter bike (oops)
Riding the GSX-R1000 was the coolest bike I EVER threw a leg over, talk about having nuclear power right in the palm of your (right) hand. I was 46 when I raced the liter, I'd get right back on one in a heart beat, namely because the competition is lighter and the bikes are easier to ride IMHO. The 600 class which were my last two years, I was 47 and 48 years old. That class is way more demanding, power to wieght ratio is critical and traffic is unbelieveable, my grandmothers great aunt is racing in that class, waaayyyyy too many riders.
Anyway, hope you enjoyed, that's just a tease, I do have a few more if the request comes. Until next time, LAY the rubber on down.