Final Synopsis:
Firstly, I wanted to apologize to everyone who has been asking me for final shots of my completed theater! My wife and I had our first little girl (Rhyan) in the middle of last year and she has demanded all of my attention. By she, I mean my wife, LOL. I was finally able to compile all of my pictures and information to present to everyone. Looking back at my first post in this thread is incredibly nostalgic. I've noticed that I've deviated slightly from my original plan but such is life. Anyways, I'm not going to bore you with a bunch of chatting! Once again sorry for the huge delay...... on to the pics! 
I also had the opportunity to have my theater featured in some publications
This is a copy of November 2013 Issue of Sound & Vision
Insane HTPC write up 
http://www.insanehtpc.com/2013/04/15/featured-setup-brown-family-cinema/
Electronic House Magazine write up
http://www.electronichouse.com/article/home_theater_made_with_grandma_in_mind/
Well that's about it!! I can say that this journey was truly an amazing one and I'm sure it's not finished yet!! I haven't been able to enjoy the theater as much as I would like but the times I have had in there have been nothing short of BREATHTAKING! Even in my initial planning, I never imagined that it would come out so awesome. If you are reading this thread and are on the fence about building a dedicated home theater...two words.......DO IT!! There is plenty of support here to help you along the way. I've learned so much from AVSforum and this invaluable information helped me realize my dream!! I must say that I hope I can get back in the theater now that my daughter is getting a little older. Seems as though my family enjoys it more than I do, lol. My utmost gratitude to everyone here that helped make my dream a reality!! Please, if you have any questions, PM me or ask in this thread and I'll be sure to get back to you. Thanks again everyone!!!
*********************************ORIGINAL POST*************************************
So after a lot of lurking and snooping around, I've decided to start a build thread for those people who are extreme beginners, like myself. I've decided to start a home theater project in one of my guest bedrooms (I'm a Floridian and basements are non existent down here). Right now, I am just preparing the room for the future home theater. There was a half closet inside of the room which I knocked down to maximize space.

Here is the layout of the guest room where the madness will take place. The wall on the bottom of the picture is where the closet was.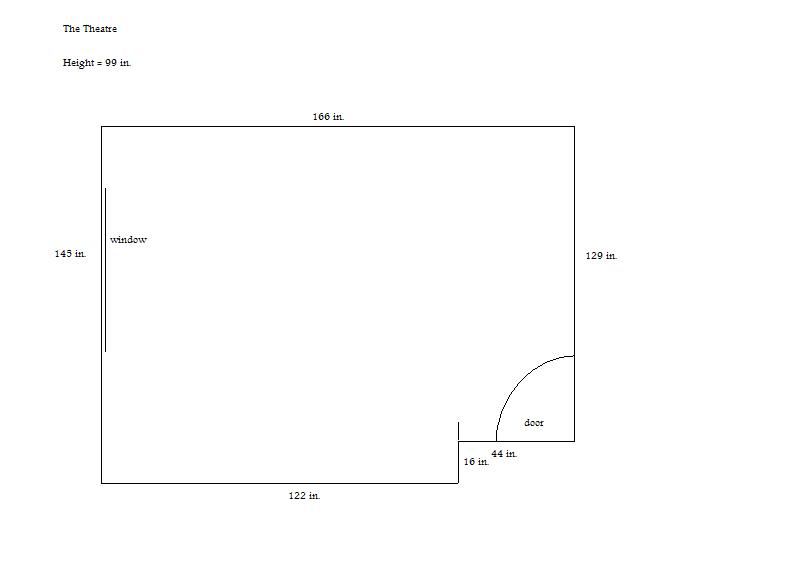 Here is the layout of the room and my miserable attempt to show how I want it set up. I want to build a wall slightly recessed from where the closet was so that I can install an in wall dvd bookcase and an equipment rack.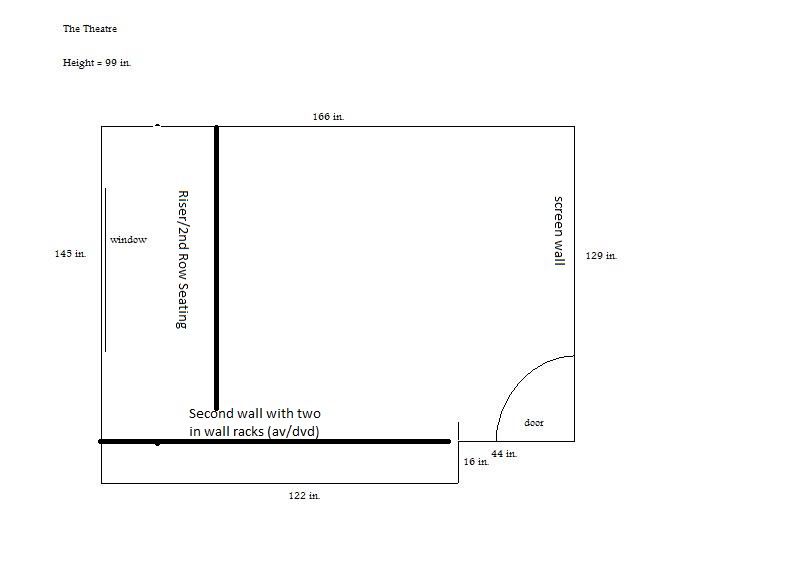 The room is 13'10" length x 10'9" width x 8'3" height. Since this is preexisting construction, I was thinking of adding a 5/8 sheet of dry wall to the 4 walls with green glue. This will reduce the overall space of the room however, I am willing to take the loss if it will improve acoustics. My question is, will I be able to attach drywall to the preexisting walls with green glue without sanding or prepping? It should be noted that my walls are covered with "knockdown finish". Therefore, the surface of the drywall is textured. Secondly, the preexisting dry wall is 1/2 thick. Would that hinder the performance or make my doubling efforts null and void? Thanks in advance for you guys' help. I can't say that this will be an easy process as I am a complete beginner (in audio/visual and general contracting for that matter)!!




Equipment list:
Projector: Panasonic PTAE400U
Subwoofer: HSU VTF MK3 (or 15 if GF allows hehehehe)
L/C/R: 3 SHO-10'S
Rear: Axiom Audio QS8 surrounds
Control: Harmony 1100 or IPAD + Roomie
Bluray: Playstation 3
Receiver: Onkyo TX NR809
Chairs: 4 Klaussner powered recliners
Amp: ?? not sure if I need one
Edited by azula - 2/5/14 at 6:11pm