So I decided to amp up the theater another level by incorporating Aura Pro Bass Shakers into the mix. I chose the Pro's over the Buttkickers mainly for the price and secondly because of the size difference. I purchased 4 Pro's from Amazon. Then I did some research and realized that any receiver could power these bad boys. I purchased a Sony STR D515 receiver off of craigslist for $30.00. I really had cold feet about installing these so I was originally going to zip tie the Pro's to the frame of the seat. This method, however, would minimize the shake that could be felt. I decided what the hell and went for the gusto. Here are some installation pictures:
Here is a picture of my Seatcraft Rialto Seating. I have a row of three on the riser (1 single seat and a loveseat) and 2 seats in the front row. I'm starting with 4 Pro's, 3 in the single seats and 1 in the loveseat.
I installed four of these corner brackets into the bottom frame of the seat. The the screws and washers were used to secure the corner brackets to the frame of the seats. The frame of the seat already had holes strategically placed throughout the frame (huge relief)
Here is a picture of the brackets installed
I had a chunk of 3/4" plywood left over from the build. I cut it into 4 8x16 pieces.
I drilled the shakers to the plywood using these screws
Then I simply attached the piece of plywood to the brackets I previously installed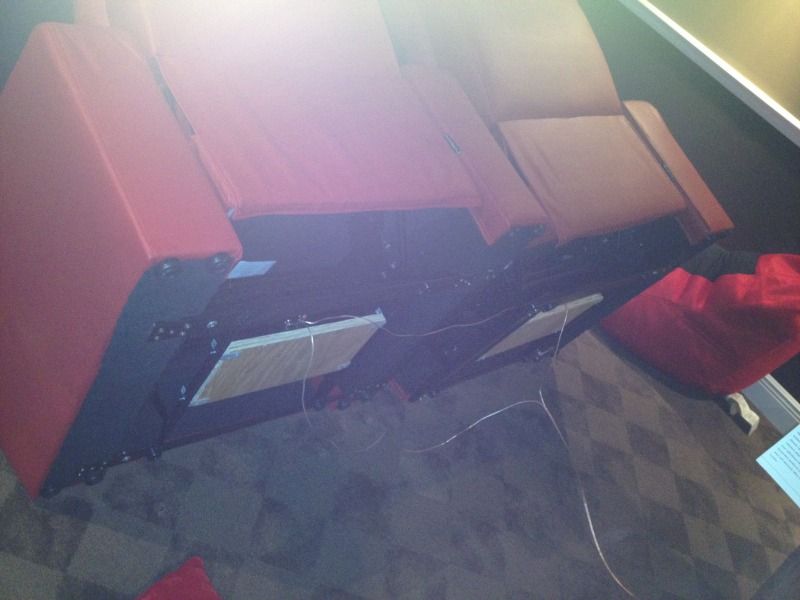 ***WIRING***
Wiring was pretty straightforward. Since my Onkyo 809 has 7.2 channels, I used 1 channel for the subwoofer and the other channel for the Sony STR-D515. I purchased one of
these
to split the mono signal into a stereo signal and plugged it into "CD" line in the back STR D515.
Here is the back of the receiver that is powering the Pro's STR-D515
Since the Pro's are rated at 4ohm and the receiver is 8ohm, I wired these in series so that the receiver will see an 8ohm load. Here is a picture of the basic connection I used. The other two shakers (rear row) were wired the same way and plugged into the "right" channel on the back of my STR-D515
That's pretty much it! This was a really simple project that had a HUGE impact on watching a movie. I watched Iron Man 2 (for the 4th time) and it just adds another element that immerses you even further into the movie! very pleased.