Since this topic has seemed to generate a lot of interest recently, and there's really no particular thread that I could find concentrating on it, thought it would be a good idea to start one. Seems to me this particular forum could benefit from it.
This hopefully could be a common area for questions on how to measure, what your resulting measurements mean, and possibly suggestions on methods to treat for improvement. Either it will propagate, or just die off.
To kick things off, I spent all of about 1/2 hour today taking some key measurements which are shown following. My measurement set-up consists of the following:
- Behringer UCA202 USB sound card (approx $27)
- Radio Shack Digital SPL meter (approx $50)
- Room Equalization Wizard (REW) software (free)
- Camera tripod (varies)
- Associated RCA cables (check your basement)
Graph of sound pressure level across 20-20KHz (full range) for sub and front right and left speakers, with 1/3 smoothing. Note that the RS SPL meter is not very accurate above 7K-10KHz.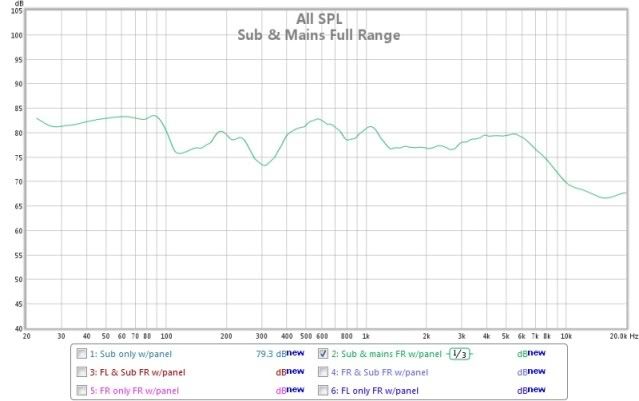 Graph of sub only from 15-200Hz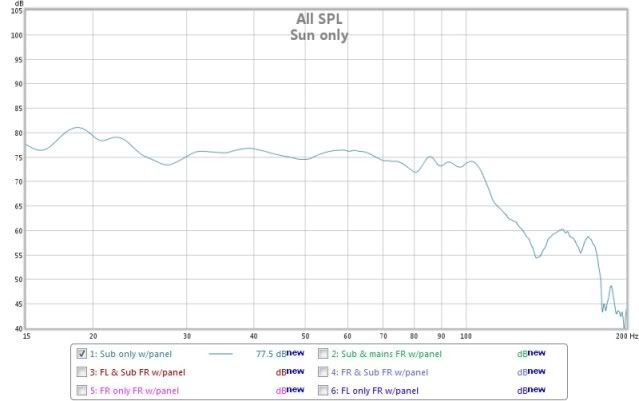 Waterfall generation from the sub graph. The waterfall view shows you the sound pressure level across the frequency range, but also includes the decay/time of the signal on the Z axis. I can see from my room that I have a peak and long decay time in the 15-25Hz range, with the rest of the frequency range decaying nicely within 300ms or less.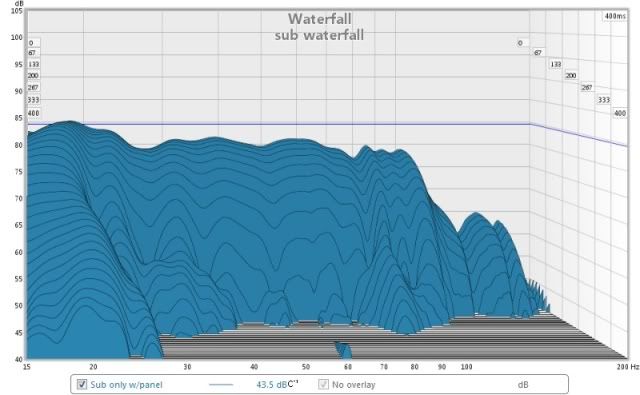 Next is a spectrogram of same sub signal. This is another way of viewing the energy and decay over time, with time on Y axis, frequency on X axis, and intensity of the signal in color. Here you will see again the higher intensity and longer decay in the 15-25Hz range with steadier decay and intensity throughout the remainder of the frequency range.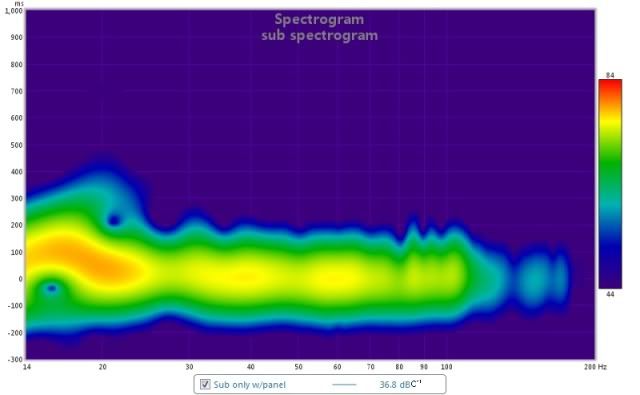 Next up is ETC. This graph is based on a normal full range measurement sweep of my front right speaker only. It depicts the initial impulse energy at T=0, and subsequent impulses in time along the X axis.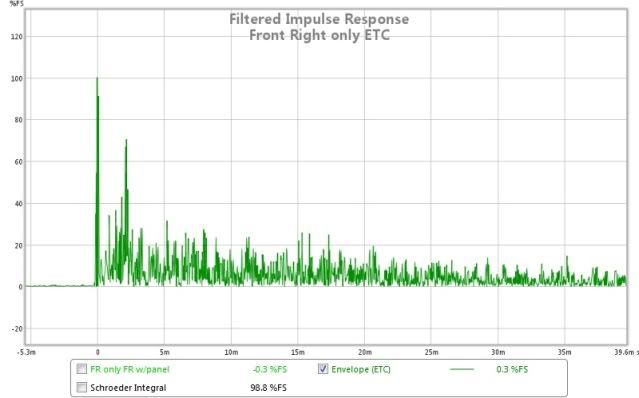 Here is ETC for the front left speaker only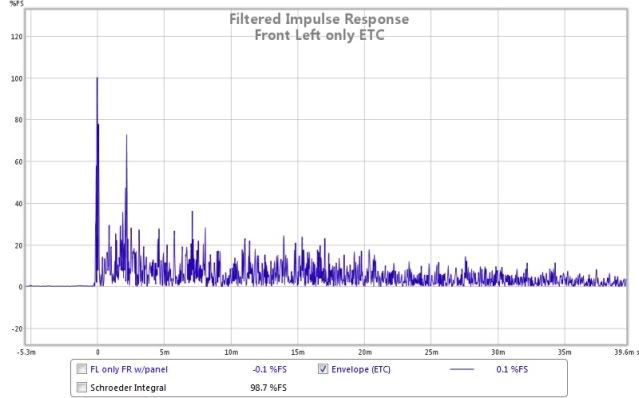 Some observations based on my limited interpretation skills:
1) subwoofer response is good overall. I have read that what I am seeing in the 15-20Hz range (peak and long decay) typically is a modal issue and probably not a lot I can do about it.
2) ETC measurements:
For FR: There is a spike immediately after initial impulse (near T=0) which is most likely a reflection off a surface right by the speaker. Another spike at around 2.4ms. That spike is nearly 30dB below initial....does it even need addressed?
For FL: Very similar to FR....same question
I am generally pleased with the ETC results (unless I'm missing something).
Any comments, corrections or whatever are appreciated.