I have been a lurker on here for quite some time and I am finally going to post my setup. Give me a few days and I will get some pictures up. I am looking forward to your critiques.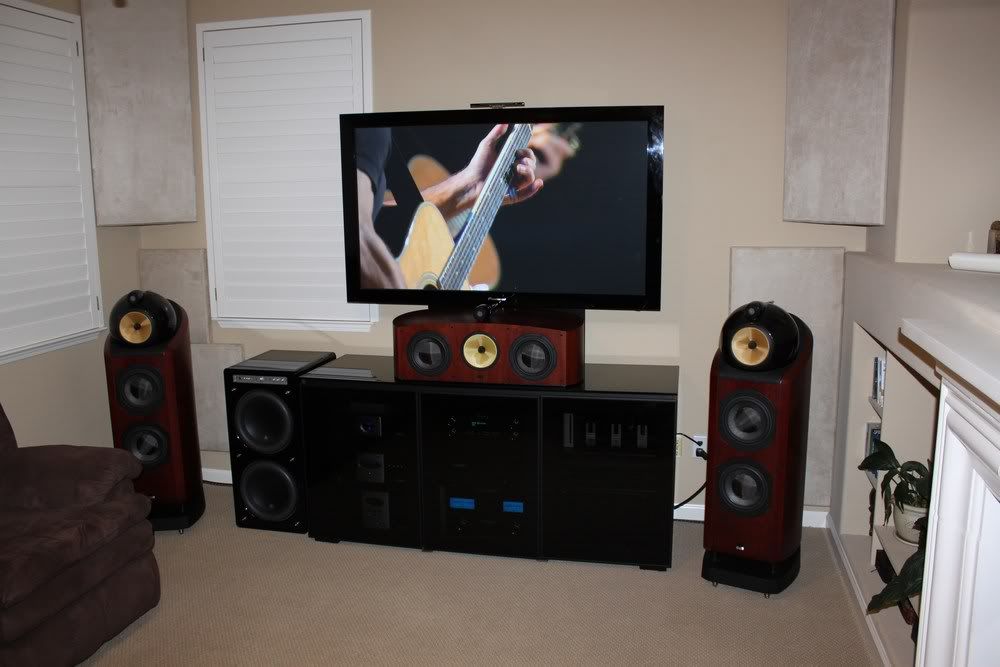 Grills off.
How things usually look with the grills on.
The cabinet opened up.
Close up of the cabinet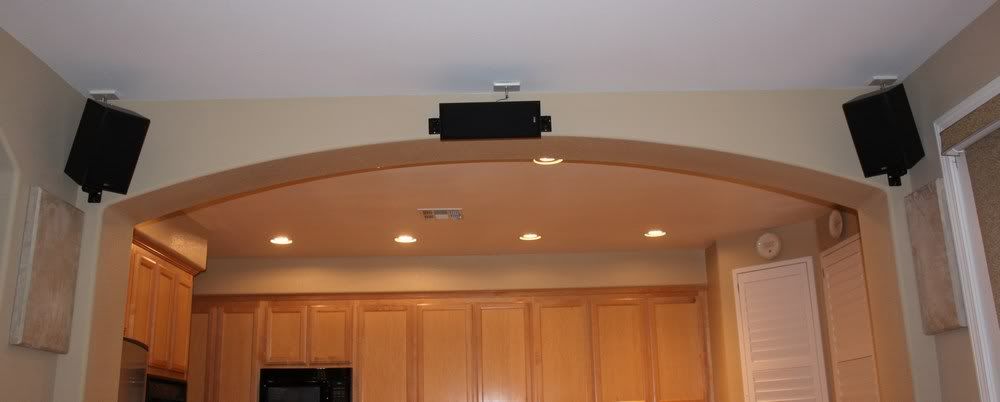 The rear channels
Display
Pioneer KURO 60 Display
Speakers
Bowers and Wilkins 802D (PAIR)
Bowers and Wilkins HTM2D
Bowers and Wilkins LCR3
Bowers and Wilkins DM303 (PAIR)
JL Audio Fathom F212 (Gloss Black)
Processing
McIntosh MX150 Processor
Amps
McIntosh MC-402 Amp
Rotel RMB-1095 Amp
Power
Monster Cable AVS-2000 Voltage Stabilizer Signature
Monster Cable HTPS 7000 Signature
Monster Cable HTUPS 3700
Source Components
Oppo BDP-95 Blur-ray Player
Logitech Transporter
Western Digital WD TV Hub
Cables
Audioquest Rockafeller BiWire Speaker Cables (PAIR)
Audioquest Rocket 88 BiWire Speaker Cable (Front Center)
Audioquest Sub-3 XLR (2.0 meter)
Audioquest Carbon USB Cable (2)
Audioquest Columbia RCA Interconnect
Audioquest Columbia XLR Interconnect (2 PAIRS)
Audioquest Carbon HDMI (4)
Audioquest Optilink-1 Toslink Cable (1)
Audioquest NRG-2 Power Cable (4)
Audioquest King Cobra XLR Interconnects (8)
Audioquest Raven AES/EBU Digital Cable
Monster Cable Surround Wiring
Miscellaneous
Salamander Rack with TV Mount
ATS Acoustic Corner Bass Traps
ATS Acoustic Panels
Monster Cable Central Control
Antec Rack Cooling Units (3)
WD Powerline Networking
Headphones
Grado SR-225
B&W P5
B&W C5
Retired Components
B&W 703
B&W HTM61
B&W CM Center 2
Rotel RB-1080
Rotel RSP-1068
Benchmark DAC-1 Pre
Integra DTC-9.8
Arcam AV888
Cary Cinema 11a
Cary Cinema 12
ACI Titan XL Subwoofer
ACI Maestro Subwoofer (PAIR)
Rotel RB-976
Rotel RMB-1075
Rotel RCD-1072
Monster HTS 3600MKII
I am planning on moving into a better space in my next home that will give me more choices for surround locations. At that point, I plan to upgrade the rear surrounds and move to a 7.1 system. I also plan to add a second JL f212 and more than likely upgrade the Rotel.
Let me know your thoughts, I look forward to hearing from you all.