Quote:
Originally Posted by
MississippiMan
The 5010 has a lens shift range that is among the largest "Vertically" of any PJ mfg.
As such, if you use the prescribed dedicated Chief mount (...and you should...) and a 2" NPT Threaded Nipple between the Peerless Ceiling Plate, the distance from the 8' ceiling and the Top of the lens will be approx 6". You absolutely want to keep that big PJ up as high as possible owning to the fact you only have a 8' high ceiling.
A Image that is Shifted 6"-10" isn't going to be anything at all to be concerned about.
A Pro 'eh. Good. If your at present in the act of hanging Drywall soon, or it has been hung but does not have any Mud or a Primer/Paint finish, then it's easy to create an installation where the Ceiling Plate is attached to to a 12" wide x 3/4" Plywood bridge that is set 6" above the Ceiling and across the Floor Joists. The Pipe extension (8" or 10") comes through the Drywall, cleanly exiting through a hole that is the same diameter as it is...just slightly "reamed out".
Doing so makes the Ceiling Plate invisible, something pretty nice to have when the ceiling is so close at hand.. But all the same, simply painting the ceiling Plate the same color as the Ceiling comes pretty close to neating things up. No matter what else, the smooth look of a solitary Pipe coming out of the ceiling? Priceless.
Here is a Epson Pro 6010 with the ceiling Plate mentioned on the "outside" of the ceiling along with a 6" PVC Tube w/Threaded Male Adapters. The only reason even 6" was considered is that the ceiling shown is a 12'er
The top of the screen used was set at 9' off the floor so in the instance below, the actual "Shift amount" was 24" relative to being measured as such on the wall.
And here is a Epson 8350 a'hangin' down a full 20" showing the "Pipe-Thru-Ceiling" method.
I got a couple more showing 6010s, as well as a 5010, but since the RPA168 Projector Interface Plate on a Epson 8350 fits every Epson 1080p in the 8000 /9000/3010-5010-6010 series, here's an image collage that shows it from several aspects.
This next shot shows just how Low Profile it really is (...less than 2.75" incl. Plate and Mount...)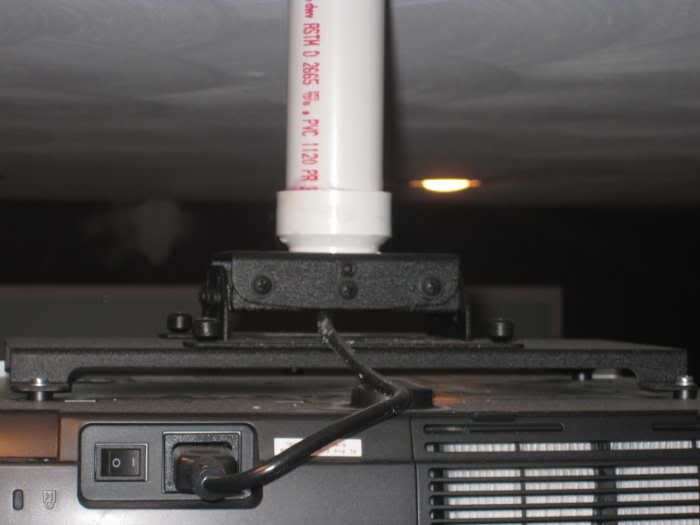 .
I hope this helps in some small way to motivate you to go for both a correct and esthetic mounting solution.
Thanks for the detailed response. Researching this thread, i see many people have recommended Peerless UNV mount also. Ideally i am thinking to go for a mount possibly with extension pole which can be adjusted to various height.