At last the Ad Astra Theater is nearly complete.
Back of theater: DVD shelves finally in place.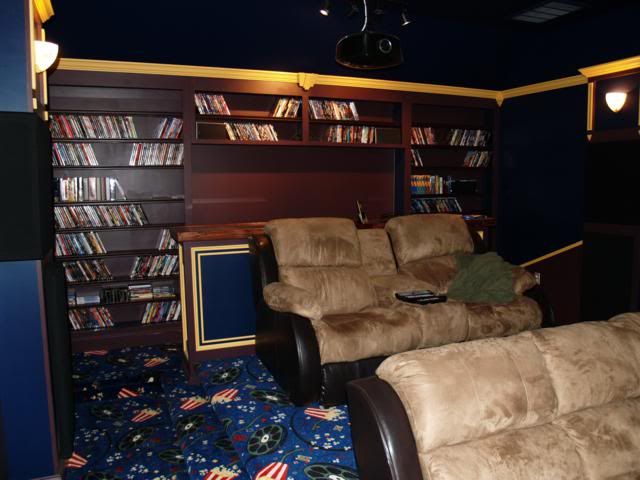 Right side - It was great to get the DVD's from downstairs out of the closet!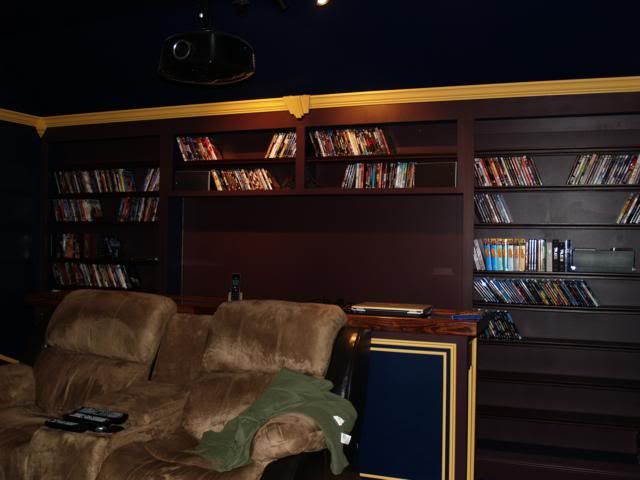 Side panorama shot. Before the final paint was done, but this gives a pretty good idea of the layout:
And front shots. I'll need to update the completion shots to a little clearer, but it's quite dark in there!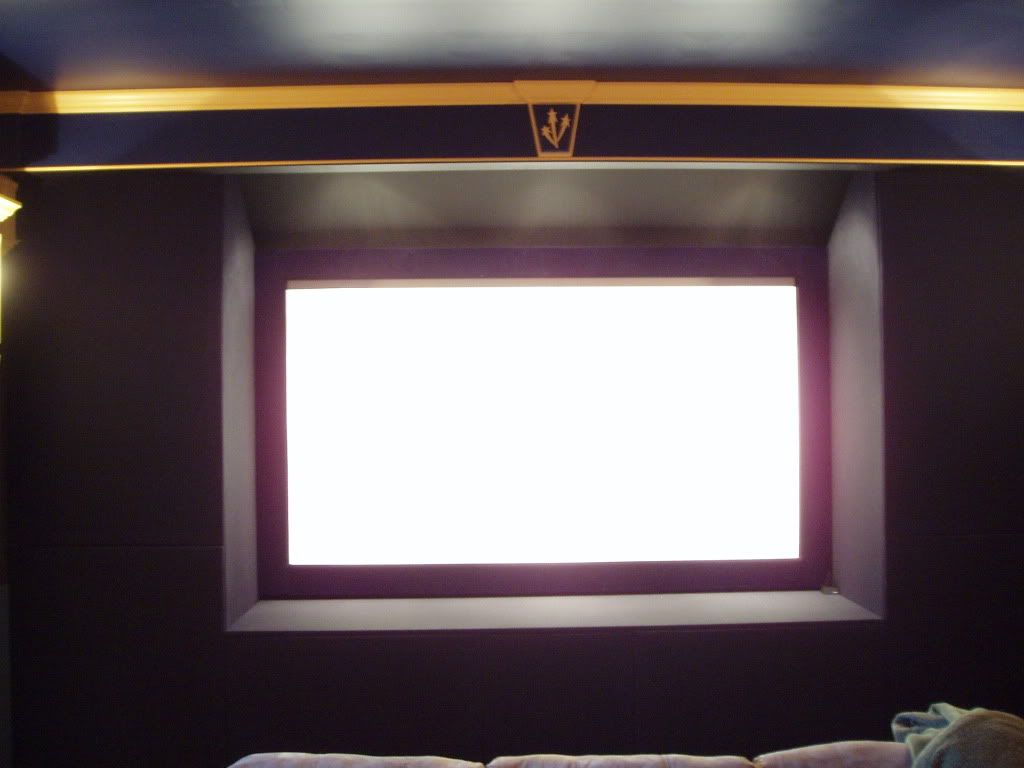 From the myriad threads on this and other sites, I've concluded that a theater is NEVER actually complete, the builder is in the resting stage. With the installation very close to completion, I decided to share my experience of creating our second floor which includes the theater.
A little background. I'm an associate manager with a medical records auditing and coding company based in South Carolina. My wife, step-son and I live just southeast of Raleigh, NC. I worked for a company in Wilmington for over 17 years until I was laid off along with quite a few others about 10 years ago. The same year I was separated from my first wife, and 9/11 occurred - not a good year. Previously, I taught myself cabinet making and small furniture making as a hobby, with a pretty nice garage workshop. I was an instrument electrician in the Air Force, and for a couple of years at the former company. All of that came into play when I realized I had to go back to college at age 40 supporting myself by doing trim carpentry for 3 ½ years. It was tough trying to marry speed with quality, as I didn't have the luxury of time while working on other people's homes! But I learned a lot about efficiency, tricks of the trade, and how to get by with less in the way of shop tools. I also got back into pretty good shape! After graduation, I went back to a desk job, met my beautiful wife, and we bought a home together about three years ago.
Long searching led us to this very nice place that satisfied many requirements, especially a big kitchen, interesting architecture, and more importantly for my fervid imagination, a large unfinished area called the second floor! The entire 1400 sq. ft. second floor had a roof, some stubbed up plumbing, one electrical circuit, and the A/C lines. A wonderful blank slate.
The genesis of the theater idea started years before with a simple setup, consisting of a 27 inch Sony CRT, and 5.1 Bose Acoustimass speakers. That grew into a 36 inch version (a 240 pound beast!) CRT for my bonus room and finally, as a present to myself, post graduation and post divorce, a 46 DLP rear projection monitor from a then little known company called LG. This was coupled with a newer version of the Bose cube setup in a small apartment and later a rented house. It was pure heaven for my inexperienced viewing pleasure!
No work was started in the new home's unfinished area for a while, and then I discovered Google Sketchup. Interestingly, I discovered Sketchup,
http://sketchup.google.com/
, not from this forum, but to replace an outdated drawing package I had, called "Canvas". The tutorials and some practice enabled some proficiency, enough to get me started on the basic model layouts for upstairs. At first, my main goal was to create space for the many books I tend to collect (prior to getting a Nook for a Christmas present, which saves lots of space!), and to have a nice area to watch movies, which has always been a passion. What started as an open floor plan:
led eventually to the idea of a dedicated theater.
Iron Man sold the idea to my wife. During the early days of research and discovering great sites such as AVSForum.com and Hometheater.com, I looked around our area for a place to see a setup or two. I discovered Audio Advice and Intelligent Electronics. I checked these businesses out first, to scout around, and was mesmerized. Suddenly, I'm learning about brands like Runco, Def Tech, Planar, Integra, when previously the most exotic speakers I knew of was Krell or Klipsch. I took my wife back to Intelligent Electronics first, and asked the guy to set up "Iron Man", since she was familiar with that movie. He played the scene where Robert Downey, Jr. tries on the suit for the first time. I can't remember for sure which subwoofer he had going, but I think it was a Velodyne or one of Atlantic Technology's. The picture was pretty great from an older 3 chip Runco, and the first time the LFE's came back into us, my wife looked at me and said, Oooo, we gotta get one of those!
Sold!