I've changed my horisontal masks' driving system. The vertical masks work perfectly every time but the horisontals have been given me some troubles. The pulley and belt system wasn't very relyable. It would work for a while and then start slipping and work again and then fail again. I'm a bit anal about stuff like that and don't want to sit with people in the room and suddenly one of the WOW factors isn't working and I have to get up and do it manually, oh the horror....the horror......
And soooo, I've made another contraption. An actuator of sorts. I've looked around for an actuator, but boy are those things expensive!
So I let the old braincells loose and came up with this thing: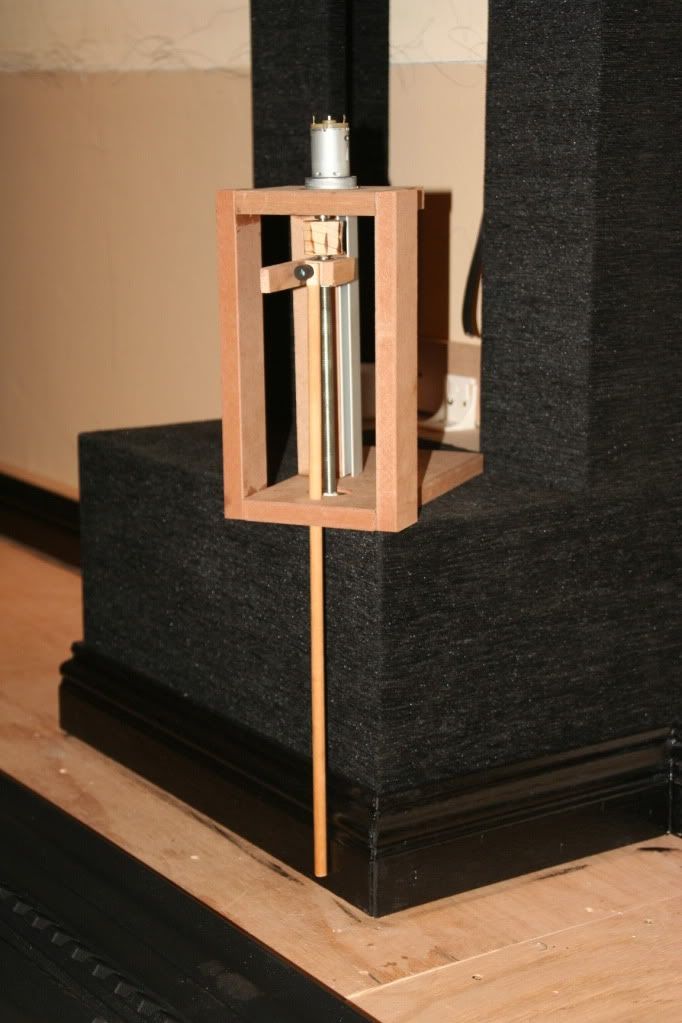 The whole thing now goes into the soffit at the back of the proscenium and the dowel-rod goes through the bottom of the soffit and attatches to the top horisontal mask. This works MUCH better and smoother than the previous method, but one downside is that it's much slower than before, so I'll have wait a bit longer for the horisontals to adjust. Like I've said before, it will only be done once before the movie, so it's no big deal - longer time for the Oooh's and Aaahh's
Here's a bit closer:
I'll have to post pics of the thing installed as well.
Sunday afternoon me, the wifey and little monkey took my dad's old Isuzu bakkie (pickup or little truck) and drove to my friend's house in Pretoria to pick up the fibreglass panels for the walls and the back of the screenwall. The company only delivers in the Gauteng province, so I had them deliver it to his house. About 140km and 90 panels later, we were back at home.
Here they are, eventually, stacked and waiting to be slaughtered and stuck all over the place.
My modern art collection on the HT walls, by my little Picasso, is also growing. I let her go wild on the walls of the HT while I'm busy working there. It's very cool for her to be allowed to paint and draw on the WALLS OF THE HOUSE without anybody complaining, in fact, Daddy is encouraging it!
It's just sad to know I'll be covering it soon. I'll take pics of everything to show her one day, at least I'll know its there. I get all teary eyed thinking of how quickly she grows up - nearly five years old and it's as if she was born just yesterday.