...but I didn't get me none.
However, while in Kansas City, KS (...Shawnee actually...) I did have the opportunity to help construct and paint a 157" x 71" "DRYWALL" Screen, and for me, that was all the excitement I could stand.
Before I started, Member
carp
had this raw wall pallet to work with, desiring a 156" diagonal 2.35:1 image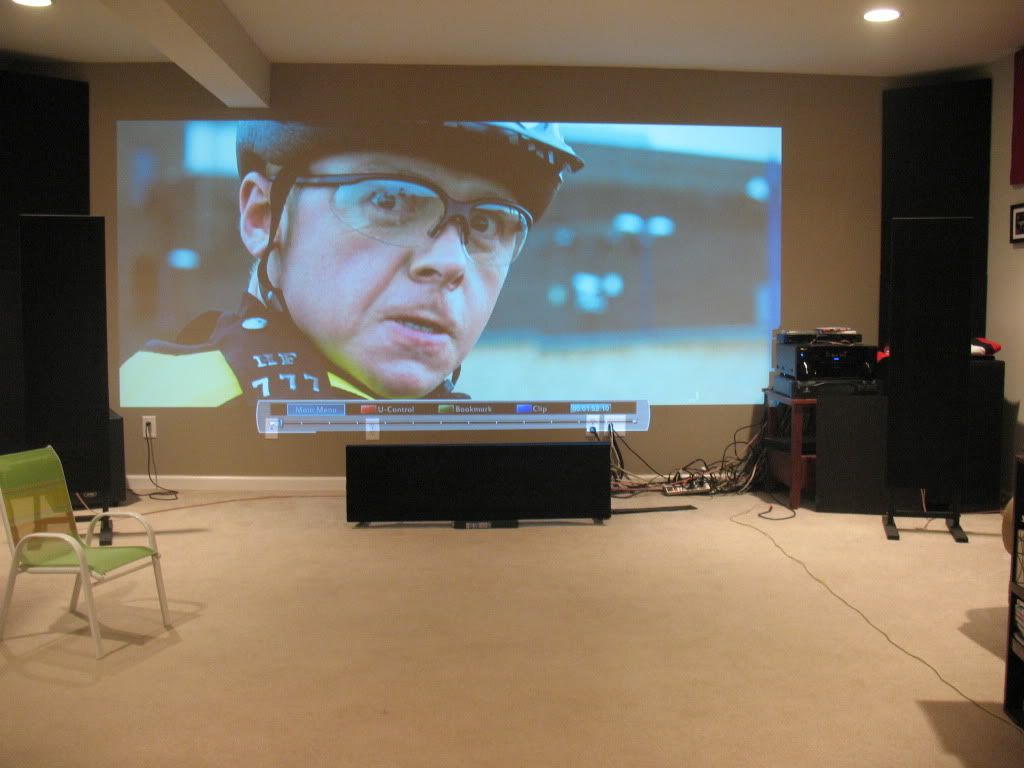 After some consultation,
carp
attempted to repair a couple areas on the wall, one being a size-ably deep dent at lower center. He did so with the intent of having me finish up the fine sanding upon my arrival.
Well....when I got there, there were about 4 repaired spots...one "dent" and 3 small "buggers". Upon doing a closer inspection, I found several other areas whose defects would have been quite noticeable after any highly reflective paint was applied, even with the necessary 4 sprayed on Primer Coats applied beforehand. Now that would never do, so.....viola.
Here is a shot of an image across the "repairs" but with no Primer.
(Primer used was Kilz-2 adequately diluted so as to flow easily through the Wagner Control Spray Plus I toted along with me.)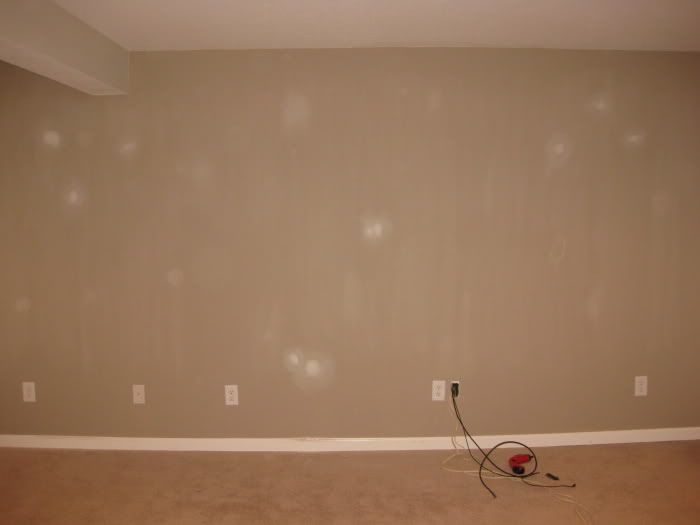 Note:
I did not / could not take any "Primer Shots" because I had to construct a "Paint Booth Tent" out of 2 mil x 9' x 12' Plastic Sheeting that effectively kept all Paint Dust contained, but alas...blocked the PJ's ability to shoot onto the wall.
Moving on.....
OK then....due to the
"2.35:1"
size of
carp's
screen, it was adjudged pertinent and wise to paint the wall a lighter, higher gain version of Silver Fire v2.5. I determined to use
1.0
, opting to try to still retain a bit of ambient light ability. S-I-L-V-E-R was another potential candidate,(...no gain issues there...) but does poorly in moderate ambient light.
So the squirtin' commenced, and when it was done ...after 3 Dusters and 2 "normal" coats... (I shy away from using the description "Heavy" as it bespeaks of potential disaster...) ....this is the end result.
Looking good, as evidenced by the Thumb of Approval.
But it looks like the screen area crowds the "Beam" on the left side, and actually goes above it on either side? Hmmmmm.............more on that later.
So now comes the Trim. We used 3.25" x 1/2" simple MDF Base Board. With such a big screen, and considering the need to "wrap" around that damnable Beam, I cut and pieced the Trim in place to confirm the "lay".
So then, in secession...;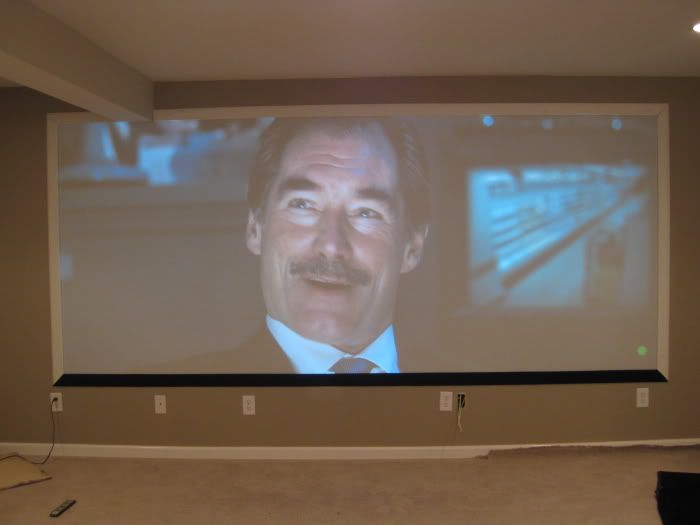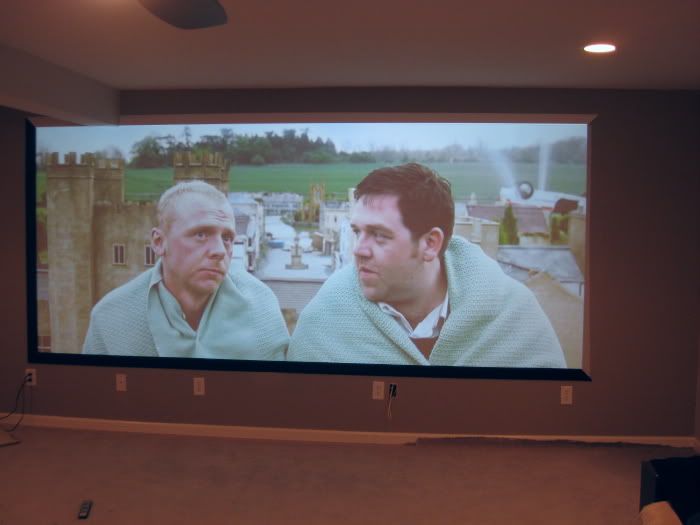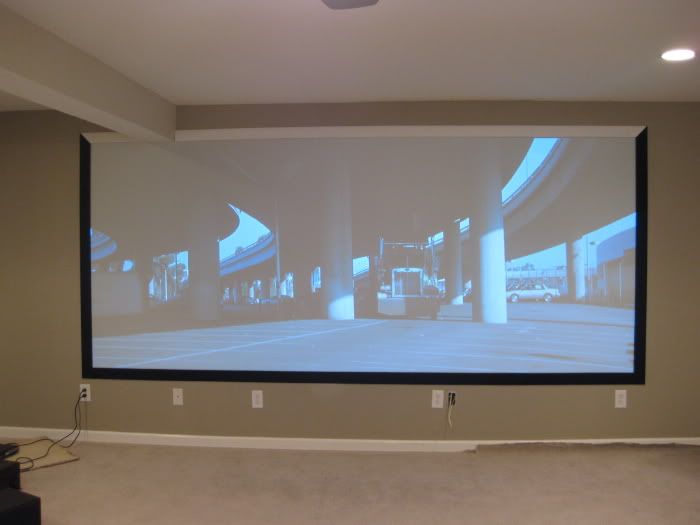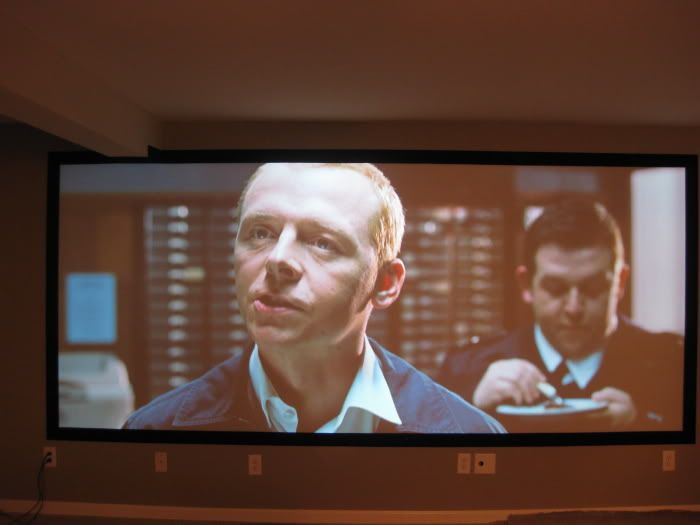 And what about that nasty 'ol Beam? Well now...a little bit of self-adhesive ProtoStar Telescope Flocking wrapped around the Bottom & Sides and No Problemo......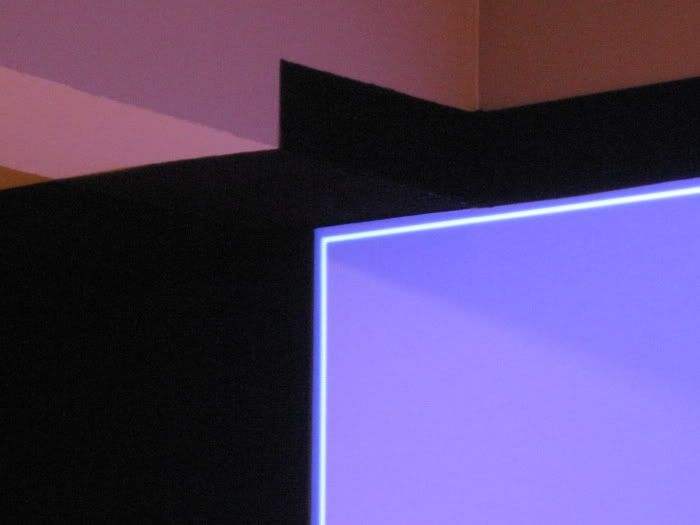 Also using the ProtoStar, we wrapped to properly sized sheets of Sintra to create the necessary Masking Panels for 16:9 content viewing.
The Gods of DIY Screen making were smiling that day because after wrapping, the Panels fit so snugly into the space between the Top & Bottom Trim, they didn't need any assistance staying in place. "Snapped" right in there.
Projector was hung onto a Finished Wood Panel for access to the ceiling cavity (110 ac and future wire pulls)
.........and we wound up with this Beauty.
I'll let
carp
continue any further construction "stories" should he care to do so...
Any questions posed about specifics of the "build" I'll be glad to address.