I had my house built 8 years ago with the expectation of building out the basement to include a home theater. The time has come
I had initially set the positioning of the basement support beams/teleposts as well as HVAC and others with a basic theater layout in mind. This is my latest revision of the basement layout.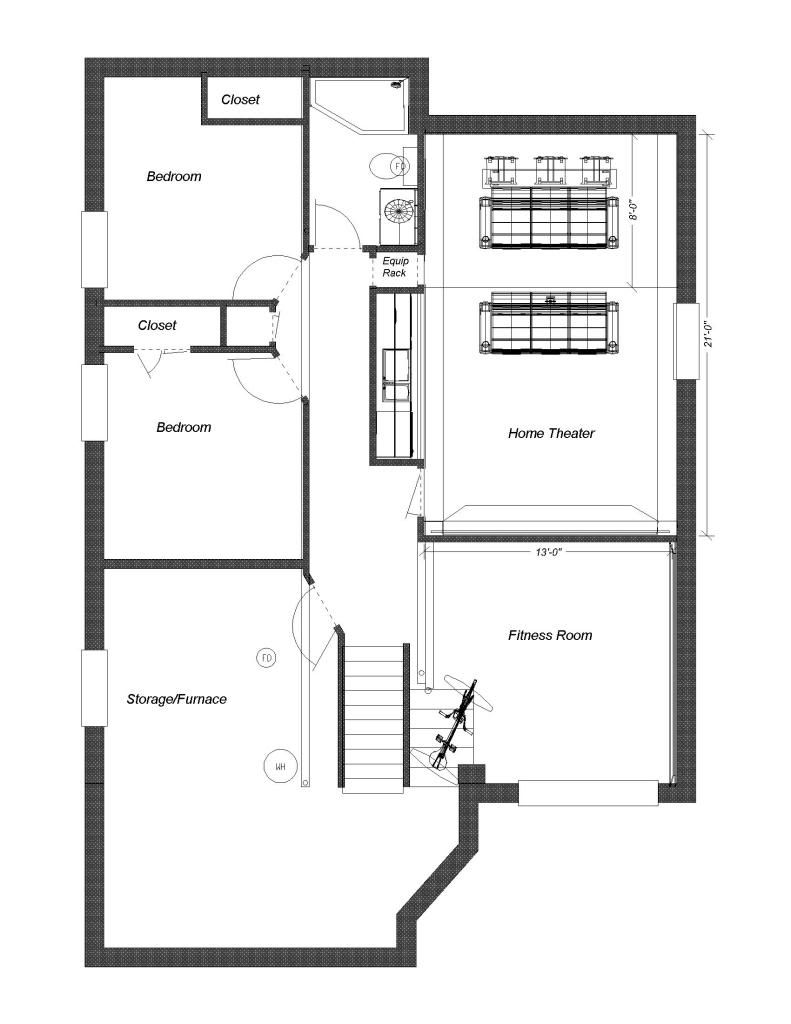 I have been doing a lot of sponging (and yet barely scratched the surface) on the forums! My plan is to finalize the layout so that I can start looking for someone to contract out most of the build. I then plan on shifting focus to start researching the audio/video/automation components that will be needed.
From the layout above you'll notice the following:
- 13' Wide x 21' Deep
- 12' Wide AT screen (2.35)
- Perimeter soffits
- Screen to wall gap only about 4" (assumes in-wall LCR)
- Recessed 9'x2.5' counter area (popcorn machine, mini fridge, dishwasher, sink). The 9' is the gap between teleposts built into the walls.
- 13' Wide x 8' Deep riser (~9" rise)
- Concrete walls on right and top of image. All exterior walls are framed and insulated along with vapor barrier.
- Floor (concrete) to bottom of floor joists above is 7'6" (wish I had payed the extra few bucks for an extra foot!).
A few of my current dilemmas:
- My wife would like to keep the window and cover it up during theater use to black-out the lighting. I would like good sound isolation and prefer framing it over. What kind of problems would keeping the window cause? Would loud audio likely disturb the neighbors (only 8' away to their basement window).
- I was thinking of going DD+GG+clips for walls and ceilings but is that necessary for the exterior walls (top and right of image). Exterior walls have 2x4 framing a couple of inches away from the concrete wall and have a gap between bottom plate and the floor.
- Winters get very cold here so planning on using something like Dricore as a snap-in subfloor. Will this cause me sound isolation problems?
- My current layout assumes in-wall LCR speakers behind AT screen. I suspect I may not get the same bang for my buck on in-walls? Do the back boxes normally supplied with in-walls act as a sound isolation barrier? If I decide to go with floor speakers then how much room do I need between screen and front wall to properly house speakers - my space is limited because of the location of the door. Too little results in SBIR? I might be able to steal another few inches from the fitness room (priorities
- Thinking of going with front curtains for 16:9 masking. Is this really needed in a dark cave? The Panasonic PT-AE7000 has caught my attention and has a pretty good contrast ratio...
- Is the recessed counter going to help or hinder my acoustics. Maybe I should get some type of retractable curtain to cover this up while not in use?
So much to do so little time. Any pointers on my challenges above are much appreciated. I'll post some pictures of the space once my wife is done purging it of the last 8 years of clutter