Built this yesterday. Sealed box for a single 2226J. It's about 2.8cu' and models in WinISD as -9db at 40hz relative to 90hz.
I'm using a Marchand XM9 to split the signal of the front left and right at 90hz and my Lexicon is set to "small" with mains crossed at 40hz so the bottom unit runs 40-90hz.
Right now the signal is summed to the single bass unit, when I build the second I can put it back to stereo operation.
It's running off 1 channel of my Parasound HCA1206. It has no 16ohm spec, the 80hm spec is 125 watts so it's maybe giving it about 70 watts.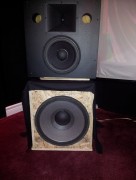 Even with this "pawltry" amount of power I haven't seen the clip light even flash at volumes peaking over 105db. Can probably thank the generous 97db efficiency for that. A pair of these should be a monster as even the single is enough in my room. Why the hell did I buy 6 of these
Edit: when I have stereo units I'll probably increase the crossover to 200 or 300hz to let the 2226 do all the mid-bass and let the 127H2 in the 8340 focus on the mid-range.