Four short weeks ago, I thought hat channel was a new DirectTV offering. "DD/GG" was a mystifying code used by people on this forum. Decoupling? Damping? Huh?
Now, after spending 75% of my waking hours reading through this forum (only partly an exaggeration), I'm an expert (100% exaggeration). So I'm gonna jump in headlong and start a build thread, despite having only a rudimentary idea of what it is I'm building. Below is a detail of my construction plans for my year-old custom built house, in which I had the architect plan out a space for a future theater room, followed by an overview of my entire basement for reference: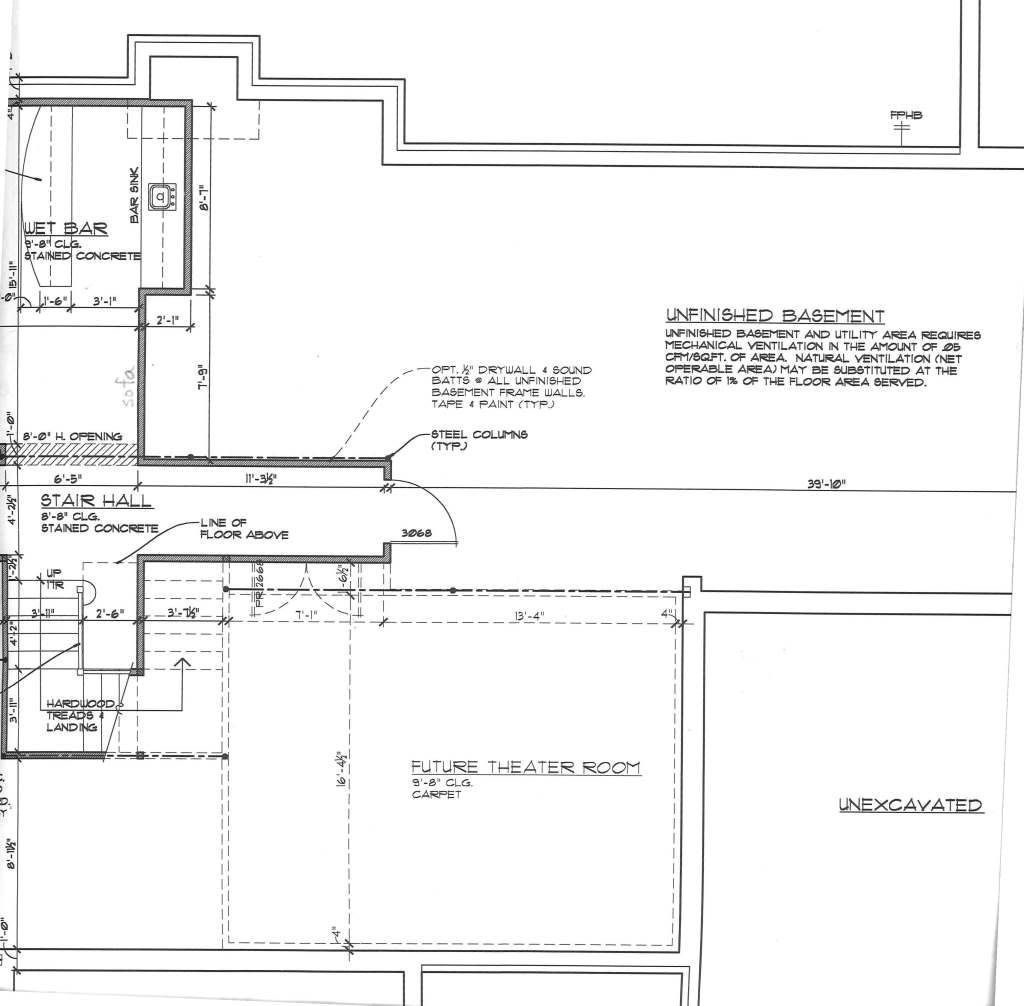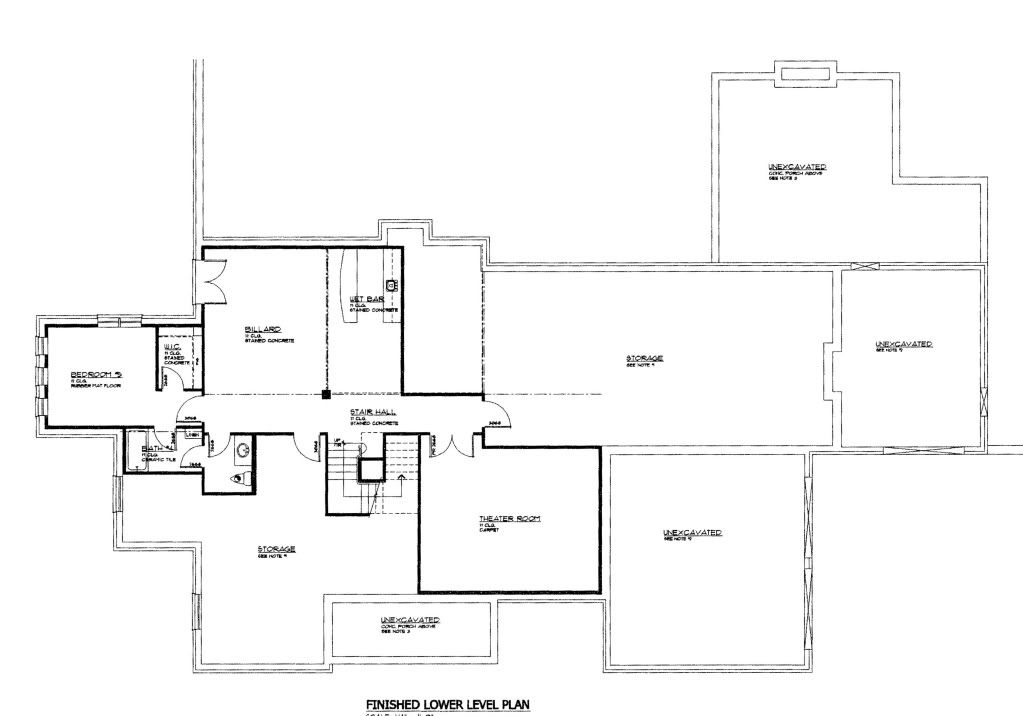 And here is the layout I have sketched out (I apologize for the poor quality):
Soundproofing
The HVAC system, as you can see in the rough sketch, is just next to the top wall of the proposed theater and is NOISY (a wall is to be built enclosing the mech area, as my autistic son needs to be kept away from that area). Additionally, there is a kegerator on the unfinished side of the wet bar (Boddington's on tap currently) which is not quiet. The floors above are completely hardwood, and the TV in the family room is clearly audible through the floor.
My thought is to build a room within a room concept. Double stud walls for the top and left hand sides, with single stud walls spaced 1" away from the exterior concrete walls. 5/8" double drywall with green glue for at least the interior walls not surrounded by concrete walls. Clips/channel and DD/GG for the ceiling. Here are my questions so far:
1) There is a dead space in my sketch represented by the shaded area at the top of the wall. This is about 1'6" deep? My research has indicated that an air cavity is good, but is this too much? Do I fill that up with insulation or just keep it empty?
2) Can I get away with single drywall on the interior theater walls that are surrounded by the exterior concrete walls?
3) Air return -- it should be easy to build a dead vent, but can I place the dead vent behind the screen wall (that is, to the left of the theater, behind the speakers). Alternatively, could the dead vent be placed within the dead space at the top of the theater?
4) HVAC supply -- the basement is supplied by the unit which supplies the main floor of the house, and it is on a damper system. The builder took two ducts off the main trunk just north of the top wall into the theater area (I can take pictures if this does not make sense). If I run flex duct above the soundproofed ceiling and then drop it down to a soffit at the "bottom" wall of the theater, is this adequate? Mind you, I am not concerned about sound leaking out of the theater, but rather ambient noise getting into the theater.
5) The door seems to be an exceptionally weak spot from a soundproofing standpoint. Any tricks beyond a solid-core door with an automatic door bottom?
Theater Layout
Not a lot of variables here, it would seem. I would like a 10' wide 2.35:1 AT screen. I think my viewing distances are decent. My main question is whether to do a 7.2 system with surrounds in the back and sides in columns -- do I move the back row forward a few feet? Or keep the back row all the way to the back (right) wall with rear speakers? Or just do a 5.2 system?
Equipment
I have none, except for my Xbox 360 which is primarily used to play Lego Star Wars and Lego Harry Potter. Any advice/thoughts would be appreciated.
1) Projector/lens - I do like the LCOS projectors such as the JVC RS45, but is it bright enough for a throw distance of about 17'? Will I have pincushioning at that distance? Recommendations on anamorphic lenses?
2) Screen - Stewart/Dalite/SMX??? This will be my first projector setup, so I am by no means an expert in the optics. I do want a masking system, and Stewart is obviously at the top of the price list...but is the quality of the other brands good enough?
3) Audio -- separates vs. AVR. Are separates overkill?
4) Speakers -- dipoles for the surrounds? That would be my preference, but is that an uniformed bias? Any suggestions for brands? I have looked at the B&W CT series but I think they only have monopoles for the surrounds. Also have looked into Klipsch THX Ultra II -- their surrounds appear to be dipoles. Any other speakers I should be looking into?
Well, that's all that I can think of for the moment though there will be more questions to come! Please chime in!