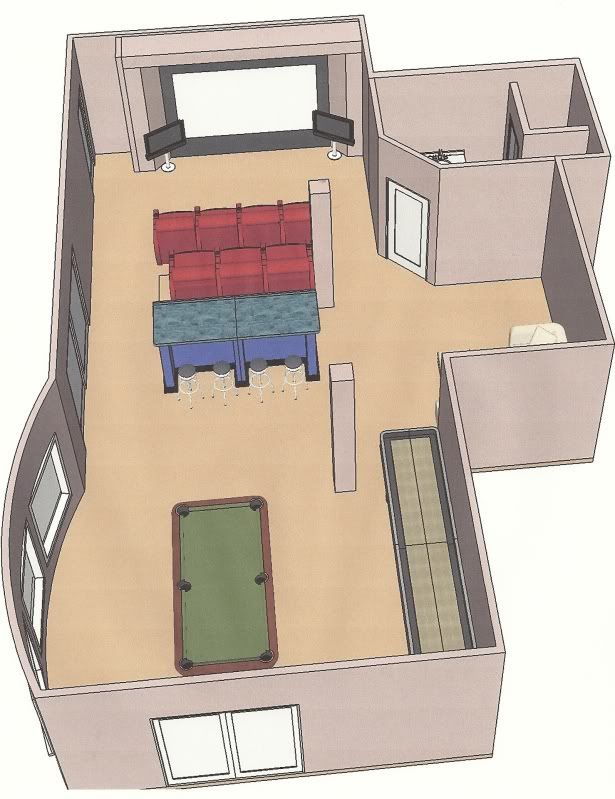 Basic starting plan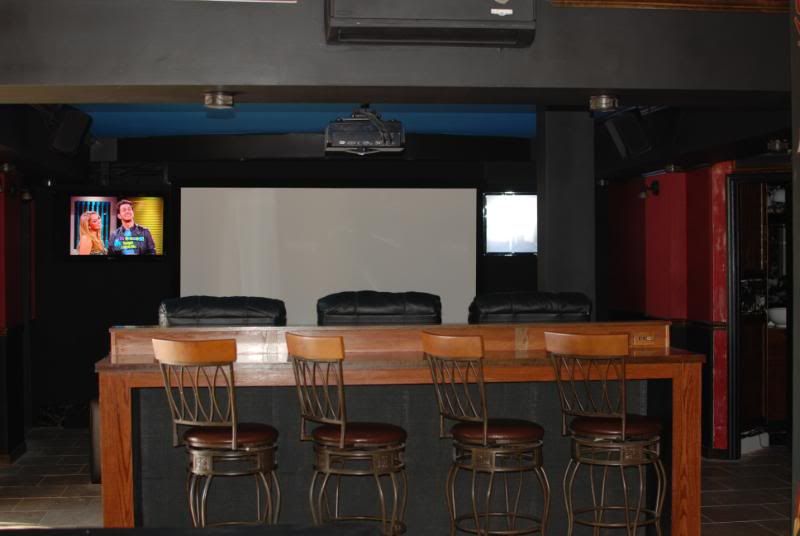 Cant get a screen shot I like because of the shape of the room....with flanking TVs not in wall.
front to back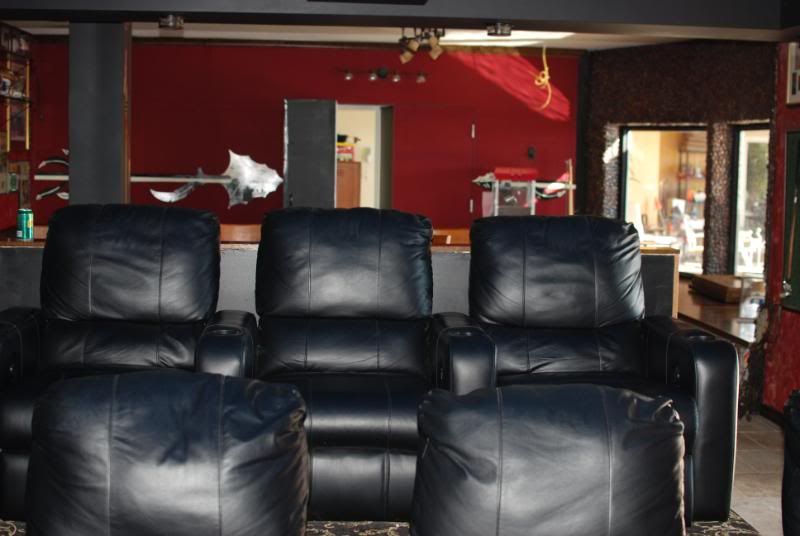 Front to back one door open
http://i95.photobucket.com/albums/l1...T/DSC_9225.jpg
This all started because I came to this bleeping website about 3 years ago and it opened my eyes to new a vision of how I wanted to handle a large unused space under my main house. After a year of extreme voyeurism on this site I started and 2 years later I am about done...
If you have a theater thread of any substance I have read it.twice, three times.maybe more
The space is approximately 1100 square feet. Because of the area I had to go with anything but carpet on the floor. I wanted an area where I could watch a movie with the kids, watch a few different events while getting some work done, a place to host a party and more important a place where I can have a bunch of my friends over for college football when I am not in Tallahassee watching my NOLES.
The end result is a 128 home made screen flanked by two 47 TVs that both retract back into the false wall. The components are hidden in a column and backed up to the bath room and hidden inside of what looks like linen closets. There is no noise that come into the theater. Front half of the room is 1Owens Corning Fiberglas 703 Faux back wall is 2 OC 703 with corner base traps floor to ceiling. Both the bar and the back of the computer station have 2 oc OC around the perimeter. The back wall has 4 of OC. The front stage is filled with sand and the risers have been stuffed with insulation as are the soffits that surround the theater. The soffits contain not only the wiring but the copper and drainage for the 2 mini splits that make up temperature control in the room. If I still had bass problems I was going to open up the soffits and put decorate fabric around them for additional absorption....didn't need it.
I have both 2 Panasonic exhaust fans, one above the rack with an auto temperate gage and one in the bathroom with an auto humidity gauge.
The mirror over the bar has a TV hidden behind it that shows up through the mirror when turned on. The benches in front of the window are for storage.
There is a 4x4 Monoprice matrix switch that has 4 TVs as inputs hooked to 2 DTV boxes, the Oppo bluray and Logitech Revue. I can move any source to any tv with the remote control
My doors into the theater disguises as bookshelves. Since the room is coming off the garage I wanted something that blended in with the surroundings and hid something behind it.My wife calls them the Scooby Doobie doors since the cartoon always has secret doors. The doors are so tight that I need no hardware at all to keep them closed nor do I hear anything in the garage coming through the duel monstrosities.
Room has both wireless N and cat6 in needed areas.
Equipment:
BenQ W6000
128 Center Stage XD AT screen
ONKYO TX_NR 5008 Receiver
Oppo BDP 95 Blu Ray
2 Pioneer 47 PFL3704D HDTVs
1 Viziio E322VL 32 HDTV
2 Aperion Intimus 5T Tower Speaker Mains
1 Aperion Bravus 12D Powered Subwoofer
2 Aperion Intimus 6-DT Stereo In-Ceiling Speaker Rears
2 Aperion Intimus 5DB Dipole/Bipole Surround Speaker
1 HT Tuba 36x3624 Sub
3 DTV H21/100HDTV boxes with whole home
1 HD PRO Slingbox
Behringer a500 Ref Amp
1 ipad
1 Dell Lattitude e6400
1 Wii Console with 30 freaken kids games
1 GE ADER65 Dehumidifier (for Florida summers)
2 Grunaire 12000BTU mini splits
2 Panasonic FV-11fvfl2 exahust fans
1 Paramount Popcorn Machine
7 Berklines cant remember make
24 liters of MakersMark
323 bottles of Poweraid Zero when not drinking the Makers.
Still need to do:
Figure out the whole IR to RF thinghave spent no time whatsoever on itbut I want to be able to close my hidden column so I need to either set up some IR repeaters or convert to RF.open to ideas and education on the subject.
Clean up the Wholehouse HT boxI have two in the house 1 for the rest of the house and 1 for the HT room. It is a mess. I TRIED on numerous occasions to hire someone to clean it up as I hate to do it and could never make it as nice as many of youvery jealous on how clean some of your HT wiring isI have had every major HT operator in the Tampa Bay area over here at some point in the last two years to do this and I can not tell you how disappointing each and everyone one are.no shows, no return callsIve got story after story.If you in the Tampa area and don't want to build a HT yourself or have some work donehire from OUTSIDE of the area.
Need to set up Audyssey MultEQ XT32 which I wanted someone else with experience to do it but the last HT specialist whom I explained all my sad stories to saidwe can handle the box and the audyssey spent an hour raving about the HT room and never responded with a price to do the work. Guess there is no recession in Home Theaters.
OK, off my soap box.
Need to clean up a couple of minor trim work
Do some additional rock work around the windows
Clean up the remotes
Figure out if there is a way to create more of a true matric 6x6 using monoprice 4x4 and some of their 2x2;s