I am currently running a 5.1 setup in my room with Polk RTi6 fronts, CSi5 center, and M10 rears. I am adding a pair of RTi8 towers to my setup, and possibly a pair of RTi4 bookshelf speakers as well. I am also about to order an Onkyo 709 receiver because it has the ability to add an external amplifier for the fronts (just got rid of my Onkyo 509 to do so). Because I am getting this receiver and now have "extra" speakers, I thought about the idea of running 7.1 but am not sure if/how I can.
Below are some pictures of the room...please excuse the boxes and mess, but they will be gone soon! I have drawn some measurements of the distances around the couch. Main seating position is just a little bit off-center to the left of the couch, which is 6'6" wide.
I understand the the surrounds should be directly to the sides, and elevated a few feet above listening position. The Surround Left speakers cannot be placed as such, since there is a closet door in the way. The options would be to place the surrounds very close to the ceiling (tweeter would be about 3" below it, and about 5 feet above ear height), or set them on stands that would put them exactly at ear-level. I wanted to use the RTi6 speakers as the side surrounds, but also have fear of them being on wall mounts (if I choose to put them close to the ceiling).
Then I would use the RTi4 speakers as the Surround Backs. The distance between the listener's ears and the rear wall when seated is 2 feet. Does that give me enough room to go 7.1? If so, should the Surround Back speakers be on the rear wall facing forward, or on the side walls facing each other, as close against the back wall as possible? Above ear-level?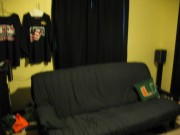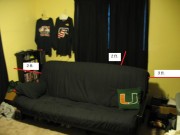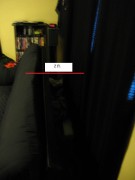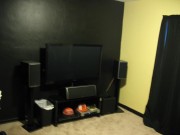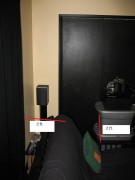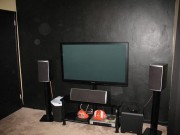 Thanks in advance!