I've decided that even though I can't spend the time and money drywalling my ceiling this year - I
AM
going to improve the lighting in my room.
Right now I have 2 fluorescent light boxes in the room, and they NEED TO GO! I have them hooked up to a X10 controlled switch with a X10 remote sensor that lets me control them along with the bias light/back light behind my tv and a lighted Harman Kardon sign I have in the room.
I am going to be picking up 6 recessed lights for the room - and I would LOVE to have each pair of lights controlled separately.
This is what I have planned - pardon the horrible job... I couldn't get the "light" to simply copy and repeat so each one is slightly different
: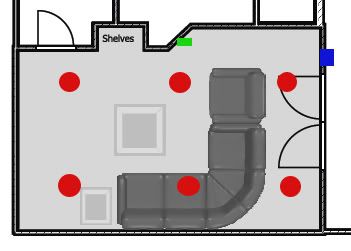 The blue box is where the current light switch is - this is on the OUTSIDE of the movie room. The green box represents where I intend to place the new light controls. There is already a switch there that has power to it, but does not control anything yet. I am strongly considering making that a dedicated circuit for the whole theater room since it was originally set up for some sort of neon lighting that the previous owner had in the room.
I would like the ability to use my remote control (Harmony 1100) to be able to dim the zones separately and turn them on/off either together or individually.
This may be a little overkill, but I would really like to be able to make this happen as cost effectively as possible.
I already have the X10 IR box - would it be just as simple as adding 3 X10 switches into the mix?
Is there a better option? I have seen some that let you set "scenes" - but I'm not interested in going to a Control4 setup or Grafik Eye... those are way out of my price range.
I have a couple of Maestro IR switches - but they are kind of useless for this since they can't be controlled individually...
Thoughts are all appreciated!