This thread has been created to document the 2012 Blind Subwoofer Shootout in Kansas City Missouri hosted on Jan 14, 2012.
The goal of this event was to have multiple subwoofer enthusiasts blind audition quality and relevant subwoofer pairs. Subjective comments were collected before revealing results to discover if previous enthusiasts' previous subwoofer meets of past have had built in biases that are not present in blind auditioning. Each subwoofer auditioned was required to demoed in pairs. We hoped to explore several questions listed below -- among others.
1) Can the difference between ported and sealed be detected in blind auditions?
2) Do enthusiasts favor one type of subwoofer design (ported, sealed, horn) over another in blind auditions for music vs. movies?
3) Are all subwoofer brand and design biases based on increasing cost effectively neutralized if auditioners don't know know which particular sub is being auditioned and voted on? Basically at a certain point are all subwoofers created equal?
4) Do capable sealed subwoofers with the ability to produce powerful subsonic make a recognizably positive impression on voting scores during blind audition?
The contenders:
4 sealed subwoofers
Chase Home Theater 18.T
JTR Cap S
Seaton Submersive
MFW-15 DIY Dual opposed
2 ported subwoofers
HSU VTF-15H
JTR Captivator Pro
1 horn
JTR Orbit Shifter
Commence reading! and enjoy!
-Jonathan
Archaea
Get the gory details of planning this thing here - oh and read the last few pages for some parrallel discussion with this thread before the planning thread died down.
http://www.avsforum.com/avs-vb/showthread.php?t=1369860
Shown in this video is the basic procedures of the day -
Shown in this album are some of the pics from the meet.
http://s1191.photobucket.com/albums/...woofer%20Meet/
Seating Chart for Blind Voters
- (gentlemen in parenthesis did not score by choice, or because they could only attend a partial day)
Each voting attendees original scanned score sheet was uploaded on page 2 of this thread or it can also be found on the hyperlink by clicking the user's forum handle in the seating chart list immediately below.
Front Row
Left Side - (Blaine),
kwarny
,
HuskerOmaha
,
stitch1
,
wulfcomp
,
wlelandj
- Right Side
Back Row
Left Side - (Scott),
thebuckaman
,
desertdome
,
jedimastergrant
,
carp
, (Bezlar) - Right Side
EDIT: At request - to help show how each of these seats and thus their owner's votes were affected by their seat's unique frequency reponse please see the following post. I retested the seating positions post meet with my Captivator Pros to provide some guidance on interpreting blind voters' subjective comments, as the original graphs captured for each sub in post # 3 are simply an average of all 12 seats and do NOT represent what each seat heard. To determine what each voter heard you'd need to take the overall average and meld it with the particular seat to come up with a somewhat equitable idea of the frequency response.
http://www.avsforum.com/avs-vb/showt...0#post21532240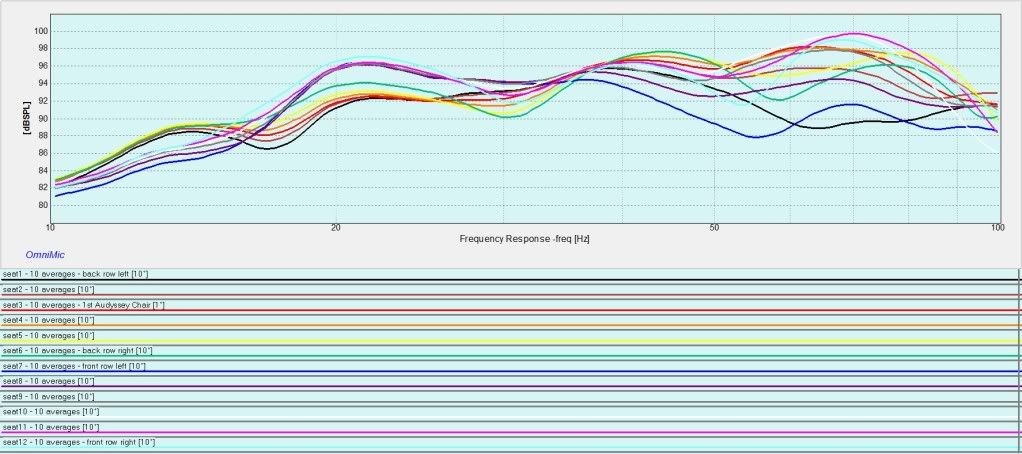 Setup/Teardown
Archaea, Blain, Jeff, Luke Kamp, Mark, Tesseract67
Measurements
Archaea, Blain, Luke Kamp, Tesseract67
Score Compilations
Archaea and Luke Kamp - All scoresheets scanned and posted for transparancy to our readers.
Media Tracks Auditioned on each Sub Setup -Music Track List - (Auditioned at -10 Onkyo TX-NR1007 MLV)
Here is a copy of the tracks (gone through some conversions unfortunately multiple MP3 files trimmed using MPTrim (These are what we auditioned) -> multiple clips combined using winamp nullsoft diskwriter to output a single wav file -> combined to single mp3 file using winamps 3rd party official lame mp3 writer plugin) - Despite the conversions - with this link you can listen to all the tracks we auditioned to get an idea of the music.
http://kiwi6.com/file/vo80ks3b34
Realm of Excursion - 100hz to 20hz sine wave
Rockapella - Shambala
Dallas Wind Symphony - The Vikings
Jars of Clay Love Song for a Savior 08
Diana Krall - Peel Me a Grape
Pete Belasco - Deeper
Rascal Flatts - What Hurts the Most
Cake - Sad Songs and Waltzes
Van - Halen - Hot for Teacher
Counting Crows - Hanging Around
Creed - One
Linkin Park - Frgt
Janet Jackson - Go Deep
Michael Jackson - Thriller
Britney Spears - Breathe on Me
The Black Eyed Peas - Boom Boom Pow
Snoop Doggy Dog - Who Am I
Dr. Dre feat. Xzibit & Eminem - What's the Difference Between Me and You
Mia - Ghetto Superstar
Eminem - Business
Nelly - Country Grammar
Lil Jon & Eastside Boyz - Get Low
Petey Pablo - Freek-A-Leek
Kid Cudi - Day 'n Night
Deadmau5 - Ghost N Stuff
Flux Pavillion - Got 2 Know
Example - Kickstarts (Bar 9 Remix)
Bassotronics - Bass, I Love You
Movie Track List - (Auditioned at -10 Onkyo TX-NR1007 MLV)
Animusic - Last Track with the deep bass
BattleField LA - Ship Thrusters
Book of Eli - Town Square Gunfight
Dolby Digital - Canyon trailer
Dolby Digital - Rain trailer
Drumline - final faceoff
Flight of the Phoenix - initial crash scene
How to Train your Dragon - megadragon bursts through cliff
Hulk - Cop Car Smash - comes out of ground, shockwave, smashes car
Hulk - Sonic Cannon
Iron Man - Jericho Missle
John Mayor Song - Waiting for the World to Change
Kung Foo Panda - Skadoosh scene
Master and Commander - Cannons in ship battle
Matrix Revolutions - Architect voice
Red Cliff - Drum Beats during ship battle scene
Star Wars - Pod Race warmup
Terminator Salvataion - Robot destroys shed
THX - Amazing Life Trailer
Titan AE - Ice Field
Transformers 3 - Bumblebee Highway Flip
Tron Legacy - entering club scene
War of the Worlds - Pod emerges
Increased volume to -4 on Onkyo TX-NR1007 MLV on the following two clips for each audition(all other clips previous were listened to at -10MLV)
Black Hawk Down - Helicopter Rotor Subsonics
U-571 - Depth Charges