So OK.....,
Got a urgent request from my Youth Minister to re-do an existing "fixed" Da-Lite Matte-White Vinyl Screen.
The aforementioned was in terrible shape, with gouges, tears, stains, even melted areas. However the Frame was stout, owing to it being both the original Da-Snap Aluminum sheathed in additional "Outside Corner" Wood Trim (painted black) you can see in the image above.
So I ordered up a 100" x 144" sheet of White/White BOC and proceeded to wrap the original frame. I used the following "Pull Guide".....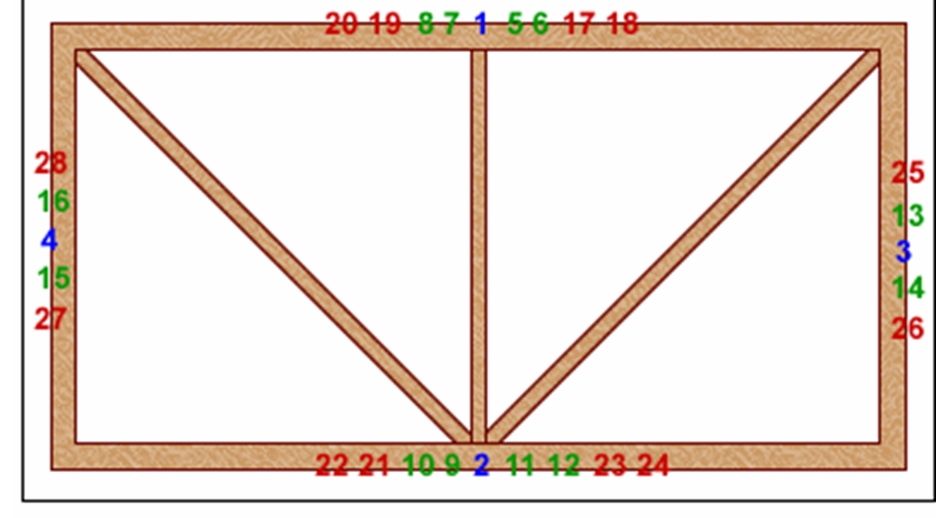 Now myself, fearing the potential for wrinkles or folds across such a large surface, I started right out from the starting (no#2) pull location pulling PDS (pretty damn snug) and after all the pulling was done...this was the end result.....a "Drum-Head Tight" surface.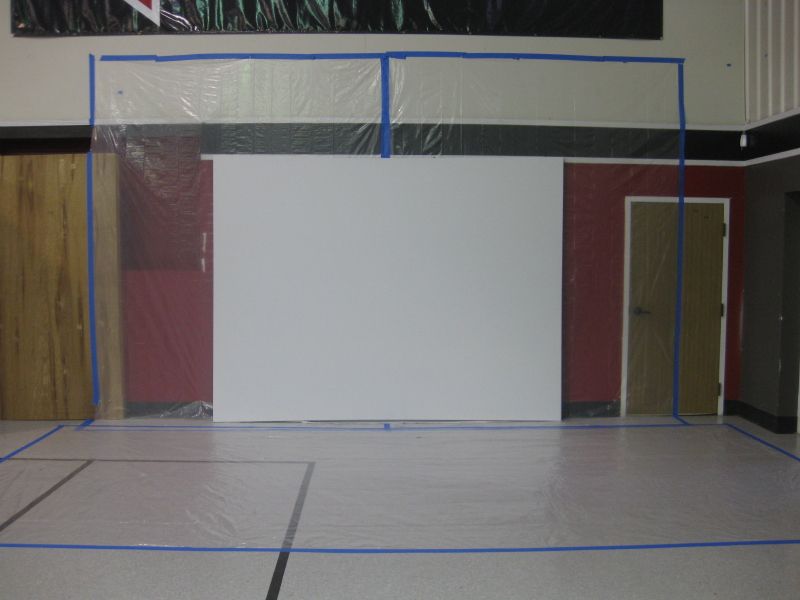 You will note how much area I have masked with plastic, including a large area of the Gymnasium Floor.
So now...comes the big squirt. (...no reference to the guy spraying...thankyouverymuch...)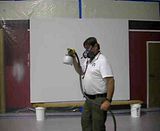 One thing I did not opt to do was to "Roll-Prime" the vinyl side of the BOC before starting out with the Silver Fire v2.5
5.0
I knew I would get "the Fuzzies""...but what I did not know was how much variation in actual texture the White Vinyl BOC has. In my case, the upper & lower left hand corners has a noticeably rougher surface texture to start out with, resulting a a very "sand=papery" look and feel.
So I reasoned that after about three coats, I could sand down the surface to a smoother state.
Also....I used a 20" Box Fan (...w/blades cleaned up...) to help accelerate the drying times. The Gym was obviously a big space, and even with the Thermostats turned up to 78 degrees, the best that could be achieved was 68 degrees.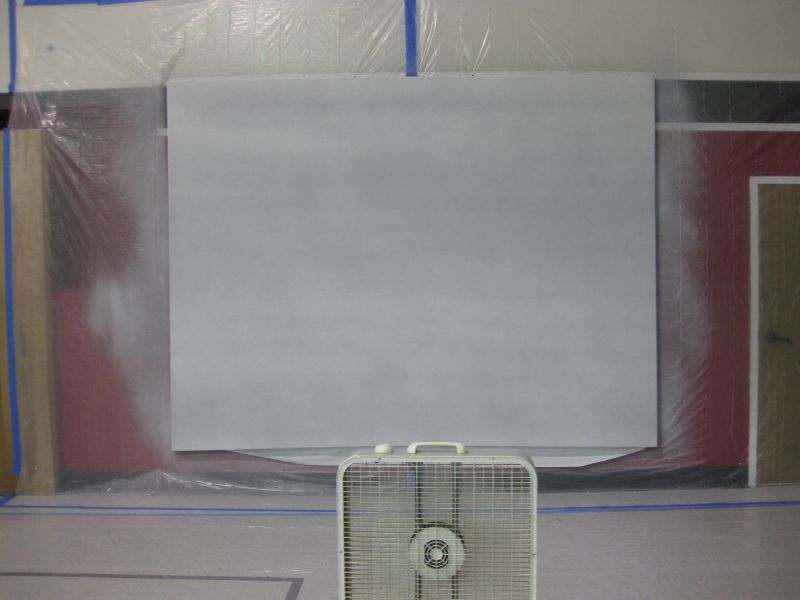 next coat........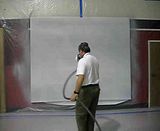 So far...so good...., The paint was applying very consistently, and although I could clearly see & feel the rough texture, I was confident it could be smoothed out by sanding.
another coat.....complete with a rare stumble.
(...it "was" 2 am though...)
This next movie is the 4th coat after my first attempt at sanding.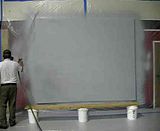 After it dried (2 hour)s, a 5th coat was applied, left to dry for 3 hours, then sanded pretty aggressively to remove the remaining texture. The next coat was applied at 7 am last Sunday, and a 7th and final coat at 9 am.
I was applying all coats at a reasonably fast pace...at a almost "Duster-like" speed of 2 ft per second.
I wound up with this: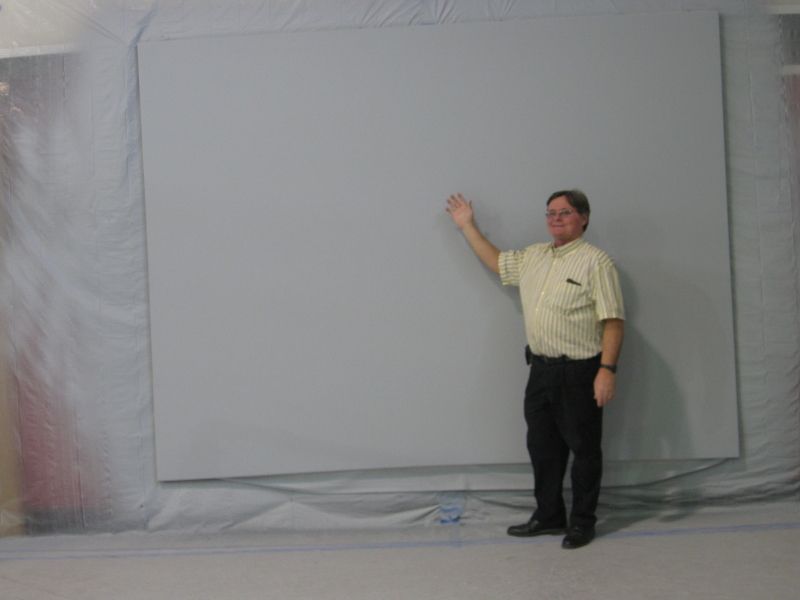 Pretty much satisfied with my first attempt at spraying onto BOC after years of passing on such. Yes...I've sprayed onto Mfg Screens whose Vinyl surfaces has slight texture, and onto Acoustically Transparent screens as well, but plain -ole' BOC? No...because I loath the requirement of having to make (...or suggest be made...) a supporting frame for such materials as BOC or WA-DW. In this case, the Frame was already provided...so where's the Beef...right?
OK...so here comes the "Agony".
While the Screen was being placed against the Wall where it was to be raised up 10' off the Floor, there was a Scaffold in the way. I was "NOT" present. So the Youth Minister made an attempt to move the Scaffold out of the way...himself...a Scaffold on wheels with 4 tiers of "Jacks" (24' total).
It moved a bit further more quickly than expected, and came into contact with the pristine painted surface of the Screen..........
So how/when do I find out about it? Why, when my Wife & I attend the Valentine Banquet this last Saturday Eve. There I am, sitting at the Table with my Minister, his Wife, the Youth Minister and his Wife, and out best Friends (Hub & Wife) and I seem to notice a "mark" on the screen.
So I ask the YM about it and he looks like I stabbed him through the heart. I cringed as I listened to his woebegone tale, and then related the tale to my Wife. She gasped so loud that the Minister & his Wife get startled and asked "What's the matter!! ??" She says with a quick smile..."Oh...Nothing". Nothing indeed.
Me? Well I don't want to go "Mississippi" on 'em and get excommunicated or nuthin', so I discreetly get up and nonchalantly wander up to the front and....
...........Lo and Behold, we have penetration.
Rip-page actually.
Normal processing:
Distressingly Enhanced: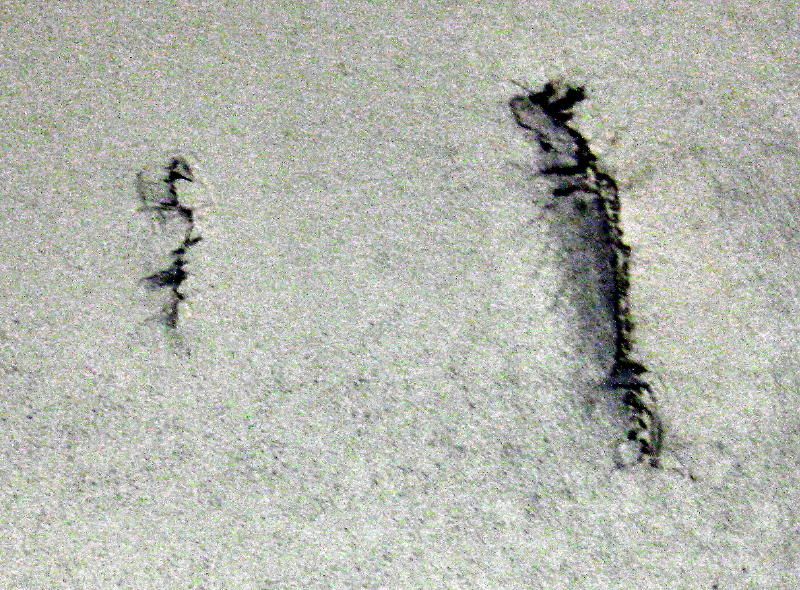 The larger "Rip" is just over 4" long.
I could have died. I could have yelled....done "The War Dance" too. It was actually expected of me considering they knew I spend the hours between 8 pm Sat and 9 am Sun....all night, sleeping on a Couch in a store room between coats. But............this situation called for restraint. Some inwardly effort to reach down deep and say, "Oh forget it it...I can fix that...Don't worry."
So I did say exactly that...and everyone couldn't get over that.
The YM wiped the sweat from his Brow, I received more than a few compliments for being so understanding........
....then I excused myself and went outside to throw up.
OK...now I have them all expecting a "Miracle from MississippiMan".
And I cannot let'em down. So now this Thread becomes a object lesson in recouping both sanity and a usable surface.
My Plan.
I will today take some Adhesive backed Gaffer's Tape, and apply it to the back side of the rips.
I'll then remove any flaked up paint around the perimeter, sand the edges ever so lightly, then ladle on some thick Artist Gesso into the depressions. Sand 'em down...apply a bit of primer, sand again, then using a Prevail Bottle Sprayer and some of the 10 oz of remaining SF 5.0, resurrect that Corpse of a BOC Screen.
Stay tuned for the documentation. It may not wind up being "The Greatest Story Ever Told", but it just might go down as being one of the most unexpected revivals ever on DIY Screens.