Since Ive bought some new speakers, I had to find a way to mount them, or buy stands for them. The Paradigm stands run an obscene $180.00 (nearly 50% price of the speakers!), so I decided to tackle some DIY stands to save some money and to be able to quit using my TV trays! I enlisted some help from my Dad, and we got to work! Total cost of this project was $31.48
Materials:
2ea 9"x11"x1_3/4" bases (2x12 stock)
2ea 7"x10"x3/4" poplar platforms
2ea 36" threaded rod
4ea Ikea Vika Table Legs in satin black
4ea 1" washer
4ea locking washer
4ea nut
8ea 1" wide rubber furniture feet
20ea 1/2" screws
Router
Table sander
Orbital Sander
80, 150, 250, 500, 800, 1000 grit sandpaper
wood filler
Black paint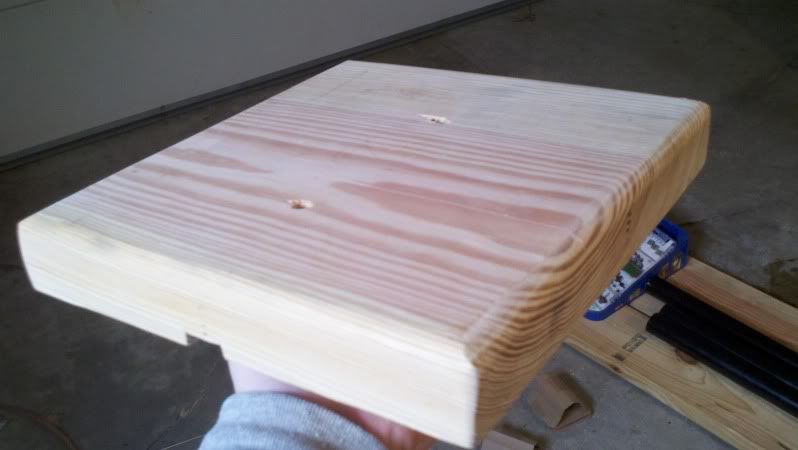 Here is one of the bases after routing and drilling the holes for the rods and speaker wire. 2 holes drilled in the back, 1 in the front. In back of picture, you can see the Ikea legs we'll be using.
Blurry picture of Ikea legs upright. Ignore the messy garage. My parents had their basement torn apart and my garage is detached so it was too cold.
Test fit of legs in base.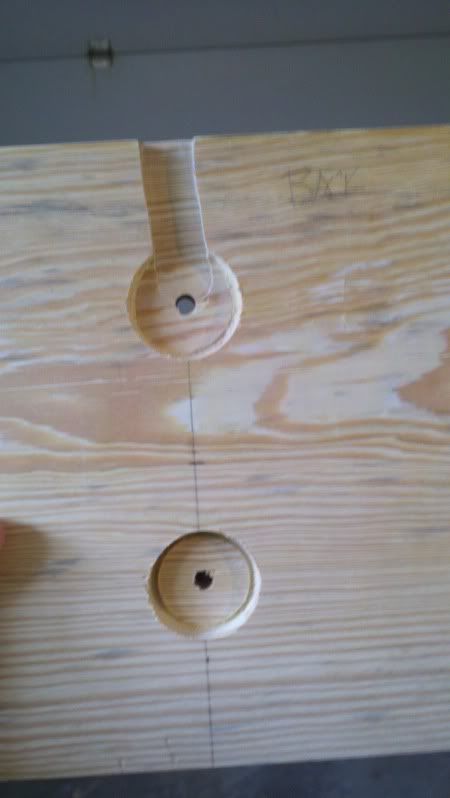 Recessed holes drilled so rod, washer, locking washer, and nut sit flush with base of stand. Route a 1/2" - 1" wide channel from the rear of stand back. This will serve as a channel for the speaker wire to come in.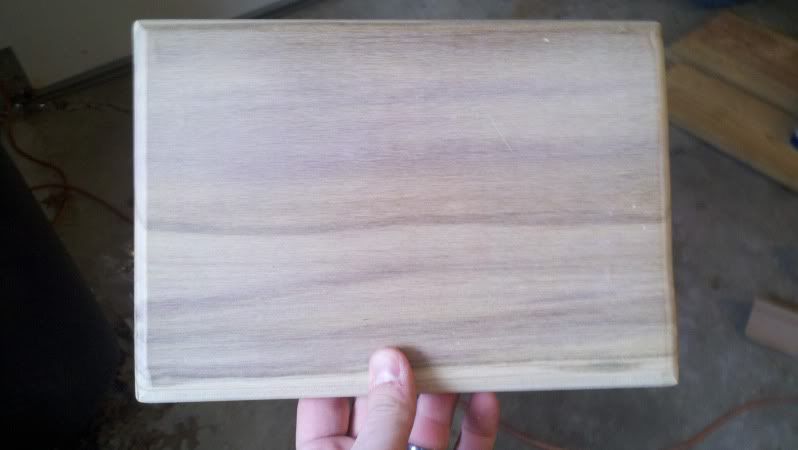 Top view of poplar platform after routing and sanding.
Side shot of poplar platform after routing and sanding.
*No pictures during final sanding and painting*
To put everything together, run your speaker wire up through the base, all the way through the legs, and out a 1/4" hole that you'll drill 1" from the top of the leg in the rear of the stand.
Finished pictures: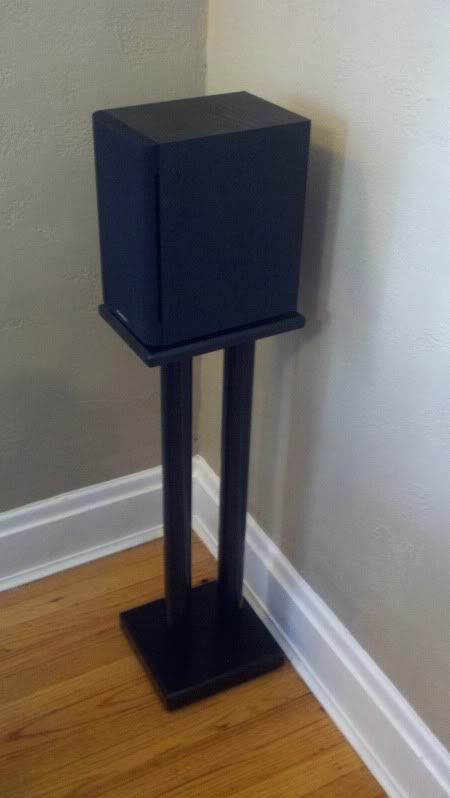 All done!
These stands weigh about 12lbs each and are VERY VERY sturdy. We installed 1" round rubber feet at the base that provide very good grip and sit the stands off the floor about 1/8". Making the base a bit wider than the platform makes them noticeably sturdier than making the base the same size.
Tips:
The IKEA legs come with a recessed flange about 1" down on the inside. Youll need to drill out the middle hole in all 4 legs, and the rear hole in 2 legs.
Make the platforms 1" wider than your speakers. Then when you rout the edges, the speakers will sit flush to the platform. This is personal taste, but it looks really sharp.
Spend A LOT of time in wood filling, sanding, and painting. This is KEY to getting a nice finish.