This post has no reason for existance except that I'm having some fun reliving some memories tonight and thought I'd share. I've learned a lot at AVS and really enjoyed finding this forum and meeting some fellow enthusiasts. In a phrase - thanks guys for the many years of sharing your collective knowledge!
This post is in regards to my first major DIY project - I had
no idea
what I was doing, but I just wanted my house to sound as loud as my car audio system. I believe I made this thing in 2002 or 2003? - Definately during my college years! It was the typical
build first - ask questions later
project! Reading back through the advice threads I linked below from my 2005 threads made me laugh because now I know a bit more and understand what those guys were saying. Sadly this project made me abandon subwoofer DIY to this point- but luckily for me I found some subwoofers I finally absolutely love in the JTR Captivator Pro pair I currently sport! It seems like the DIY arena has expanded more over the years to better support amateurs and that's a great thing!
For this project - I bought four MA1550W subs new at auction for cheap, bought a bunch of 3/4" MDF, bought a full black cow hide off ebay (The hide was actually still shaped like a cow - which was odd to me - legs and everything. I remember putting it on over my shoulders and chasing my roomates around the house - ha). I bought a gad of screws and finish washers and went to town. The resulting subwoofer ottoman box was strong enough you could throw a dance party on top of it and it wouldn't creak. Each driver has its own seperate sealed chamber. I used a bottle of wood glue and tons of screws - the thing is solid enough to hit a car and win. I put a 5" fireproof foam layer on top of the ottoman so it was comfortable to sit on or lay on. At any rate - musically it was only soo soo - but it was a lot of fun because it 'kind of' gave you that feeling of car audio in your house! It was ---- at the time --- the coolest foot rest ever.
I took some pictures of it - at this point it's a bit rougher than it was when I made it ten years ago - but still SOLID and agressively fun to look at!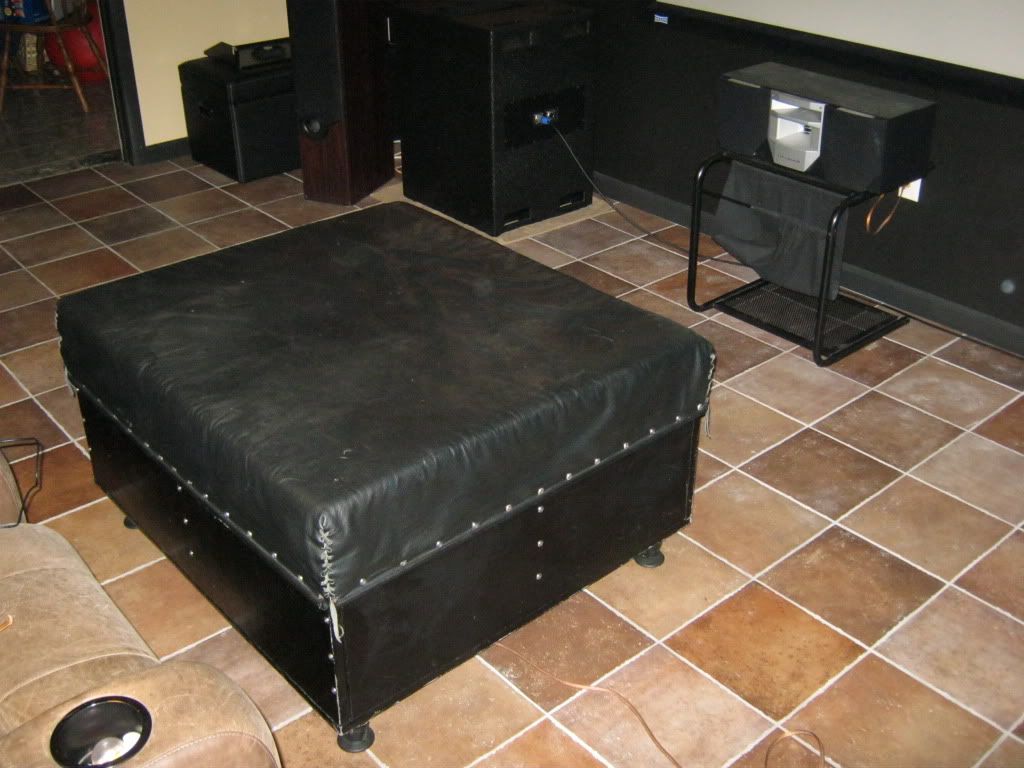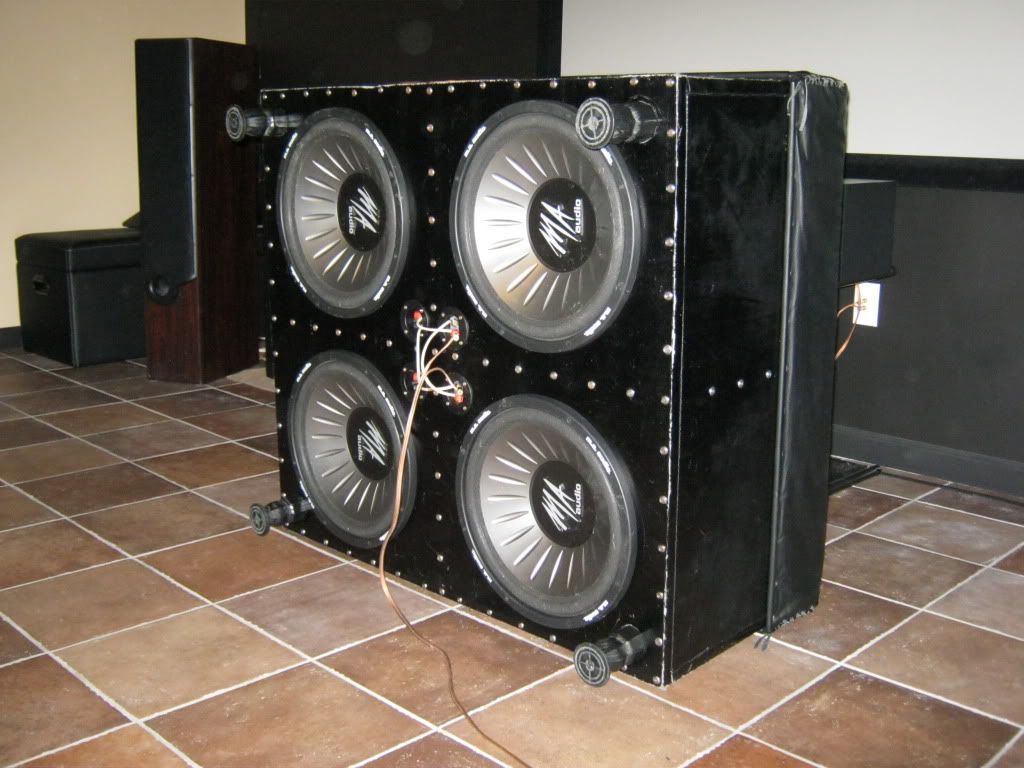 More pics at photobucket
http://s1191.photobucket.com/albums/...man%20Project/
Besides the sub depiction - you can really see how my theater room has progressed in that you tube video, compared to the current pics!!!
I remember posting asking for help on AVS to make it sound less --- boomy? or one note wonderish - - - and not even understanding the response and direction given.
At any rate I got this old subwoofer project out of the garage - dusted it off - because I was finally going to sell it today. The craigslist guy didn't show up so I'm playing with it tonight. I placed it in the same mid room, mid floor location it always sat when I used it.
This thing was never a smooth sounding sub, but it did get loud!
I remember when I first built it I lived in a split level home and it was in a small dining room (mid floor level). There happened to be a heavy glass pitcher of water on the dining room table - cranking the sub setup up with some music made that heavy glass pitcher full of water vibrate across the table. I thought that was incredible!!!
BUTTTTTTT -- I always wanted to make it better - was it the cabinet?
http://archive2.avsforum.com/avs-vb/...d.php?t=557252
or was it the subs or amp?
http://archive2.avsforum.com/avs-vb/...d.php?t=577872
turns out both - -
I took a FR graph of the ottoman sub setup using omnimic and it's no wonder I always thought it sounded like a one note wonder. I never applied any EQ when I used this thing. I had a Denon AVR 5700 at the time and it didn't have any Audyssey or external EQ ability and I didn't have any EQ - so what you see is what I heard for the several years I used it.
Here is the graph of the ottoman subwoofer - sealed with four 15" car audio drivers' naked response in my room. no smoothing, no EQ, just straight sub1 out through EP4000 - distance setting = 4 foot in AVR
vs.
My current JTR Captivator Pro subs naked response in my room. no smoothing, no AVR EQ - just straight sub1 and sub2 output to INuke 3000. distance settings are 13.5 foot in AVR.
The craigslist guy is missing out. The sub, despite its FR issues is still worth the couple hundred bucks asking price and I'm enjoying listening to it right now powered by the EP4000 and playing some pandora music - despite the peaky FR. If he doesn't pick it up soon then I might try to use the Inuke DSP and see how flat I can EQ the sound - just for kicks...