I own 2 passive Captivators and love them, however I have heard the Submersive twice and absolutely loved it for music and have always wondered what it would sound like in my room.
Fortunately I don't have to wonder anymore thanks to Counsil who is letting me borrow one of his Submersives.
Thanks again Doug, you made it seem like no big deal at all, but it is a very big deal to me, I really appreciate it.
So, I fired it up and level matched it with the mains at -10 on my Pioneer Elite exactly like I have my Caps set up. I usually have the volume around 0, or 10 hot for both music and movies btw.
I started with music and right off the bat I recognized the sound I love so much about this sub. I'm thinking, ok, it's time to put the Caps up for sale and buy a Submersive.
Not so fast. I demo'd a couple of my favorite movie scenes and the Submersive didn't do it for me as much as the Caps. In the Die Hard 4 apartment shootout scene the Caps make my couch feel like it's moving all over the place and tons of body impact. The Submersive did the same thing but it was more subdued. Same kind of thing from the lord of the rings cave troll/whatever that devil thing is called scene. The Caps do it more for me there too.
I have always been a music first guy so this should be an easy decision. However, since I bought the projector and have the huge screen movies have suddenly increased in their importance.
The other thing is right now the Caps are naked. Meaning they have no eq, no HPF, nothing. My sms-1 was causing loud pops anytime the audio was cut (which is all the time) so I sent it into Velodyne.
However, I have heard my Caps eq'd relatively flat with the sms-1 in here so at least I'm not completely in the dark.
I guess what it comes down to am I more a music guy or a movies guy...
Here is a pic with the Caps. BTW, just got my new eD center channel today, exchanged it for the eD 6" cinema center channel. I like the 12 much better.
Hey, the Caps have a new friend.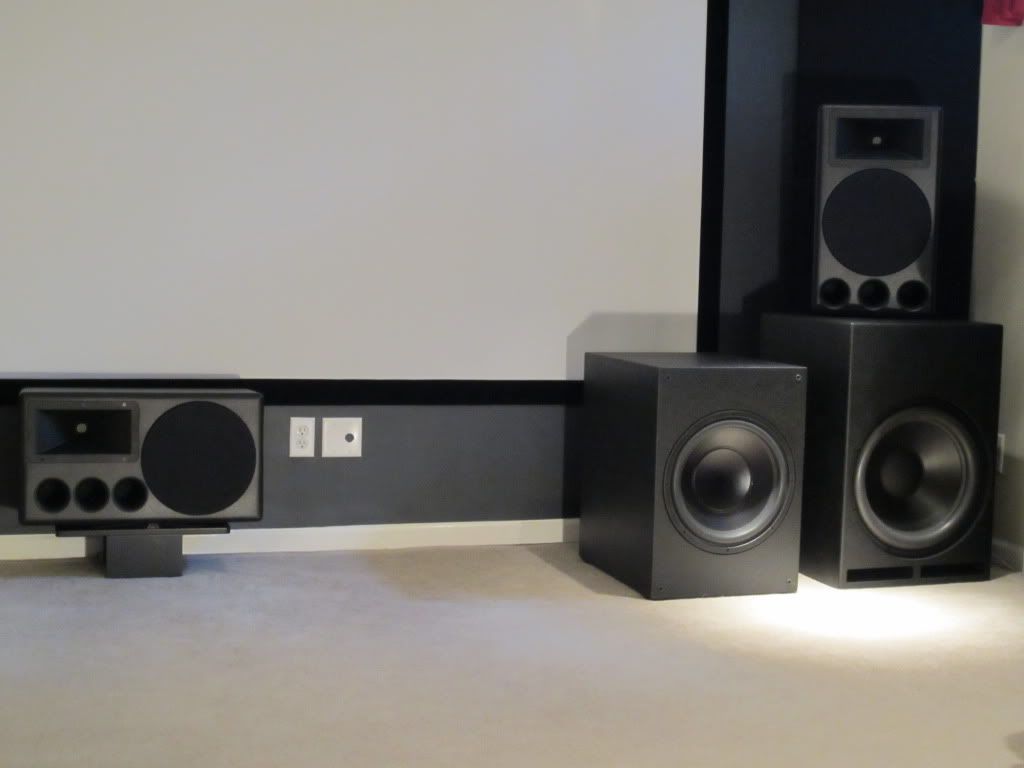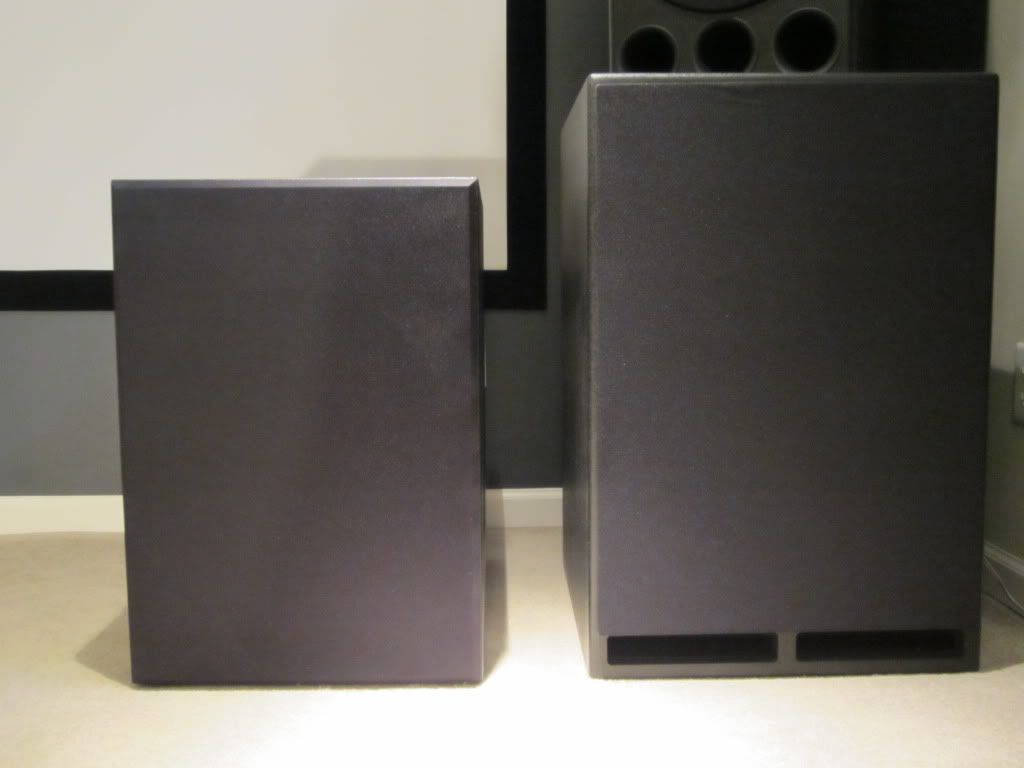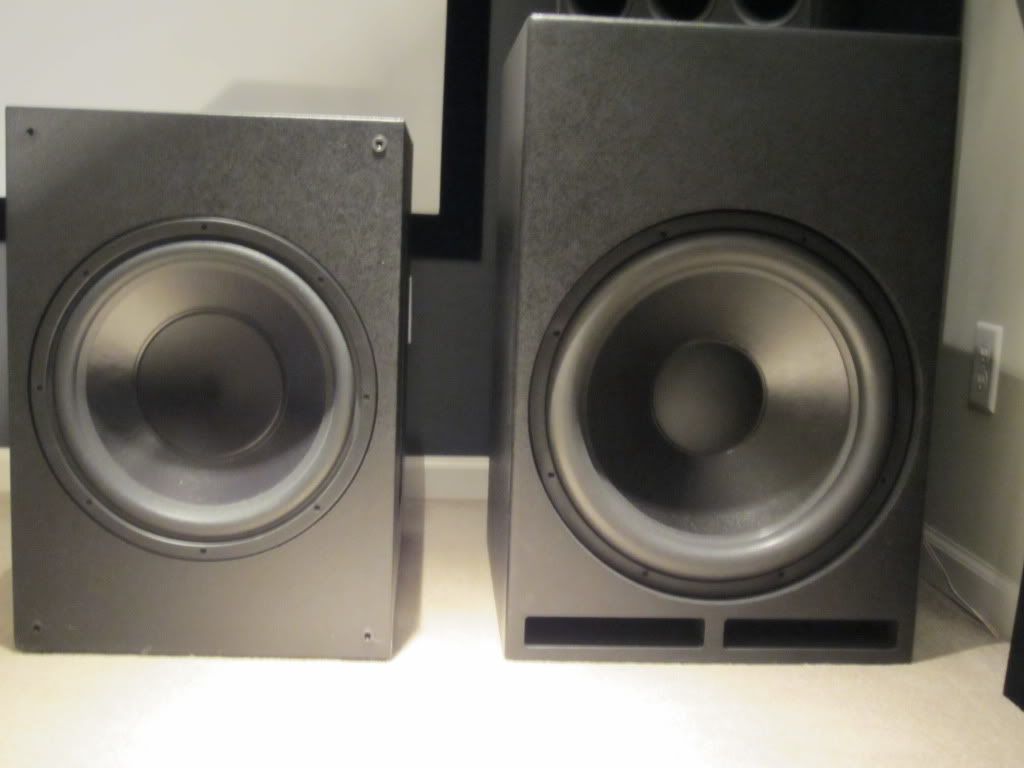 Depth is pretty much equal, Submersive is just a bit deeper.
Finally, here is the Submersive in the Caps place. Don't worry Counsil, I already have rubber pads on the bottom of the eD's and I put a towel in between them just to be extra careful.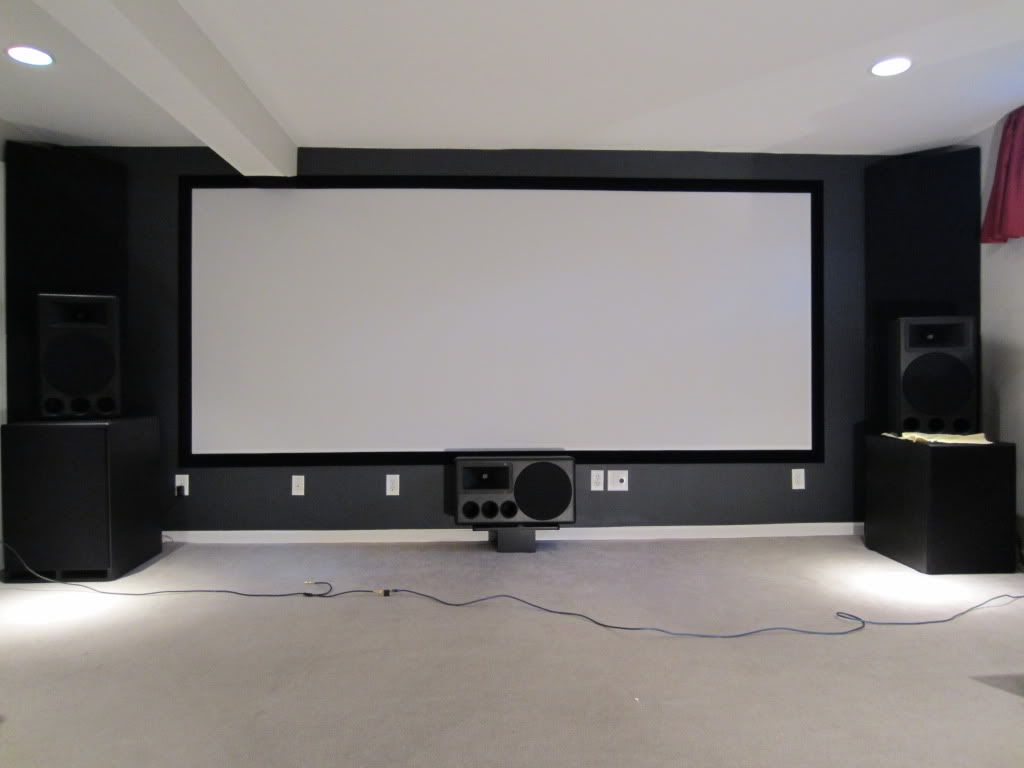 Those of you that want measurements, I don't have an omnimic. All measurements done in the past were done by Luke Kamp. I do plan on getting an omnimic but I'm not going to until I get my sms-1 back.