Updates:  Currently working on Fabric Frames and Doors
2013
September:  Fabric Frames and lots of painting
August:        HVAC Return and Doors
July:           Communicating door vestibule, electrical, pull out media storage
June:          Subfloor, Stage, Riser, Projection room
May:           Clips, Channel, osb, dw, gg, 
April:           Joist muffler completed
March:         Subfloor treated with double drywall and green glue
                   4 20 amp circuits added to basement
February:     Hired new contractors to help on weekends
                   Ordered lots of building materials
2012
November:   Lots of demo
                   Completed decoupling of walls
October:      Soundproofing materials delivered
September:  Flood!!!!!!
                   Wall taken down again
August:       Decision made to contact thesoundproofingcompany and do it right the first time 
July:           JTR Orbit Shifter delivered
                  Wall put up to enclose room
June:          AVS Pro Theater Layout Service from the Erskine Group via Shawn Byrne delivered
First dedicated room with a front projector! I am utilizing the room layout service from the Erskine Group and started the process on 3-20-12.  
Soundproofing:
Walls
clips and channel on ceiling
clips and channel on rear wall that is connected to stairwell wall.
existing walls were naturally decoupled from the foundation
walls that were built used staggered stud approach
all walls attached to ceiling joists using IB3's
Floor
3/8'' serenity mat
3/4'' plywood
HVAC
joist mufflers for supplies
return muffler to be made (done)
Doors
solid core
Zero International Auto door bottoms (best seals)
Zero International door seals
plan is to add layers of mdf/osb to door with green glue between
Lighting
12 cans in soffits inside of shell
rope light around soffit perimeter
step lights
Automation
Insteon dimmers for a total of 5 zones
ISY 994i/IR Pro
Harmony 900 RF vs iRule.....
Dimensions:
Width 15'
Length 19' to rear wall.  There will be a small "projector booth" between the HT room and the storage area behind which will house my AV gear.
Ceilings 7'9"
Here is a basic version of the plans from the layout service. My plans are now changed slightly from this layout.  I will be making the length of the room 19' which means the small 3.5'x9' space in the back of the room where the projector is will be closed off making a "projector booth and equipment closet".  Several reasons:  the column in the back part of that space looked funny just hanging out in the middle of nowhere, I wanted to put the projector outside of the room for heat and noise and did not want to couple it to the ceiling bc the kitchen (and soon to be 3 little boys) are directly overhead.  This also allows me to do my AV rack outside the room and not worry about the noise, heat, or light pollution.
Click in pictures to enlarge.
Video
Here is a video that will probably help to give a better idea of the space I have to work with.

http://www.youtube.com/watch?v=eXnbZ...XLqSZoD5cbKHgo

Picture of the front wall where screen will be.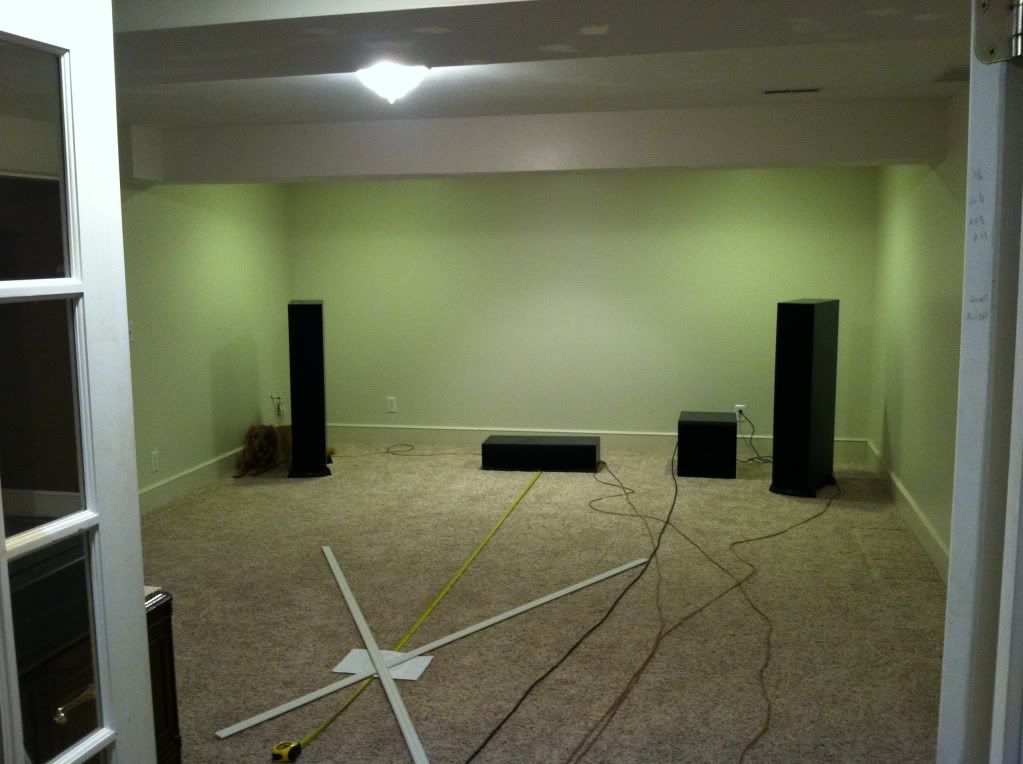 Here is a similar angle after the flood and some demo.
Picture from the front of the room looking at the stairwell and the space where the wall will go.


Same angle post demo.

Picture of the back of the room showing entrance to the unfinished storage area where the equipment rack will be.


Same angle post demo.
Equipment List:
Projector- JVC RS45
Speakers- Klipsch RF83, RC64,
   -Surounds.  Selling my RS62's and buying Triad in wall Bronze (arrived)  
Amplifier- Emotiva XPA-5 and purchased Sherbourn PA 7-350
Receiver- Denon 4311
Sub- JTR Orbit Shifter.  I also have a Rythmik F12SE for use as a balancing sub
Remote- Harmony 900 RF being used in living room currently.  Thinking about iRule....

Screen- 9 ft wide
EN4K if I can swing it.  (purchased)  Would love to have a 4-way manual masking system with panels for a Constant Image Area setup. The 16:9 image will be much larger than it would be with a CIH setup.  

I am ceiling ht limited in this room anyway and there is a support beam and a bit of HVAC duct in the front that drops down about 9'' from the ceiling. This may ruin my hopes of CIA and a taller 16:9 image.  I will do some experimenting with my projector to get the tallest possible image.  (update:  CIA is probably not going to happen)

Seating-
-Primary row will eventually be 3 Theater Recliners at around 9.5 ft from the screen. I would like to have the second row seat 4-5 people on the riser.  I am leaning towards auditorium type fold down chairs to save on space. (update:  4 of the Fusion 1013's would fit but they do not have adjustable head rests so this is a tough one.)

Sound Treatments-
As prescribed in the avs layout.  I will do Quest Perfsorb at first reflection points.  The rest is DIY panels.  Several 2 inch absorption panels and several diffusion panels.  

Stage-
I am copying the Sunset Cinema stage.  It will be 1 ft tall and approx 5 ft deep.  Filled with sand.  Do what I can to stop the Orbit Shifter from shaking the screen.  

Projector Stand
Would like to avoid a ceiling mount because of little feet in the kitchen above shaking the projector. Planning to build a custom shelf with lots of mass that would be behind the back wall and shine through a piece of glass in the wall. Throw distance would be approx 16'.

Please give me feedback on anything and everything. Thanks for looking.
Edited by jedimastergrant - 9/1/13 at 9:06am